The 5 most prodigious F1 drivers of all time
Modified On Nov 03, 2012 12:04 PM By Kritika
Ratified by the Fédération Internationale de l'Automobile (FIA), F1 aka FIA Formula One World Championship is regarded as the highest class of auto racing. And every Formula One enthusiast worth his salt knows that the statement is no exaggeration. The championship is comprised of a series of Grand Prix races, the maximum number of which should be won in order to either claim the title of the world champion, or secure a good ranking. And that, dear readers, is no easy task. F1 races aren't just about talent, it never was and never will be. The intensity of the Formula One demands a combination of talent, mental agility, courage, and instinct from the driver, a combination that is rarely found. And even though the grandeur of Formula One racing has attracted and seduced several drivers since the first race was held, only a handful of them were able to leave a mark behind, for not everyone possessed that coveted combination of skills behind the wheel. And such is the celebrity of those legendary drivers that their memories continue to live on in the hearts of fans all around the world, even after they have been long gone. While many are remembered for their extraordinary performance and skills on the track, many are also remembered for the sheer amount of courage and passion they exhibited everytime they raced.
The number of heroes from the world of Formula One racing is obviously bigger than a mere five. However, this article endeavours to commemorate the achievements and memories of the five men, who we believe are the most incredible, via a recollection of their Formula One journey and everything else that came along with it. But we dare not rank these legends, for the magnanimity of their persona and achievements transcends the frivolity of numbers and ranks.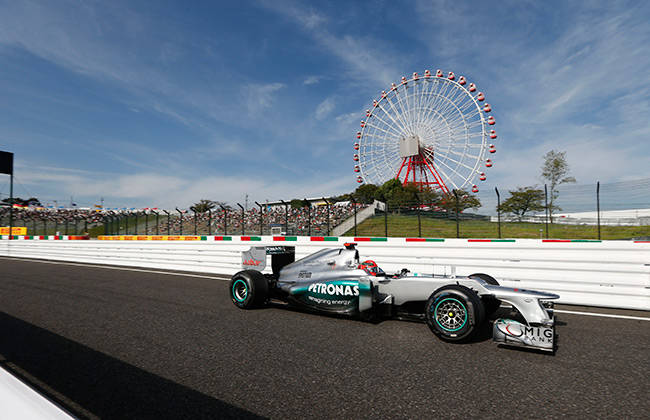 A. Michael Schumacher: Once upon a time the name Michael Schumacher was synonymous with Formula One, such was the strength of this German driver's presence. His romance with racing started at the age of six, when his father built him a kart. And soon the little boy took to racing like fish to water. With only talent and passion backing his career, Michael Schumacher won various national and European titles to eventually make his F1 debut at the Belgian Grand Prix in 1991. He qualified seventh on Spa-Francorchamps, a track he learned about by cycling around on it on a fold-up bike. And with that, Micheal Schumacher finally declared his presence to the world and never looked back. He was signed on as a driver by Benetton-Ford for the very next race, with whom he won his first race in the 1992 Belgian Grand Prix, and his first world champion title in 1994. It was not only Schumacher's remarkable performance that make him such a legend, but also his unique set of skills behind the wheel. He was known for extracting his car's full potential and for his ability to create fast laps at crucial moments.

Michael was generally a very kind-hearted man, but was unrelenting when he was racing, and that ruthlessness translated into the astonishing records he set. He is a seven-time World Champion (1994, 1995, 2000, 2001, 2002, 2003, 2004) out of which five were won in a row. Micheal Schumacher has pretty much every F1 record to his name including being the only driver in the history of Formula One to claim a podium finish in every race of a season (2002), most consecutive podium finishes (19), most race victories, fastest laps and pole positions (68) among others. Even the official Formula One website describes him as 'statistically the greatest driver the sport has ever seen'. Also, a poll of 217 F1 drivers organised in 2009 named him as the second-greatest Formula One driver of all time, right behind Ayrton Senna. After announcing his retirement in 2006, he returned in 2010 as a driver for the Mercedes GP team. And even though Michael Schumacher is getting ready to retire for the second time at the conclusion of the 2012 Formula One World Championship, he will be fondly remembered as much for his way of announcing his unbeatable presence as he would set the track on fire during his first lap on Friday mornings, as much for his outstanding victories and sheer talent.
B. Alain Prost: Born on February 24, 1955 in France, Alain Prost was always an athletic child, and his enthusiasm led him take part in several sports like football, roller skating, and wrestling before he finally discovered the phenomenon of racing. It all started with karting at the age of 14 during a family holiday, and eventually became a career choice. And soon after his first rendezvous with karting, he grew quickly, winning the French and European Formula Three championships and eventually ended up joining the McLaren F1 team in 1980. Prost claimed his first race victory at the 1981 Argentine Grand Prix as a part of the Renault F1 team, only an year after making his Formula One debut at the same venue.

He won a total of nine races during his tenure with Renault and then went on to join his former team, McLaren, again in 1984. His second stint with McLaren lasted for six seasons during which he won thirty races, three World Champion titles and also beat Jackie Stewart's record with his 28th Grand Prix victory. Prost then joined Ferrari in 1990 ony to be fired in 1991 for publically criticising the company. After a sabbatical that lasted an year, the French driver returned in 1993 as a part of the William-Renault team. It was during his time with William-Renault that Prost won his fourth and last Grand Prix title and also upped his tally of victories to 51, a record that remained unbeaten until 2001. Despite Alain's illustrious career and remarkable skills, it was his rivalry with Ayrton Senna that was particularly notable. Senna became Alain's teammate at the McLaren team in 1988, and that is where it all started. The two had the world hooked as they battled it out for supremacy on the tracks, and together they drove the Formula One to an intensity that had never been observed before. But the fierce rivalry soon turned into outright hatred, which lead Alain to quit McLaren and join Ferrari. This French driver always believed in employing the best of his skill and intellect in each race, which rightfully earned him the nickname 'The Professor'. Other than the nickname, Alain Prost is also remembered for his rather relaxed driving style, for setting the maximum number of records after Michael Schumacher, and also as the only man who was capable of pushing the world's greatest racing driver beyond all his limits.
C. Ayrton Senna: The third most successful driver in terms of racing victories, Ayrton Senna is regarded as the best driver in the history of motorsports. And rightly so, for even though the Brazilian won only three Formula One World Championships (1988, 1990, 1991) in his career, he has been voted as the best driver of all times in various relevant polls. Born in a wealthy family, Senna developed an interest in cars and racing at the tender age of four. He learned to drive a Jeep around his family at the little age of seven. Soon, he started racing karts and entered his first karting competition at the age of 13. Things started to work out and fall in place for the little racer, which led Senna to win the South American Kart Championship in 1977. Following this, Senna contested in the Karting World Championship for four consecutive years from 1978 to 1982, during which he finished as the runner-up in 1979 and 1980.

But the Brazilian racing enthusiast had already set his eyes on the Formula One and to pursue them, he moved to England in 1981, and went on to win the Formula Ford 1600 series the same year. He also won the British and European Formula Ford 2000 championships in 1982, and the British F3 series in 1983. Senna's adventure with single-seater continued to grow steadily and he finally made his Formula One debut in 1984 with Toleman. The proclamation of his sensational flair behind the wheel came at the 1984 Monaco Grand Prix, when he started 13th on the grid and yet finished second on the podium, behind Alain Prost, despite the heavy rain. But Senna's greatest F1 moment came in 1993 at the European Grand Prix, where it was raining cats and dogs. He was fifth at the first corner, but Senna quickly came to lead the pack by the end of the first lap as Prost took as many as seven pit stops seeking tires suited for the weather. Senna obviously won easily. This victory is often regarded as his best win ever.
Other than his phenomenal talent, Senna is also remembered for his qualifying speed over one lap, his record for most pole positions, which he held from 1989 until 2006, and his unbeaten record of six victories at the prestigious Monaco Grand Prix. Despite his magnanimous talent, Senna always found himself surrounded by controversy, the most memorable of which was his fierce rivalry with Alain Prost. Senna joined as Prost's teammate at McLaren in 1988, and took his first World Champion title the same year. The following year Prost won the title in a rather controversial manner due to Senna and Prost's collision at the Japanese Grand Prix, the deciding race of the season, and the title eventually went to Prost. The following year, Prost, who was then racing as a part Ferrari, collided again at the same venue as last year. The title was decided in the same way, but it went to Senna that year, making it his second World Champion title.
Senna was the kind of person who would put their everything into whatever they were doing, and would choose death lest they were unable to. And Senna's career came to an end it with exactly that spirit, when he strayed off the track and hit the concrete wall at the 1994 San Marino Grand Prix. The collision resulted in Senna's death, which was mourned by millions of his fans. This Brazilian driver had managed to catch everyone's fancy right from the moment he began to race not only with his brilliant talent, but also with his humanitarian efforts.
D. Juan Manuel Fangio: Also known as the Maestro, Juan Manuel Fangio was an Argentine racing driver who dominated the Formula One world for almost a decade when it first began. Fangio was a 5-time World Champion, a record that remained unparalleled for 46 years. His racing career began in 1934 with a 1929 Ford Model A, which he had rebuilt himself. He was the Argentine National Champion in 1940 and 1941 but after World War II, he began racing in Europe. However, his courtship with racing success really began when he started racing with Alfa Romeo in 1950, and went on to win his World Champion title the very next year.

Despite a successful run with a team, Fangio was the kind of man who wouldn't think twice before switching teams if he thought he could perform better with a better car. And so in 1952, he began racing for Maserati, a team for which he raced until he moved to Mercedes in 1954. He went on to win his second title the same year. Fangio then began racing for Ferrari in 1956, the year in which he won his fourth title. But Maserati signed him again in 1957, and that was the year in which he won his fifth and last World Champion title. And it was during the aforementioned season that Fangio delivered, what is often regarded as the greatest drive in Formula One history, at the German Grand Prix.
After winning the World Champion title four times in a row, Fangio drove his last race at the 1958 French Grand Prix. But his retirement did not affect the respect he had earned, which became evident when Mike Hawthorn, who was leading the race (1958 French Grand Prix), braked right when he was about to cross the line and allowed Fangio through in order to let him complete the 50-lap distance in his final race. Quite unlike other Formula One drivers, Fangio started racing at a mature age and was the oldest driver in many of the races he participated in. Out of the 52 races he participated in, he won 24 World Championship Grand Prix races, setting a record of the best winning percentage (46.15 %) in the history of F1. His record of five World Champion titles stood intact for 46 years until 2003 only to be bested by Micheal Schumacher, when he claimed his sixth World Champion title. Another spectacular feat that he achieved, and which has not been repeated till date, is that he won the five World Champion titles with four different teams (Alfa Romeo, Ferrari, Mercedes-Benz, and Maserati).
Even though the legend passed away in 1995, the story of his extraordinary talent and achievements continue to inspire aspiring F1 drivers and millions of fans across the globe.
E. Jack Brabham: Sir John Arthur Jack Brabham was an Australian racing driver who went on to win three Formula One World Championships throughtout his career that lasted for 16 long years. He dropped out of school at the age of 15 and started working in an auto repair garage and also took an evening course in mechanical engineering. He then enlisted into the Royal Australian Air Force (RAAF) in 1944, where he worked as a flight mechanic for two years. After being discharged from RAAF, he opened a small service, repair and machining business. However, his interest in cars led him to racing in midget cars, and he won the 1948 Australian Speedway Championship, the 1949 Australian and South Australian Speedcar championships, and the 1950-1951 Australian championship. He made his Grand Prix debut at the 1955 British Grand Prix in his personal Maserati 250F. Later on, he was inducted into the Cooper Car Company team and started racing with cars that had their engines at their rear, a concept that Brabham's peers laughed at. However, Brabham went on to claim his first and also second World Champion title in 1959 and 1960.
The next year Brabham, along with Ron Tauranac, founded the Motor Racing Developments Limited (MRD), which first produced customer racing cars while Brabham continued to race for Cooper. He quit Cooper in 1962 to drive for his own team Brabham Racing Organisation and used cars built by MRD. But Brabham was unable to perform well with the new engine limit of 1500cc in Formula One, and did not win a single race in a 1500cc car. But he was back with a bang when the engine limit was revised to 3000cc and won the 1966 Formula One World Championship in a car that he designed along with Repco, an Australian engineering company. This feat made him the first and the only man to win the title driving one of his own cars. After another year of racing, Brabham retired from racing and shifted back to his home country.

Over the years, Brabham has been the recepient of several awards and honours, including the Australian of the Year (1966), Officer of the Order of the British Empire (1966), Knight Bachelor (1978), and Australian Sports Medal (2000) among others. He was named a National Living Treasure by the Australian government in 2012. He is also the oldest surviving Formula One champion.
Was this article helpful ?
0 out of 0 found this helpful