Quarter Mile Rush!
Modified On Mar 27, 2015 12:16 PM By Abhishek
The Amby Valley airstrip played host to the third installment of Valley Run, the annual drag racing event that brings together the fastest and the lightest from all corners of the country. Here's our report!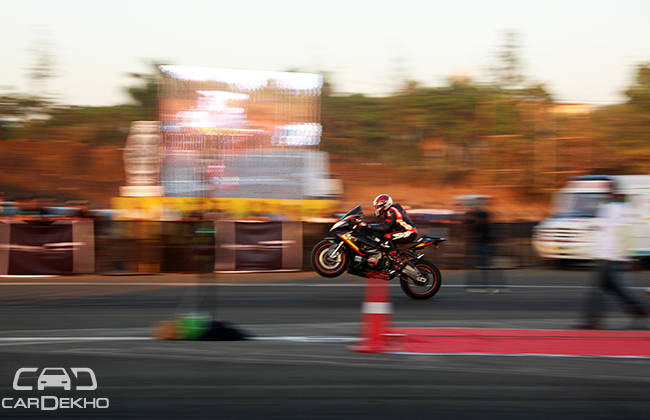 It was that time of the year, when automotive enthusiasts start shedding parts and start adding horsepower. For what you ask? Its for the annual event where the cars and bikes barrel down an empty airstrip to record the quickest time over a distance of 400 meters. Valley Run as its aptly called happens at the private airstrip owned by Amby Valley in Lonavla. The third installment of this autofest witnessed a whopping 7000 plus spectators over the two day period.

The event saw 380 participants charge down the airstrip who were segregated into different classes according to engine size, make and modifications. They were then allowed one practice run to get their launch right before the final run. Those who had a jumpstart were allowed another run, but at the cost of a penalty fine.




The highlight of The Valley Run 2015 was the Nissan GT-R, the car that can reach a top speed of over 300 km/h. The Godzilla, clocked the fastest time of 11.268 seconds – extremely impressive for a 1.7-tonne street car. If that's not enough, various racing cars & bikes like a brilliant Lamborghini Murcialago, an Aston Martin Vantage, a Harley-Davidson that was beaten by a ferocialy quick modified Royal Enfield, a Porche 997 Turbo and plenty of KTM's in all shapes and sizes were also present at the event. All these just made it worth a watch at the Amby Valley City.



There were plenty of bikes too. Some pretty seriously modded bikes included a BMW S1000RR with an extended wheelbase along with a couple of Suzuki Hayabusa's with fat 300mm tyre. Plenty of two strokes smoked up the atmosphere with a nice Honda NSR 400 doing a run as well.


The Indian car with modified engines saw some raging monsters as well with a Honda City Vtec belonging to Joel Joseph cracking the quarter mile in a scorching 12.323 seconds and ended up beating a Mercedes-Benz ML63 AMG. Astonishing.

While it was a very well organized event, it was marred by delays caused by the timing equipment giving problems. We just hope that Elite Octane, the entity behind this brilliant event gets the logistics properly sorted so that the participants and spectators can enjoy the event devoid of any inconvenience.
The Director of Elite Octane, Mr. Rongom Mukherjee said "The Valley Run has stepped even further in terms of Participation & Partnership, we had more than 380 registrations which was drastically higher than last year and in terms of partners, we also had International partners supporting the event such as the film "Furious 7" from the Fast & Furious series."

It was a brilliant two days of fast cars and bikes at a fantastic location. We simply thank Elite Octane to keep this adrenalin filled sport alive and kicking, giving the participants a platform to showcase their skills and talent. We can't wait for the action next year. Keep 'em coming!
Was this article helpful ?
0 out of 0 found this helpful