Oriental Victory for Vettel
Published On Sep 25, 2012 06:49 PM By Wajeeh
A nice clean start from Hamilton on pole signaled the start of the 2012 Singapore Grand Prix however ended in ironic failure for the McLaren driver who blasted away from pole position, staying well ahead of Maldonado and Vettel both. The previous Monza Grand Prix showed Hamilton making it to the chequered flag first and Vettel retiring from the race. The irony gods, it seems are not without a sense of humor. The positions were reversed for the two drivers as Vettel made it to the chequered flag first and Hamilton retired from the race. CarDekho brings you a lap by lap analysis of the big happenings of the Singapore Grand Prix in all its glory.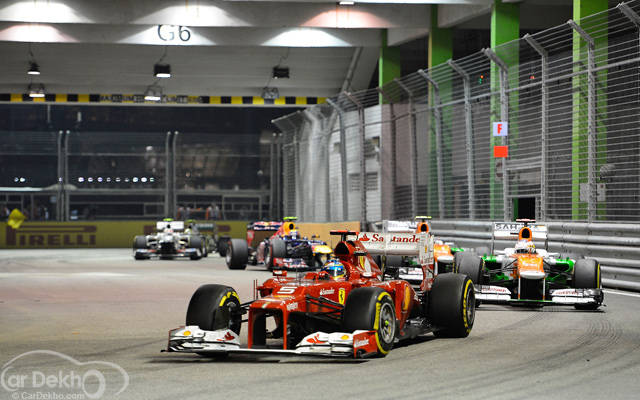 First 10 Grid Positions at Start
Hamilton

Maldonado

Vettel

Button

Alonso

Di Resta

Webber

Grosjean

Schumacher

Rosberg
Lap One
Hamilton at pole blasted away to cleanly break away from his contenders, Pastor Maldonado and Sebastian Vettel. Lap one ended with Hamilton in the lead followed very closely by Sebastian Vettel and team-mate Jenson Button. Maldonado was at fourth holding off an oncoming Alonso.
Lap Two
Given the track conditions, most of the teams were probably hoping for a two-stop strategy but some failed to make it. The first pit stop was seen from Heikki Kovalainen of Caterham when he had to pit due to a missing front wing after touching team mate Vitaly Petrov at the start. Felippe Massa of Ferrari was also forced to pit at the second lap due to an unfortunate puncture.
Lap Three
Lap three showed yet another issue of telemetry for one of the drivers. Just like Alonso and Massa in Monza, Grosjean of Lotus was informed that his team were getting no telemetry readings form his car. This meant Grosjean himself would have to keep his team informed of any issues with the car, adding to the pressure on the driver.

Lap Four
Lap four showed consistent time from all the 3 drivers at the lead. Hamilton still held the lead followed by a gaining Vettel and Button behind. Apparently a very exited Katy Perry was also at the race as part of the attractions.
Lap Five
Hamilton's team mate Jenson Button had some trouble keeping the 2 drivers in front in his sights and falls behind on his lap time. Hamilton and Vettel were still clocking good time at lap five.
Lap Six
The stewards had given their decision to do nothing about the issue of many drivers cutting corners at the first corner after the start. The decision was met with approval from everyone as it was not a very big deal.
Lap Eight
The famed Bruno Senna made a brilliant move on Kovalainen to grab the 16th position. Australian Mark Webber has come in for his first pit stop to get his durable soft tyres changed, a decision not understood by many as the tyres still held a good few laps in them.
Lap Ten
Sebastian Vettel is asked to make his first pit stop by his team for a quick tyre change giving Hmilton a chance to further his lead on the Red Bull driver. Hamilton however is unable to do so and is clocking slower and slower lap times.
Lap Eleven
Vettel is seen struggling a bit to pass Sergio Perez as he emerges from his pit stop. He passed Perez, trying not to lose too much time in the traffic of oncoming drivers. Lap eleven also marks Fernando Alonso's first pit stop.
Lap Twelve
Hamilton reported having "a funny feeling" with his tyres and is asked to make his first pit stop to get fresh replacements. Button took the lead from Hamilton as he stopped to pit keeping the McLaren team in first position.

Lap Thirteen
Amazingly Hamilton joined back in the race ahead of Sebastian Vettel and the others.
Lap Fourteen
Jenson Button has pitted next losing his lead to Hamilton; clever strategy from McLaren to keep the team in the lead.
Lap Fifteen
Button has rejoined the race at 3rd position very close to Hamilton and Vettel out in the front.
Lap Sixteen
Vettel's speed became apparent here when he clocked fasters laps by around lap sixteen. Since a good amount of fuel had already been used, the drivers were more comfortable as F1 cars are usually more responsive once they have used a good amount of their fuel.
Lap Seventeen
Sergio Perez, the fastest man on the previous Monza track was seen struggling on his super soft tyres as he hadn't as yet pitted. He loses eight position to Mark Webber of Red Bull.
Lap Eighteen
Perez and Hulkenberg finally headed into the pits for their first tyre change. Both opted for another set of the faster super soft tyres.

Lap Nineteen
Vettel had slowly been gaining up on Hamilton but the German finally picked up the pace and started clocking faster than Vettel.
Lap Twenty one
Bruno Senna was seen running an excellent race so far. He started 22nd and by lap 21 he was close to catching up with Michael Schumacher and Kimi Raikkonen in the 10th and 11th position. The race standings at lap 21 were Hamilton in the lead followed by Vettel and Button bringing up the rear.
Lap Twenty three
Absolute nightmare for the McLaren team as Lewis Hamilton loses drive! Despite an impressive start the British F1 star had to retire from the race due to a gearbox failure. Hamilton was seen desperately trying to get his car in gear, but it refused to shift out of neutral. "We have a gearbox failure. I'm sorry, we did everything we could yesterday" reported one of McLarens race engineer. What a shame; with Hamilton out of the race, his dreams of winning the championship look quite bleak.
Lap Twenty four
With Hamilton out of the race, the new standings as of lap 24 were Vettel in the lead followed by Button and behind him, Maldonado. Alonso and Di Resta brought up the rear.
Lap Twenty seven
Romain Grosjean, who got a hefty two place penalty for his antics at the Belgium Grand Prix, was seen desperately trying to get past Nico Rosberg of Mercedes. Behind them Schumacher was seen catching up slowly but surely.
Lap Twenty eight
Mark Webber was seen committing to his 3-stop strategy after heading into the pits for a set of super-softs. Bruno Senna laps his fastest lap which is actually faster than the leaders out front.
Lap Twenty nine
Sergio Perez was asked by his race engineer to pick up his pace or he risked dropping his tyre temperature below the optimum level and losing them. Maldonado and Alonso were both seen pitting with Maldonado going for the super softs while Alonso chose the softs meaning he could potentially use them for the rest of the race.
Lap Thirty one
Red Bull's Mark Webber had some trouble cutting through the traffic from the 2-stop strategy drivers including the likes of Schumacher, Raikkonen and Hulkenberg.
Lap Thirty three
Lap 33 saw a very entertaining battle between Maldonado and Alonso. Solid effort from Alonso but Maldonado refused to have his position taken from him.
Lap Thirty four
Narain Karthikeyan crashed his car into the wall near the grand stand at turn 8. "Turn 18, I hit the wall. Something's broken" he reported over the team radio. The accident resulted in the safety car being brought out.

Lap Thirty five
Alonso and Di Resta move up to the 3rd and 4th positions respectively. Maldonado despite a good battle moves down to 10th from 3rd. However worse was yet to come for the Williams driver.
Lap Thirty six
Maldonado was forced to retire his Williams at the end of lap 36 as a call came in from the pits about a hydraulic problem. "We've got a hydraulic problem. We have to retire now." Yet another driver faced a bad weekend bringing the total retirement to 3 by lap 36.
Lap Thirty nine
Lap 39 showed a moment of heat between the two front runners Vettel and Button. Button nearly crashed into a de-accelerating Vettel and then had to accelerate again to get the heat back into his tyres. A narrow miss for Button, but Schumacher was not as lucky when his turn came. The German got caught in the de-acceleration of Jean-Eric Vergne and crashed into the back of the Toro Rosso retiring them both. Lap 39 marked the last of the retirees in the Singapore Grand Prix.
Lap Forty one
The retirement of Vergne and Schumacher promoted Raikkonen and Ricciardo up to 7th and 8th position respectively. Hulkenberg used the opportunity presented by the safety car to pit for the last time.
Lap Forty four
Bruno Senna came up behind Felipe Massa at 9th position and tried to squeeze the Brazilian against the wall. Massa however kept his cool and defended his position very well. Considering he was all the way at the back due to his puncture, he was showing remarkable time. The stewards surprisingly took no action against Senna despite their investigation.
Lap Forty six
Felipe Massa used a brilliant move with the help of his KERS on Ricciardo's Toro Rosso and moved up ahead of him to 8th position. Massa was doing exactly what Perez did in the last F1 race. He made a name for himself as one of the fastest man in the race despite his unfortunate puncture.
Lap Forty eight
Grosjean gave way for team mate Raikkonen as instructed by his race engineer, who took 6th place after passing up Grosjean. "Kimi is quicker, do not hold him up" instructed the engineer.
Lap Fifty
Perez lost a part of his front wing to Hulkenberg of Force India as he closed in on him. Perez was seen waving his hand displaying frustration at Hulkenberg.
Lap Fifty one
Hulkenberg did some more aggressive driving, this time clashing with Kobayashi breaking his front wing too. Hulkenberg paid for it this time and suffered a puncture.
Lap Fifty three
Alonso and Di Resta battled for 4th and 5th position with Di Resta putting an immense amount of pressure on Alonso.
Lap Fifty four
Lap 54 signaled the last eleven minutes of the race with the F1 races being restricted to two hours. The standings at the time were Vettel in the lead followed by a desperate Button and Alonso bringing up the rear.
Lap Fifty five
"After the safety car I broke a little early, then the car didn't accelerate and then I just went straight on the brakes and it locked up. The accident was unavoidable. I feel sorry for Jean-Eric and for his team but we need to find out what happened now" reported Schumacher after crashing into the back of Vergne.
Lap Fifty six
Mark Webber of Red Bull used the last bit of his KERS to rush past Senna in the Williams securing the 13th position.
Lap Fifty seven
With just 5 minutes to go Mark Webber had finally overtaken Ricciardo in the Toro Rosso, moving past him to grab P12! The last few laps, that's were things got really exciting with the flurry of overtakes and passes!
Lap Fifty eight
By lap 58 it seemed Vettel was a sure winner considering his immense lead over Button. Meanwhile Alonso had also put a fair bit of distance between him and Di Resta.
FINAL LAP
Vettel had a good clear lead and showed no signs of relinquishing that lead to Button. The Williams team meanwhile suffered complete disappointment with Senna retiring from the race due to a problem with his engine. According to F1 rules however he was still considered to have finished the race as he was on the last lap. The positions remained consistent by the end of the last lap and Vettel made it to the chequered flag with ease followed by Button and Alonso bringing up the rear! A good win for Sebastian Vettel!
"Yes, we did it! Thank you boys, this one is for you," was Sebastian Vettel's response over his team radio after flashing past the flag. Team boss Christian Horner yelled back "You beauty. You're back in the title race."
Vettel's Quote
I think it's one of the toughest races of the year. The circuit is a killer and it's so bumpy and so long. We benefited from Lewis' failure, I saw some oil drop from his car a few laps before, and all in all we had a good race all weekend. I'm just incredibly happy and proud to win it. I'd like to dedicate the win to Sid Watkins; I think he's one of the biggest reasons why we enjoy ourselves every week so a big 'thank you' to him. Anything can happen in this race and it's a lot of fun to watch but we just have to keep pushing now so we finish ahead of those guys come the end of the season."
Button's Quote
"It was a pretty tough two hours for us. Sebastian accelerated and braked for the right handed. I didn't expect that, I hit the brakes, locked up and I just missed the back of your car. But we got through it. I'm reasonably happy with second. I want to win, but you can't win them all. For us as a team to have another failure this weekend was tough, but the important thing is we have a good car. Every race we go to, we have a chance of winning and that's important for us."
Alonso's Quote
"It's one of the best tracks and we enjoy driving here. The atmosphere is fantastic and it was a fun race again. In Monza it was Lewis winning and Sebastian retiring and here it's Lewis retiring and Sebastian winning so as long as that keeps happening and I pick up points along the way I'll be happy."
And with that the Singapore Grand Prix was bought to an end to be followed by some truly spectacular fireworks by the track management and a special performance by pop singer Katy Perry.
Was this article helpful ?
0 out of 0 found this helpful