Maruti Suzuki Alto Evolution
Modified On Aug 26, 2015 04:26 PM By Konark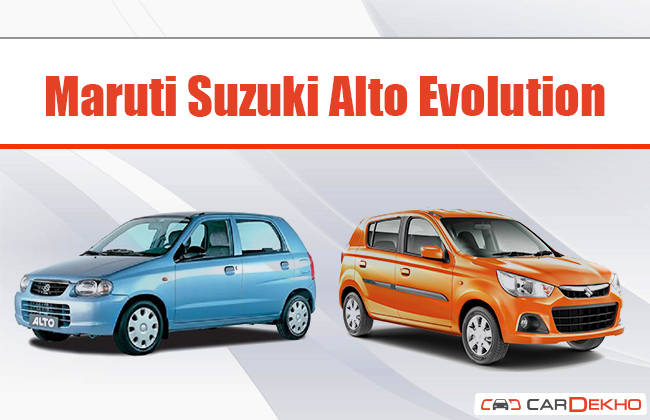 Alto has been crunching massive sales figures for Maruti Suzuki since its inception in 2000. The car that has been ruling our market from the past 9 years was also the largest-selling small car in the world in 2014 beating the likes of Volkswagen Golf in Germany and Toyota Aqua and Honda Fit in Japan.
Alto registered overall sales of 2,64,544 units in India last year that put it ahead of Golf's sales of 2,55,044 units in Germany, Tanto's 2,34,456 units, Aqua's 2,33,209 units and Fit's 2,02,838 units in Japan. What makes it so special? Is it Maruti's reliability or is it our mileage obsessed market? Affordable pricing, efficient engines and Maruti's reliability combine together to make this a massive success and no wonder this car has been bagging almost every award since its launch. So lets take a look in to the history of Maruti Alto.

MARUTI ALTO 800cc GENERATION 1 (2000)
This was the first alto ever launched in our market and used Maruti's much famed 800 cc engine derived from the Maruti 800 but it had a 5 speed transmission which was a step forward than 800's 4 speed transmission. The first gen Alto also got a mid-life facelift which majorly featured only cosmetic changes which gave the alto new headlamp's and led taillights along with some minor console changes.
Here's an advertisement of the first generation Alto!

MARUTI ALTO K 10 GENERATION 1 (2010)
The K10 featured a 3-Cylinder 1-litre K-series engine which produced a decent 67 bhp and 90 Nm of Torque which is good enough for a pocket-size car as it only weighed 760 kgs!. Apart from mechanical changes, the K10 also got cosmetic changes in the form of new headlamps, taillights, front fog lamps and body-coloured bumpers.
MARUTI ALTO 800 GENERATION 2 (2012)
The second generation Alto 800 is much improved Alto at nearly the same price range as the earlier model. Alto has evolved vastly over the years with improved fuel economy and drivability and cleaner gear shifts as well. Got a new factory fitted CNG variant also and the top end variant got a driver-side airbag as well.
MARUTI ALTO K 10 GENERATION 2 (2014)
The inculcation of the AMT gearbox is the biggest change this generation saw along with major cosmetic changes. The Alto K10 Gen 2 got a completely new look. The doors and roof still remain shared with the 800 version but the rest of the panels - the fenders, the bonnet, the tail gate and even the bumpers are unique to this K10 generation. It got larger, more contemporary looking head lamps; a more aggressive air dam design; and it also got larger 13 inch wheels.



Was this article helpful ?
0 out of 0 found this helpful