Man vs Machines
Published On Jul 20, 2013 06:37 PM By Rajpal
1712 Views

Write a comment
An apt phrase which would really make your body tremble with a twitch of the teeth, this is an adventure of a different kind. What is it you may ask? Well heard the name Polaris, the American manufacturer of ATV's who set base in India back in 2011 gave us the unique opportunity to test drive Ranger RZR 800 S along with Sportsman 500 H.O which we rode around a designated off road track on the outskirts of the Delhi.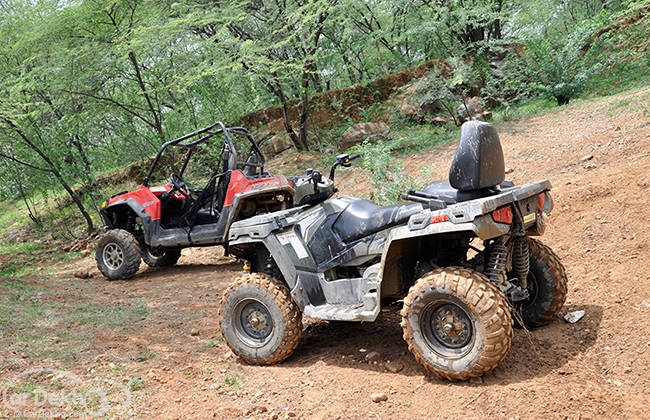 As an avid rider, I am a hardcore junkie who likes to just take off on my bike whenever given an opportunity to discovery new avenues. And this to be precise was a moment that I was not going to let go off, therefore the "Man vs Machine" was going to be a real testament of what is currently going to be coming your way. The brutality was staring at me in the eye as both these machine looked to get the better part of me. I would agree that being on a two wheeler has its own limitations but here there were no boundaries except the physical test at hand. Therefore the first choice was the Ranzer RZR 800 S, which in its Red paint job was enticing enough to get my heart pumping for some action. With its minimal body panels, the Ranzer RZR 800 S provides side x side seating arrangement for two, a roll cage, a pair of seat belts and a safety net. From the functionality point of view, this particular vehicle has head lamps and brake lights to offer.



In sheer stance, this machine features a huge ground clearance of 250mm , with chunky 25X8-12 Maxxis mud terrain balloon tyres in front and 25X10-12 at the rear. In fact the purpose of these tyres is to give a huge advantage on terrains that are a bit unknown. Its sturdy RZR chassis makes it agile and flexible, and helps to control its razor-sharp power and delivers performance on all kind of terrain. The suspension system of this ATV is again a plus point as it uses Dual Front A-Arms suspension at front and Independent Rear Suspension (IRS) at rear with a travel of 229mm at front and 241mm at rear enabling it to provide rugged ride.

The use of ZF Sachs Preload-adjustable shocks, further makes the suspension more than capable of handling rocky terrain without much of an adieu. At the same time, the power of RZR 800 comes from a parallel, twin cylinder, liquid cooled 760cc engine, which develops 53bhp. Once in the driver's seat, the structure of the cabin has only a couple of things to offer such as digital-analog instrument cluster in center, which comprises of an odometer, tachometer, trip meter, hour meter, clock and a gear indicator. Below the instrument cluster, there was a high/low beam switch and a button to toggle between 2WD and 4WD with an ignition switch on the side.

The three spoke steering wheel provided here is very basic along with elements such as two pedals at feet consisting of an accelerator and a brake. The RZR S has an automatic transmission on board which offers a gear stick to shift between Parking/ Reverse/ Neutral/ Low/High, which you can select according to the requirement depending upon the terrain. If you want more torque at the wheels just shift down to Low mode, else High fulfills most of the requirements. Further hydraulic disc brakes ensure complete control while tackling any sort of terrain.

Having gone through the on-dash and on-paper details, it was time to check its on ground performance. Turn on the ignition and the first thought that instantly comes to the mind is that it sounds more like a bike, but the moment one presses the accelerator the grunt of the engine signifies the presence of a monster within. Put the ATV in 2 wheel drive mode, shift the gear in High and press the accelerator, you will know how much power is available on tap as the Ranzer RZR 800 S pulls away quickly. (Polaris claim that it accelerate from 0 to 56kmph in just under 3.8 seconds and we don't doubt the same.)

The RZR 800 S is easy to maneuver and its light manual steering is quite easy to control in off-roading conditions. However, when you switch to Low mode, the availability of abundant torque tends to throw the wheel in the opposite direction as against the direction in which the vehicle is already moving. Having acquainted myself with its sheer power and raw handling it was time that we got down to real business.

I began testing the machine by throwing it at each and every thing that came in my way. Be it an incline, the 2WD mode is more than capable of getting you across while the 4WD comes in handy at the time of driving through loose gravel and mud pits. Its light steering and powerful engine, makes it so easy to drive while handling attributes it more like a car, but at the same time it is much more capable than a car. In fact not once did the thought getting stuck cross my mind, which simply explains the awesomeness of this machine.

With decent amount of play with the RZR 800 S, it was time to move on and get my hands on the Polaris Sportsman 500 HO (High Output). The Sportsman uses a 498cc, 4-stroke, single cylinder engine, which is powerful enough, but what makes it more capable is that it weighs only 335 kgs. So its low weight helps return a good power to weight ratio.

The Sportsman also has a huge ground clearance of 286mm. As the Sportsman serves a different purpose than the RZR 800 S, it uses a different suspension setup comprising of "Dual A-Arm suspension" in front and Mac-Pherson Strut at rear. It has bike like features such as a single lever, 4-wheel Hydraulic disc brakes with a rear foot hydraulic brake. To make things more convenient, the Sportsman uses an automatic transmission with a swift lever to shift between Parking/ Reverse/ Neutral/ Low/High.

While, the RZR 800 is more like a car to drive, Sportsman 500 is way different than a car and it's more like a bike on four wheels. There is a bike like digital instrument cluster, while other controls are given on handle bars with elements like brake lever, switch to toggle between 2WD and 4WD and a push accelerator. For those, who are new to off-roading and not familiar with bikes, the Sportsman would be hard to maneuver, as the handling is pretty raw and you have to control it by your body weight. It also took me some time in getting used to it, but once you learn that how to handle this machine, you begin to enjoy it. I tested it in extreme conditions but the ATV didn't loose control and maintained its composure. I am a biker at heart, so it was all the more enjoyable for me.

To conclude, I would say that it was a morning well spent. Getting to experience such kind off machines that too off-road was actually a dream come true. There is no doubt that Polaris ATVs are well renowned for their off-road capabilities in the world. However, in India, these ATVs are limited to a specific target group as the they are not street legal, and in case you want to get one then well the prerequisite is to have a large farmhouse or an open ground where in they could be put to full use.

Besides this, the vehicles are currently imported as a CBU, and therefore heavy import duties make them pretty expensive. The RZR 800S comes in at Rs. 12.65 lakhs, while Sportsman 500 HO stands at Rs. 7.66 lakhs (Ex-showroom Delhi). So, if you are an outdoor kind, who don't mind spending money on some serious off-roading fun, then Polaris ATV's are just the right machines for you.
Was this article helpful ?
0 out of 0 found this helpful