LM3D Swim - Worlds First 3D-Printed Car that can be Yours!
Modified On Nov 11, 2015 12:51 PM By Bala Subramaniam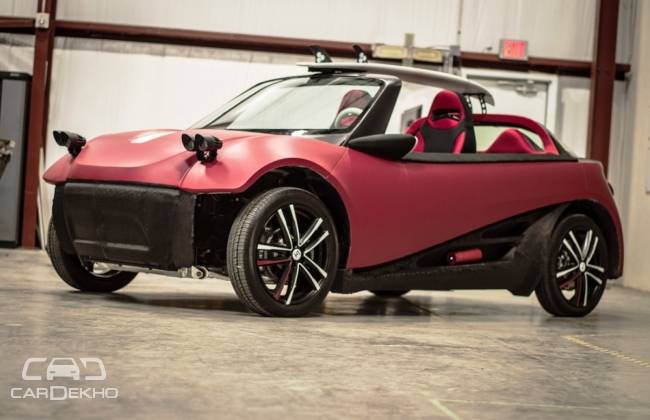 Here it is ladies and gentlemen - World's first 3D-printed car that you can buy, LM3D Swim by Local Motors. The fully homologated 3D-printed car has been revealed in its production form by Local Motors within four months of revealing the design. The company is planning to begin pre-selling models in spring 2016 and deliveries are expected to begin by early 2017. Let's swim deeper.

The road-ready car is built using Direct Digital Manufacturing (DDM), of which 3D printing is a part. The Swim made its debut at the just concluded SEMA show in Las Vegas and was designed by Kevin Lo, a Local Motors community member. Kevin won the company's Project Redacted challenge in July, where his design was chosen by community votes and a judging panel that included Jay Leno and John Waraniak, SEMA Vice President of Vehicle Technology.

"In the past few months our engineers have moved from only a rendering to the car you see in front of you today," Local Motors CEO Jay Rogers told the crowd at SEMA. "We are using the power of DDM to create new vehicles at a pace unparalleled in the auto industry, and we're thrilled to begin taking orders on 3D-printed cars next year."

Siemens developed the software, including Solid Edge, which allowed product development team from Local Motors to build the car from its concept through direct modeling and synchronous technology. The LM3D Swim's body was built by materials provided by SABIC, a world leader in thermoplastic material solutions.

Local Motors has also partnered with IBM to create first-of-its-kind interactions between the microfactory, 3D-printed vehicles, their drivers and the outside environment. Local Motors also has plans to develop and launch a series of apps and vehicle products to connect, monitor and optimize the driving experience.

Several new models of the LM3D series are also being planned for launch through 2016 and the company is currently pursuing federal crash testing and highway certifications. LM3D Swim is expected to be priced around $53,000. The LM3D series will be built at a new Local Motors microfactory that is under construction in Knoxville, Tennessee, slated for completion by the end of 2015.
Till the time we get this, take a look at some of the most excitingly designed cars available in India
Maruti Suzuki Baleno Picture Gallery
Hyundai Elite i20 Picture Gallery
Was this article helpful ?
0 out of 0 found this helpful