Is India ready for EVs and Hybrids?
Published On Sep 08, 2014 04:24 PM By Abhijeet
Whether or not electric vehicles (EVs) are an option good enough to swap with oil, or even burning less oil through the use of Hybrid cars, is a question that has begun making noise now after five years since India first started pondering on the possibilities.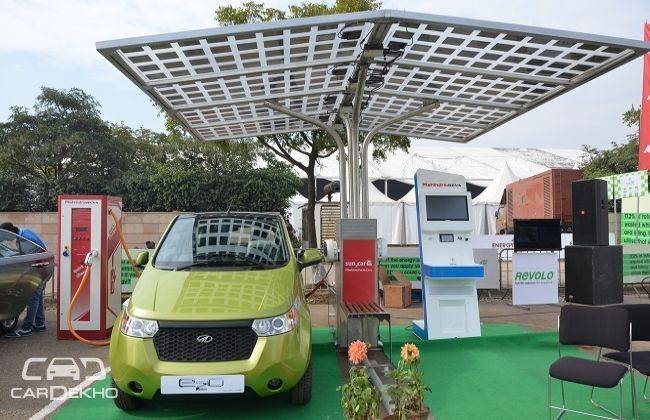 A ray of hope
The probability of EVs and Hybrid cars taking over Indian roads revolves around four things, namely: Electric batteries have evolved where they cheap and reliable; the government is beginning to recognise the upsides of the proposal, drifting away from use of oil and providing incentives to people to purchase EVs and Hybrids; the Indian customer wants vehicles that is light on his pocket and the car-makers are enlightened and understand that the future holds less space and money for engines that burn fossil fuel.

EVs must get attention
With all these aspects taking shape, it can be said that India is bending towards introduction of EVs and Hybrids that work in the real life. The ministry of heavy industries in January revealed an ambitious Draft Action Plan for Electric Mobility 2020. The plan targeted to get around six to seven million EVs on the road by 2020. However, such an occurrence is far from happening if the government does not put the plan into action of cultivating a system that supports EVs for more than a grocery run.

Industry speaks
The Draft Action Plan focuses on the vehicle. Also under this plan, customers, manufacturers, and research and development institutes are provided incentives. An announcement from Mahindra Reva came right after this draft, saying that Mahindra's second generation electric car, the e2o, is set to be rolled out on Indian roads, underling its Bangalore plant capacity of 35000 per year. The draft focuses on the vehicle. It promises incentives to customers, vehicle manufacturers and research and development organisations. This draft was followed quickly by an announcement from Mahindra Reva that its second-generation electric car e2o is ready to be rolled out of its spanking new 35,000-capacity-per-year plant in Bangalore. "The technology is much more ready today. And government policy is changing. For the first time, all of this is coming together," said Chetan Maini, Chief Strategy Officer, Mahindra Reva.

Carlos Ghosn, CEO of Renault-Nissan and also perhaps the biggest supporter of EVs, has reiterated that electric vehicles will change the mobility scenario. The company, which has invested around USD5 billion in its EV programme, launched the Nissan Leaf in 2011. Chevrolet Volt, another electric contender, is also considered a promising electric car to have rolled out from General Motors in the past decade.

Even after these cars came into being, the claims made by the manufacturers have not been able to bear fruit. Nissan sold 9,819 units of Leaf in all of the US in 2012, on the contrary to Ghosn's expectation of selling 20,000 units. 23,461 units of Volt were sold in 2012, compared to 7,671 units in 2011. But, even after the climb in sales, the volt did not shake off the designation of Chevrolet's lowest selling car.

What about Hybrids?
Hybrid technology made to the mass markets much more easily than EVs. Vehicles like Toyota Prius and Honda Civic Hybrid were options for the Indian customer, but unfortunately were not received warmly. Unlike EVs, Hybrid cars use two engines under their bonnet. One is a normal petrol engine, and the other is an electric motor. Both these engines compliment each according to the needs depending upon propulsion. This hybrid setup results in extended fuel efficiency and lesser emissions. But the problems persist in the price of these vehicles. Because of their two engines, hybrids cost a lot more than similar petrol or diesel cars. The Honda Civic Hybrid was priced at a scary Rs 22 lakh as opposed to the regular petrol powered Civic which used to cost nearly Rs 16 lakh. Buyers were unable to understand the pricing and so was the manufacturer unable to justify it to them.

Government can help
The high prices of these hybrid products can be reduced by added bonuses and subsidies by the Government. Consumers will start appreciating the benefits of Hybrids and EVs when they become more affordable. It is quite understandable that the Government of the nation is involved in much bigger issues then mobility currently, but it must understand that mobility is a major topic of concern. Just changing emission norms and altering policies is just not enough. The environmental concerns regarding vehicular emissions must be a priority issue as the pace of development is very high, especially in metropolitan cities. For example, Nissan sold more EVs in Norway than in the US because the Norwegian government provided support such as zero import duty on EVs, assistance for charging infrastructure and permission for EVs to use the bus lane during rush traffic.

Present and future
Currently the automobile industry offers the Toyota Prius and Camry Hybrid as hybrid vehicle options. Mahindra Reva has the new e2o as an option in the EV line-up for interested customers. The e2o is a massive improvement over the older Reva. The car is a very usable city vehicle and can be charged from a regular electricity plug. But the price of this car, nearly Rs 7 lakh, is still high for Indian customers. And then is the recharge infrastructure that still is an obstacle in the path of success for EVs. India still seems to be warming up for hybrid cars than full electrics.

Automobile manufacturers are now slowly turning their heads away from EV sales in India and getting more interested in hybrid technologies being bought in the country. New models are being lined up for sale in Indian market. The recently launched Toyota Camry Hybrid has much garnered attention from Indian customers. BMW India showcased the i8 plug-in hybrid supercar at the Auto Expo 2014 that caught a lot of eyeballs for the German giant. BMW has also launched 7 Series Active Hybrid limousine in India which will soon be followed by the i8 supercar later this year. Also Nissan is planning to launch their most successful EV, Nissan Leaf, on our shores very soon. Just a little nudge from the government will work wonders for EVs and Hybrid vehicles in India. They are cleaner and more efficient in burning fuel and greatly help reduce the carbon footprint caused by cars. As for EVs, they are absolutely brilliant machines for moving around town, with no fuel requirement and just a simple charge from any plug in your house.


Was this article helpful ?
0 out of 0 found this helpful