Hamilton Bags Monza Victory
Modified On May 19, 2018 04:46 PM By Anonymous
The 2012 Italian Grand Prix was off to an energetic start from Hamilton and Button in the first row and an even more explosive start from Felipe Massa when he pushed right out of the 2nd row to overtake Button who could not regain his position until the 19th lap.
The start was a lot cleaner than the previous Belgium Grand Prix with no looming start-of-the-race accidents. A bit of debris was visible at start-off when Karthikeyan's front wing took a hit from one of the other cars.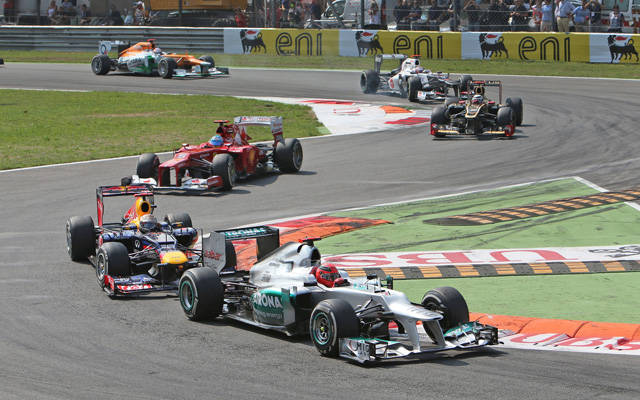 Lap 1 thorough 7 showed more or less consistent racing with Hamilton and Massa vying for top position followed closely by Button. Lap 6 saw Schumacher and Alonso dueling while Alonso kept the pressure up on the German. Things came to a head for them during lap 7 when the Mercedes and Ferrari went wheel-to-wheel on the straight resulting in Alonso finally pushing through the Germans defenses to reach 5th position.
Lap 9 saw the first retirement of the race in the form of a nasty mishap for Vergne of Toro Rosso when his rear-suspension gave way at Turn 1 causing the French driver to veer off the track and out of the race. Vergne reported minor back pain but was able to walk away from his damaged car.
Things run at a consistent pace for the next little while with Hamilton in the lead followed closely by Massa with Button behind being chased by Vettel who in turn has Alonso closing in on his rear.
Lap 14 saw the first of the pit stops from Maldonado who was surprisingly meek throughout this race, not having caused any major trouble unlike his previous stint at the Belgium Grand Prix where the Williams driver received 2 five-place grid penalties for jumping the start and for ramming into Timo Glocks rear in an avoidable accident.

Run 15 saw more drivers starting to pit in as tyres started to wear and needed compound sets. The front contenders remained on track choosing not to pit with the exception of Schumacher who was called in for an early pit stop at Lap 15 after which he emerged in 15th position.
Massa's extraordinary start was slightly ruined when news from his garage came in that the Brazilian was flying blind with no telemetry readings. Things got worse for him at Lap 19 when Button makes a fantastic move on Massa to regain 2nd position, leaving the Brazilian 3rd and desperately trying to maintain his grip on the road. He then pits to get his electronic problems sorted.

Button in 2nd position was asked to make the most of Massa's stop. The Britain who was still on good tyres was asked to "push now" as Massa stopped to have his car checked. Perez was seen driving like a madman, having started from 12th position and was actually lapping a second quicker than the Grand Prix winner Lewis Hamilton. Lap 37 actually saw the Sauber driver catch up to Raikkonen for 4th position.
Lap 26 turned into a disappointment for Alonso when Vettel forced himto go wide onto the gravel. The stewards were clearly unhappy with this incident and awarded Vettel a drive-through penalty. Many Vettel fans claimed normal racing line as an excuse for the incident and no doubt so did Vettel.

Perez who was by far the quickest driver after Hamilton in this race was informed that his target had been increased to 4 more laps after the 28th Lap. While many claimed this to be an unwise move as tyre wear would eventually set in, the Mexican managed to hold on till Lap 48 before pitting.
By Lap 32 the stewards had made their decision regarding the Vettel-Alonso incident and awarded Vettel his 20 second drive-through penalty which will undoubtedly affect his points in the championship.
Things go on more or less consistently until the 34rd Lap when Belgium Grand Prix winner Button suffered a major disappointment when his car lost its drive due to a fuel pressure problem. Button was reported to be yelling frantically "No drive, no drive, engine is off."

Perez, taking advantage of Button pulling out, made his way to the 4th position after rushing past Raikkonen and pushing forward to try and catch Massa. By Lap 40 he was almost 2 seconds faster than the Brazilian. Massa who was previously asked to let his team-mate Alonso pass him for the lead for Ferrari, was then asked to step up his pace as Perez came forward hard on his heels.
The day wore on with things going from bad to worse for Sebastian Vettel and Red Bull. Team-mate Mark Webber received a warning message at the 43rd Lap that his team-mate Vettel is facing car issues. By Lap 48 the German is forced to stop his car and retire from the race as the engineers try to save the engine from an alternator problem. 3 laps later Red Bulls Webber also retired from the race after his car spun off the track due to "massive flat spots on the tyre."
The last retiree of the race was Nico Hulkenberg of Force India who retired from the race due to issues with his brakes. The race came to a close with Hamilton in the lead followed 5 seconds later by Perez followed by Alonso who was 20 seconds behind the Mexican.

Hamilton took his victory with poise and grace. He was reported saying "It's been fantastic to win here. I'm just so happy for my team; it's been a fantastic day. Fernando is a two-time world champion so I'm very happy for him too." He also had a word with Perez about his extraordinary driving, congratulating him, "You had a really good race at the end Sergio. At the end you were a second a lap quicker than me."
Perez who finished second was over the moon with his victory, "It was a great race for me and my team. It's unbelievable to have a podium for my team at Monza. It's very special. I went for prime tyres at the start and i decided to stop late. That gave me very fresh tyres at the end. It's unbelievable."

Alonso, thanks to his extraordinary lap time walked up the podium confidently amidst a deafening crowd, "It was a difficult race starting from 10th but we knew we had possibly the quickest car this weekend. We had the pace to recover the position so it was a good result for us."
Position

Driver

Constructor

Time

Points

1

Lewis Hamilton

McLaren

1:19:41.221

25

2

Sergio Perez

Sauber

+4.356

18

3

Fernando Alonso

Ferrari

+20.594

15

4

Felipe Massa

Ferrari

+29.667

12

5

Kimi Raikkonen

Lotus

+30.881

10

6

Michael Schumacher

Mercedes

+31.259

8

7

Nico Rosberg

Mercedes

+33.550

6

8

Paul di Resta

Force India

+41.057

4

9

Kamui Kobayashi

Sauber

+43.898

2

10

Bruno Senna

Williams-Renault

+48.144

1

11

Pastor Maldonado

Williams-Renault

+48.682

12

Daniel Ricciardo

Toro Rosso

+50.316

13

Jerome d'Ambrosio

Lotus

+1:15.861

14

Heikki Kovalainen

Caterham-Renault

+ Lap

15

Vitaly Petrov

Caterham-Renault

+ Lap

16

Charles
Was this article helpful ?
0 out of 0 found this helpful