Fast & Furious 6: What it has for a Car Buff?
Modified On Nov 04, 2015 06:32 PM By Rajpal
9976 Views

Write a comment
As a car aficionado and movie buff, I always found movies like Transporter, Fast & Furious and Death Race way cooler than the rest of the action movies. And when the 6th installment of the Fast & Furious series released recently, I had to be there to watch this car packed movie. Like all other F&F movies, the Fast & Furious 6 is also about cars, speed, crime, Vin Diesel, Paul Walker, The Rock (Dwayne Johnson) and Michelle Rodriguez (Yes, she is back). But this time I found that F&F 6 is not that great on story line, though the superb cars make it a good watch.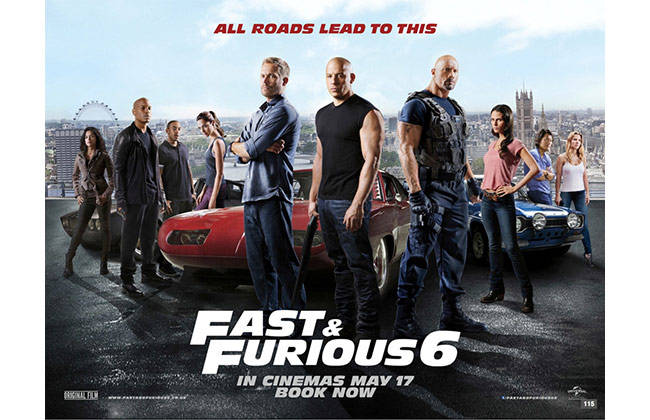 There were some wow moments and some gorgeous cars in the movie, infact better than the last installment. Plus, this time, some new technologies were also showcased in the movie.

There are around 400 cars used in the movie and each and every car is special in its own right like 507bhp BMW M5, 850bhp Mustang, Dodge Charger and Challenger. I loved some of the sequences in the movie, which I am listing down
Opening Sequence- Nissan GT-R, Dodge Challenger SRT8 and Exotic Sea Side Race:

In the very first scene, Vin Diesel and Paul Walker raced on an exotic sea side road. Both, Vin's Dodge Challenger and Paul's GT-R performed great and this opening sequence is enough to thrill you.

London, BMW M5, Custom Built Ramp Cars, International MXT-MVA truck, Chip Bombs and Bam Bam Scenes:

U.S. Diplomatic Security Service (DSS) agent Luke Hobbs (The Rock) found that Shaw (The bad guy) is making some weapon, which can hack military intelligence and other important network for 24 hours, and for this Shaw needs some specific parts. Shaw uses fast cars to do his crime, and that is why Hobbs decides to hire Dom's team for the task. And here the whole team unites to get their freedom and Dom's wife Letty, who lost her memory and is with the 'Bad Guy' Shaw (Luke Evans).

So the whole team reunites - Dom's best friend and ex-FBI officer, Brian (Paul Walker), and Dom's sister Mia (Jordana Brewster), who is also Brian's wife, Roman (Tyrese Gibson), the computer whiz kid Tej (Chris "Ludacris" Bridges), "Tokyo Drift's" Han (Sung Kang) and "F&F4's" reformed bad girl Gisele (Gal Gadot).

In order to hunt down Shaw, the team is all prepared with their fast BMW M5s, but Shaw surprised them with his unique custom built ramp cars and use of some chip bombs, which allow the Bad Guy to control BMW M5s by a remote, as the chips control the cars. The sequence was amazing as the scenes were choreographed with perfection. The Rock drives an International MXT-MVA truck in the sequence, which is as massive as The Rock. The whole sequence ended with Dom (Vin Diesel) being shot by Letty.
A race in London, 1971 Jensen Interceptor, 1969 Dodge Daytona and Aston Martin Vanquish:

In a sequence, Dom and Letty meet at a race, where they race with each other. At the race, there were some real hot cars including Subaru Impreza WRX Sti in action, Koenigsegg CCX, Ferrari F430 Scuderia and Ferrari 360 Modena. The race starts and Dom performs wheely with his 1969 Dodge Daytona, while Letty gets a quick start with her 1971 Jensen Interceptor. The race follows the busy London streets and ends with Letty's car's breakdown.

They have chitchat and then comes the 'Bad Guy' Shaw in his million dollar baby Aston Martin Vanquish. The scene end with Shaw asking Dom to step back. The Dodge Daytona has been built from scratch for the movie and both the Daytona and Jensen Interceptor were using the same 500bhp Chevy LS3 V8 motor.
Vickers-Armstrong FV 4201 Chieftain Tank, Cars, Harley, Ducati, Brutal destruction scenes and Vin Diesel's Superman Stunt:

Later Hobbs and Dom find that Shaw is about to get the last chip from a NATO base in Spain. The team requests to relocate the chip and while relocation, Shaw attacks and get the chip. Here comes the Fast and Furious team on cars including 1969 Dodge Daytona, 2012 Dodge Charger SRT8, 2012 Bensopra Nissan Skyline GT-R, 1970 Ford Escort RS1600 MK1 and Nissan Skyline, while Han and Gisele on Harley and Ducati Monster.

But Shaw surprises them again with a Vickers-Armstrong FV 4201 Chieftain Tank, yes a real tank, which can fire as well. And here Shaw crushes some cars like toys and you will say 'no' for sure as the tank crushes some wonderful cars as well, and do you know the number? Well, it crushed around 100 cars, brutal!

The Sequence ends as Roman's intelligence stops the tank. But believe me guys, Dom's superman stunt to save Letty is a real treat for sure, you will realise this when you watch the movie.
Flying Cars, crashing plane, The Rock at full and a lot of fireworks:

After Shaw gets arrested, he tells the team that he has kidnapped Mia (Dom's sister and Bryan's wife), so they have to let Shaw walk with the chip. Later they follow him and find that he is about to leave the place in a cargo plane, Mia is also on the same plane. Team tries to stop him and save Mia.

The plane attempts to take off but comes down by excess weight as Han, Gisele, Roman, Tej, Brian, and Mia tether the plane to their vehicles. In an attempt to save Han, Gisele sacrifices herself.

The last sequence is so dramatic, and I loved every bit of this. However, what I enjoyed more is the fight sequence between Dom (Vin Diesel), Shaw (Luke Evans), Hobbs (The Rock) and Shaw's henchman Klaus (Kim Kold), you will think The Rock has enough of muscles, but believe me Klaus was even bigger than The Rock, however it ends up with The Rock signature style kick.

At last the plane crashes as Han through one of Shaw's ally in the engine of the plane and weight of the car brings it down to get crashed. Dom survives dramatically from the crash. In last, the team wins their freedom and dream house to live in.

Jason Statham and the Preview of Fast and Furious 7:

When I was about to leave theater as credits starts appearing on the screen, it starts again, it show that Han is racing in Tokyo and boom, a Merc hits his car with full force, it crashes and explosion.

Look who is there, the star of Transporter and Death Race, Jason Statham is the guy, he calls Dom and says "You don't know me, but you're about to..."
I am eagerly waiting for this movie, especially to see Jason Statham in the F&F series!
Was this article helpful ?
0 out of 0 found this helpful