Different segments in Indian auto industry
Modified On Mar 27, 2015 03:58 PM By Rahul
6502 Views

Write a comment
The Indian car market is a maturing market, as several new segment are coming up and car manufacturers are experimenting with it. The needs of an Indian car buyer are different from other parts of the world. Generally sedans and SUVs are considered premium. Station wagon, a concept that is hit in the European and American markets seems to not work well for India and even the Chinese market.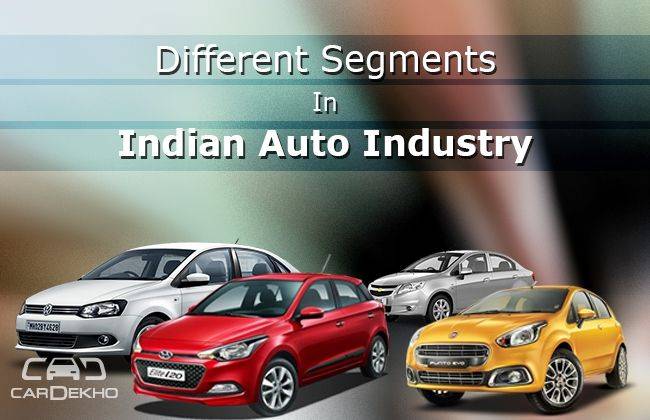 Our market is considered to be the market for hatchbacks. Compact cars are the need of the day, and even the government has implemented rules to allow the development of cars under 4 metres, as they attract lesser duty and other taxes. Petrol engines smaller than 1.2-litre and diesel engines that are under 1500cc, have a lesser excise duty. This helps to increase fuel efficiency and also reduce the pollution. As hatchbacks have an advantage over the sedans, more hatchbacks are sold in India. Hatchback market in India is about 50%, with approximately 26% going to entry-level hatchbacks like Hyundai Eon, Maruti Suzuki Alto, Maruti Suzuki Wagon R and 24% of the contribution coming from premium hatchbacks like Maruti Suzuki Swift, Hyundai i20, Nissan Micra and Fiat Punto Evo.
| | | |
| --- | --- | --- |
| Car Segment | Length Of The Car | Examples |
| A1 | Up to 3400mm | Nano |
| A2 | 3401 to 4000mm | Alto K10, Wagon R |
| A3 | 4001 to 4500mm | Dzire, Amaze |
| A4 | 4501 to 4700mm | Corolla, Cruze |
| A5 | 4701 to 5000mm | Accord, Camry |
| A6 | More Than 5000mm | Audi A8L, Jaguar XJL |
| B1 | Vans | Omni |
| B2 | MUV/MPV | Innove, Safari Storme |
Above is the classification of various Indian car segments done by SIAM (Society of Indian Automobile Manufacturers). According to SIAM, classifications are done based on their length rather than pricing but this puts everything in a dilemma, as pricing does not rely on mere size of the car but rather on specifications and features. To make things easy, we have segmented the cars according to their prices.
| | | |
| --- | --- | --- |
| Car Segment | Price Of car | Examples |
| A | Hatchbacks Less than 3.5 Lakh | Alto, Nano |
| A1 | Hatchbacks Less than 6 Lakh | Ritz, Grand i10 |
| A2 | Between 6-7.5 Lakh | Elite i20 |
| B1 | Vans | Eeco |
| B2 | MUV/MPV | Innova, Bolero |
| C1 | Sedans less than 8 Lakh | Amaze, Xcent |
| C2 | Sedans less than 9.5 Lakh | City, Ciaz |
| D1 | Sedans less than 15 Lakh | Cruze, Elantra |
| D2 | Sedans less than 25 Lakh | Superb |
| SUV | SUV | Fortuner, XUV 500 |
In the last couple of years, there has been a shift in buying trends as there are sedans ands SUVs that are under 4 metres in length, availing the excise duty cut. This has boosted the sales of these new emerging segments. The compact sedan market began with the Tata Indigo eCS, however a couple of years ago, Maruti Suzuki had introduced a sub 4-metre Swift DZire. This product changed the game for the company and since then even Honda, Hyundai and Tata Motors have joined the bandwagon. In the SUV segment there is the Ford Ecosport, which is the first mover in this segment and will be soon joined by Fiat Avventura. There are several hatchback crossovers like the Toyota Etios Cross and Volkswagen Cross Polo, which are more of cosmetic upgrade.

The utility segment that includes SUV and MUV has an approximate market share of 26% and sedans have 24%. But this has been the scenario when the diesel prices were much lesser than petrol and now both are similarly priced. Slowly again, the market is shifting to petrol and the demand for diesel cars will soon reduce and sedans will capture some of the SUV market. The compact sedans and the mid-size sedans will soon see a growth in their sales, especially for petrol cars. At the same time, even premium hatchbacks will grow in numbers, especially the petrol powered.

For cars under Rs 10 lakh bracket, the price difference for petrol and diesel cars is a higher percentage, this will be a strong driving force to pull more buyers towards gasoline powered cars. India is still majorly a hatchback market, even though the percentage has reduced from 70% in 2009 to 50%. With the growing number of cars and bikes, parking will be an issue and hence a hatchback will be an ideal pick. Even upcoming towns and cities will suffer from the space crunch and there will be a higher demand for hatchbacks in particular the petrol-driven ones. Diesel will be the choice for those who commute long distance.
Was this article helpful ?
1 out of 1 found this helpful