BAJA SAE 2015: Passion Personified!
Published On Feb 25, 2015 04:43 PM By Akshit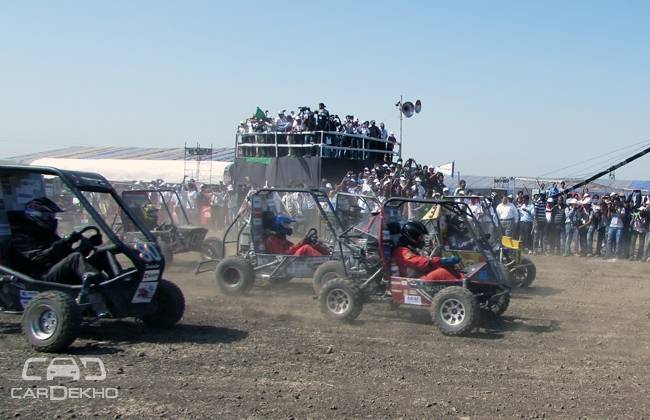 It won't be an exaggeration to say that the BAJA SAE is nothing less than a pilgrimage for the engineering students, who aspire to build a car by themselves one day, as the event provides them an opportunity to do the same. The participants bring along big dreams, great determination and immense enthusiasm to build an off-roader that can fight the toughest of terrain, that too without access to any state-of-the-art labs, equipment or professional support. And coming from a similar educational background, I felt the same adrenaline rush while covering the event.

Last weekend I headed to Indore to witness the 8th edition of the BAJA SAEINDIA 2015, in which 323 teams comprising of over 8000 students were all set to test the mettle of their cars, their credentials and mental strength as well. Out of these, only 122 teams made into the finale. These teams were shortlisted after a series of static tests which comprised of design evaluation, cost evaluation, marketing presentation, and a set of dynamic tests like acceleration, speed, hill climb, aesthetics, quality of fabrication, braking, maneuverability and durability tests.

After passing these stringent rounds, only 74 teams qualified to the grand finale, the Endurance round, in which the 11PS-305cc Briggs and Stratton engined cars were made to traverse a 4.3 kms long track full of obstacles. Flagging off this toughest round was Dr. Pawan Goenka, Executive Director & President, Automotive & Farm Equipment Sectors, Mahindra & Mahindra Ltd. along with notable personalities from the industry. The four-hour race that wrapped up the event was indeed the most exciting one. Featuring everything from two-feet high bumps named 'Booby Traps', a narrow lane of dry mud- 'Kala Pani,' to a 'Gich Bridge' sludge-filled pit, the track had every hindrance that could test every fibre of the cars and their drivers.

The endurance race kick started with 'Team Nemesis' from College of Engineering, Pune (COEP) being on the pole position, and the same team ended first too, displaying the best temperament throughout. While the 'Team Predators' from DY Patil College, Pune and 'Team Kshatriya' from Vellore Institute of Technology, Vellore stood at second and third podium positions, respectively.

The prize distribution ceremony was held in the evening, which commenced with some words of motivation and appraisal from the chief dignitaries including Anthony JC Desa, IAS Chief Secretary Government, Madhya Pradesh, Kamal Bali, MD, Volvo India, Girish Markale, Co-convener BAJA SAE India, Dr. Aravind Bharadwaj, President, SAE India and the man behind BAJA, Dr. Pawan Goenka. A cumulative INR 27 lacs worth of prize money was distributed to several winning teams in different categories.

Speaking on the occasion, Dr. Pawan Goenka, Executive Director, Mahindra & Mahindra Ltd. said, "It's heartening to see thousands of students coming together once again to celebrate the spirit of BAJA. Increase in participation from colleges and BAJA SAEINDIA's growth since inception indicates its growing popularity and national significance. This forum gives young engineering talent an opportunity to showcase their skills, innovate and acquire a real life experience posed with challenges which is critical to their success in the long term. Mahindra & Mahindra is delighted to be associated with BAJA SAEINDIA 2015 as the title sponsor and with BAJA, we are taking forward the philosophy of Mahindra Rise to the next level".

Also, it was the first edition in the entire history of the event that an 'E-BAJA' was organised with an aim to promote electrical mobility in the country. Unlike the conventional BAJA cars that were powered by internal combustion engines, the e-BAJA vehicles were propelled by an electric motor powered by rechargeable battery packs. Contested by 12 teams in total, KL University, Guntur bagged the title of inaugural edition of e-BAJA.

Was this article helpful ?
0 out of 0 found this helpful