A ride back in time - TeamCSA
Published On Sep 19, 2014 01:37 PM By Bala Subramaniam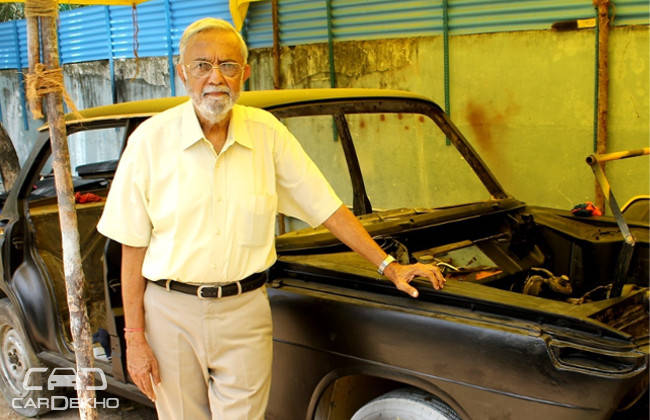 C.S. Ananth and vintage cars go hand in hand. A name synonymous for restoring cars from the earlier century, collecting vintage cars has been Mr. C.S.Ananth's hobby for some decades now before starting the restoring business in 2005. Cars restored by his team have won several prestigious awards at famous car shows.
How do you take cars for restorations?
We don't take cars like Ambassador or Fiat. We have certain ethics in our team. We take cars only from genuine collectors, not from dealers. Earlier, we used to take only one car at a time so that we can concentrate on just that project. But as the number of potential projects increased, we have to take in more as we can't make the customers wait.

What about the spare parts? How do you source them?
We import all our spare parts. The local spared parts dealers within the country price their products very high and expect us to buy them. They don't understand that the world has opened up. Internet is now available to everyone and we can order genuine spare parts from anywhere in the world. The local dealers want us to bargain for their overpriced products and I don't like to bargain. It's a waste of time and money only.
Our custom rules for import are ancient. The spare parts, especially tyres, come under restricted goods and it is not easy to import them. They want Indian standard certification on them, which if I'm importing one lakh tyres may make sense. But I order only around 20 to 30 tyres and they have either American or British certification. So in these circumstances, I have to apply for special permission every time.

Managing the works…
I have two dedicated body shops in different locales of the city, who undertake only my projects. This way their attention towards the project is not diverted and I guarantee them enough projects to do business with happily. Here in my place, we do the rest like painting, wiring and mechanical work etc.
Difficulties in the projects
Each car that we work on comes from a different era. We take utmost car to restore it back to its original condition. We take apart everything from the engine, transmission, propeller shaft to the lamps and seats before we send the cars to the body shop. And then we have to put them back exactly the way they were originally. We use only genuine parts, refer the original manual for guidance and photographs if we are unable to find any manual guide.
There's a 1911 Mercedes that we have taken upon to restore now. There are no documents or manual guides available for the car now. Even the Mercedes-Benz doesn't have them. But we are doing research and have been collecting parts for the car for the past few months. We will get everything and complete the car back to its original glory.

Why TeamCSA?
Whenever we take over a project, we will give a complete report for the work needed in the car. And after that, we update him about the project at every level and finally give him all the details about the works done on the car.
Was this article helpful ?
0 out of 0 found this helpful