7 American Cars India Deserves
Published On Jul 14, 2016 03:42 PM By Arun
Now that the legendary Ford Mustang is here, it's natural to be greedy and crave for some more Americana! While the world has always looked towards Europe and Japan for the latest and greatest in cars, the Americans too have been behind some properly epic sets of four wheels. Yes, there are plenty of jokes on the interwebs on how the engines are unnecessarily large or how a few run fast only in a straight line. But what these cars have in oodles is presence, and the ability to stand out in a crowd -- much like the country itself.
We put together a list of seven cars that we think should follow the Pony's footsteps and have a go in the Indian market.
Chevrolet Camaro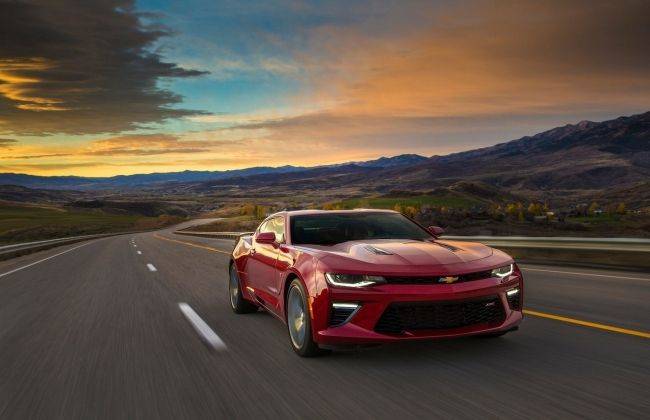 This one isn't really a surprise now, eh? We'd absolutely love to see the legendary muscle car battle play out on Indian roads too! The Mustang has no direct rival and it'd be interesting to see the Camaro step up to the mantle. While we're on a wishing spree, bring on the 6.2-litre, 455PS V8 motor too!
Dodge Charger Hellcat

The Charger completes the muscle car trifecta. Who doesn't remember the 1970 Dodge Charger R/T from the first 'Fast and Furious' movie? A legend in its own right, the Charger is now a thoroughly modern car that packs some serious heat. The Hellcat pokes the mental muscle car with a 6.2-litre HEMI engine that develops 707PS of power. That's more than a Lamborghini Aventador. Need more reasons to want one?
Cadillac Escalade

If you thought the likes of the Ford Endeavour or the Chevrolet Trailblazer are big SUVs, wait till you lay your eyes on the Cadillac Escalade. It can put most buses to shame in terms of sheer size, and features a massive 6.2-litre V8 motor that develops 420PS of power and 624Nm of peak torque. Bathed in leather, wood and other fine materials, the Escalade is America's idea of a full-size family SUV.
Ford Focus RS

Hot hatches are the flavour of the season. That said, how does a 315PS engine sound for a hatchback that is roughly the same size as a Hyundai Elite i20? Yep, that's pretty much the reason why we say India needs one. A nimble hatchback that can make most sports cars feel sorry. Who can say no to that?
Tesla Model X

Leaving this one out of the list would've been ludicrous, wouldn't it? The Model X is a four-door, seven-seater SUV that can clock 0-100kmph in just 3.2 seconds. Needless to mention, it comes loaded with Iron Man-esque tech that includes autonomous driving, falcon doors and a whole lot more. And hey, it's electric! No worries about the Delhi diesel ban either.
Lincoln Continental

At 5.11 metres, the large four-door saloon means serious business. Meant to be a luxury lounge, think of the Continental as America's own version of the S-Class. It gets a plethora of features including massaging seats, bespoke wood panelling and a 19-speaker Revel audio system. And before we forget, it has a quirky door handle too. It's the perfect ego-massager for the neo-rich!
Jeep Wrangler 3-Door

Saving the best for last! The 3-Door is practically a mountain goat that takes the question "Can I go there?" as a personal challenge. Its prowess has been proved world over thanks to the oodles of torque and the short(er) wheelbase. The Wrangler Unlimited that Jeep intends to launch in India might just be a size too big for enthusiasts. So, Jeep, can we have the little one too? Please?
There are plenty more cars that we wish we got from the land of the bald eagle. Let us know what you think deserves a spot on the list, through the comments section below!
Was this article helpful ?
1 out of 1 found this helpful