Skoda Octavia 2013-2021
Change car
Rs.15.49 - 36 Lakh*
This car model has expired
Compare with Skoda Octavia
Key Specs of Skoda Octavia 2013-2021
| | |
| --- | --- |
| Engine | 1395 cc - 1984 cc |
| BHP | 140.8 - 241.39 Bhp |
| Transmission | Manual/Automatic |
| Mileage | 14.45 - 21.0 kmpl |
| Fuel | Petrol/Diesel |
| Boot Space | 590-litres L (Liters) |
Explore Price of Octavia 2013-2021 Alternatives

Skoda Octavia 2013-2021 price list (Variants)
Corporate Edition Petrol1395 cc, Manual, Petrol, 16.7 kmplEXPIRED
Rs.15.49 Lakh*
 
Octavia 2013-2021 1.4 TSI MT Ambition1395 cc, Manual, Petrol, 16.7 kmplEXPIRED1 Month waiting
Rs.16 Lakh*
 
Corporate Edition Diesel1968 cc, Manual, Diesel, 21.0 kmplEXPIRED
Rs.16.99 Lakh*
 
Octavia 2013-2021 2.0 TDI MT Ambition1968 cc, Manual, Diesel, 21.0 kmplEXPIRED1 Month waiting
Rs.18 Lakh*
 
Octavia 2013-2021 Facelift1968 cc, Automatic, Diesel, 19.3 kmplEXPIRED
Rs.18.50 Lakh*
 
Octavia 2013-2021 1.4 TSI MT Style1395 cc, Manual, Petrol, 16.7 kmplEXPIRED1 Month waiting
Rs.19 Lakh*
 
Octavia 2013-2021 1.8 TSI AT Onyx1798 cc, Automatic, Petrol, 15.1 kmplEXPIRED1 Month waiting
Rs.20 Lakh*
 
Octavia 2013-2021 1.8 TSI AT Style1798 cc, Automatic, Petrol, 15.1 kmplEXPIRED
Rs.20.60 Lakh*
 
Octavia 2013-2021 2.0 TDI MT Style1968 cc, Manual, Diesel, 21.0 kmplEXPIRED1 Month waiting
Rs.20.80 Lakh*
 
1.8 TSI AT Style Plus1798 cc, Automatic, Petrol, 15.1 kmplEXPIRED
Rs.20.90 Lakh*
 
Octavia 2013-2021 RS1984 cc, Automatic, Petrol, 14.45 kmplEXPIRED
Rs.21 Lakh*
 
Octavia 2013-2021 2.0 TDI AT Onyx1968 cc, Automatic, Diesel, 19.5 kmplEXPIRED1 Month waiting
Rs.22 Lakh*
 
2.0 TDI AT Style Plus1968 cc, Automatic, Diesel, 19.5 kmplEXPIRED
Rs.22.90 Lakh*
 
Octavia 2013-2021 2.0 TDI AT Style1968 cc, Automatic, Diesel, 19.5 kmplEXPIRED1 Month waiting
Rs.23 Lakh*
 
Octavia 2013-2021 1.8 TSI AT L K1798 cc, Automatic, Petrol, 15.1 kmplEXPIRED1 Month waiting
Rs.23.60 Lakh*
 
Octavia 2013-2021 2.0 TDI AT L K1968 cc, Automatic, Diesel, 19.5 kmplEXPIRED1 Month waiting
Rs.23.60 Lakh*
 
Octavia 2013-2021 RS2451984 cc, Automatic, Petrol, 14.72 kmplEXPIRED
Rs.36 Lakh*
 
View All Variants
Skoda Octavia 2013-2021 Review
Having sold more than five million units in two decades, the Octavia is Skoda's bread and butter model globally. On sale in the county since the first-gen model, India has been one of its prime markets and manufacturing hubs.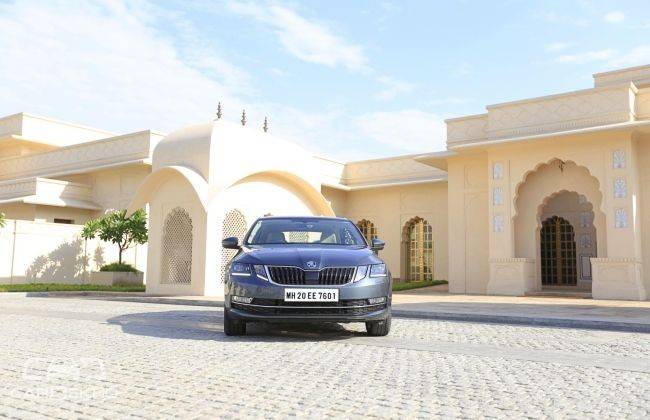 The stakes are high when you have to come up with a mid-cycle refresh or facelift of your bestselling model. And when Skoda unveiled the third-gen Octavia facelift in late 2016, it quickly divided opinions about its older Mercedes-Benz E-Class-like split headlights. But as they say, don't judge a book by its cover. Here's what has changed and carried over in the updated model of one of the most popular nameplates of the D-segment.
Exterior

As the Octavia is a sought-after model in Skoda's line-up globally, it was expected that the facelift of the current model will bring subtle stylistic changes along with new goodies to keep the product competitive. And that is exactly what has happened with the 2017 Octavia. There's an air of subtlety in its aesthetic makeover.

However, its 'double headlamps' have certainly altered the appearance of the front fascia compared to the pre-facelift model, which was rather on the conventional side. Perhaps, one thing is definite that its split headlamps may not be to everyone's taste. On the 'brighter' side, in the very literal meaning of the word, the updated Octavia gets full-LED headlamps over the Bi-xenon ones of the pre-facelift model. The new units, of course, have higher performance and are more energy efficient as well. The fog lamps are halogen and also feature cornering function.

But I feel that its new look will eventually grow with time; it takes a bit to settle in. Frankly, it has grown on me over the course of my short stint with the updated model. The inner units of the headlamps, which appear as a part of the grille, make the Skoda's butterfly grille look wider than it actually is. Thus, in turn, providing a wider stance to its front profile.

The redesigned bumper with a relatively larger air dam and a chrome applique compliment the pseudo width that the grille and headlight arrangement imparts. Incidentally, the split headlamps of the Octavia put it in line with Skoda's new SUVs, the Kodiaq and the recently revealed Karoq!

The sides remain identical to the previous model, save for the new set of 16-inch multi-spoke alloy wheels. Look meticulously and you'll find that the rear fenders are marginally wider to accommodate the increased rear track (read about it in the Ride and Handling section). But this change is hard to notice to the untrained eye.

The changes at the rear are quite limited compared to the front. Though the tail lamps retain the same shape, the new LED graphics (Skoda's regular 'C' shape) and the 3D design of the revised units make the rear look sharper than before.

The updated rear bumper gets more streamlined featuring rectangular reflectors. And its new middle crease line makes the Octavia look less rear heavy.

In terms of colours on offer, the 2017 Octavia discontinues three out of the six colours offered with the pre-facelift model, including the amazing 'Race Blue'. There's an addition of a new shade, Quartz Grey, which you can see in the images.

Exterior Comparison
Toyota Corolla Altis
Length (mm)
4620mm
Width (mm)
1775mm
Height (mm)
1475mm
Ground Clearance (mm)
175mm
Wheel Base (mm)
2700mm
Kerb Weight (kg)
1310kg
Boot Space Comparison
Toyota Corolla Altis
Volume
470
Interior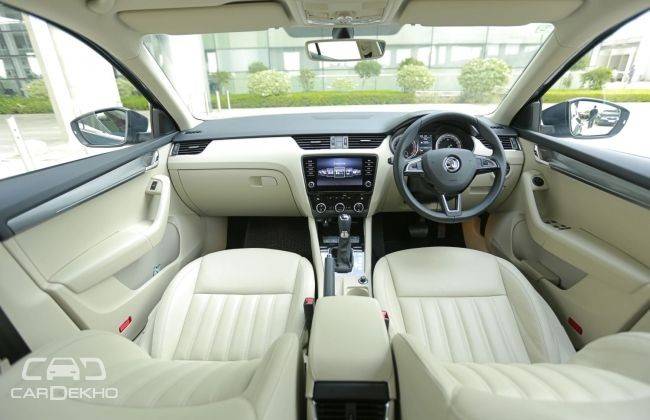 It was the third-gen Octavia's interior which served as a base for the current crop of Skodas, including the all-new Superb. The layout of the dashboard is free of clutter, which will certainly go on for a few more years until the fourth-gen arrives. What Skoda has actually done with the updated model is plug a few gaps.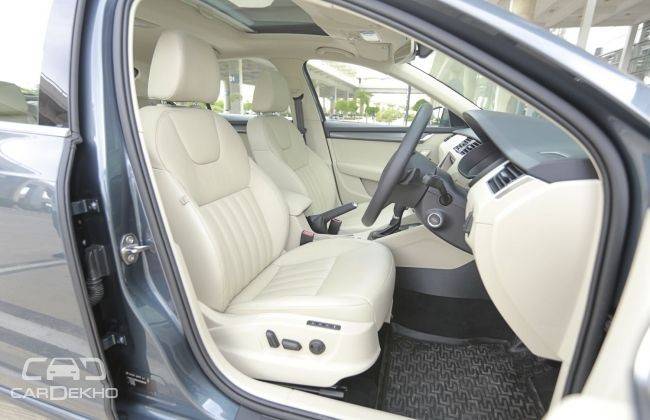 It features the same dual-tone theme, but the lighter colour gets a subtly different shade (same for the upholstery). Then there are new glossy black inserts around the climate control unit and the gearshift knob. The door trims now feature brushed aluminium finish instead of faux wood. All these additions make the cabin look plusher than the previous model.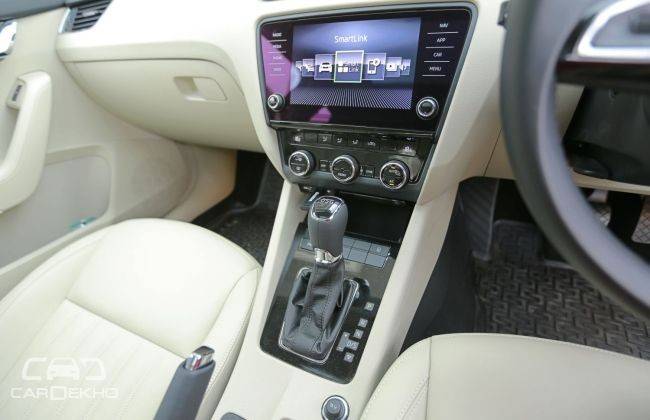 As is the case with VW Group's facelifts, the Octavia gets the German conglomerate's latest infotainment system. It is a glass-encased unit with a capacitive touch display. There are capacitive touch buttons as well, which makes the bigger 8-inch screen look larger than it actually is.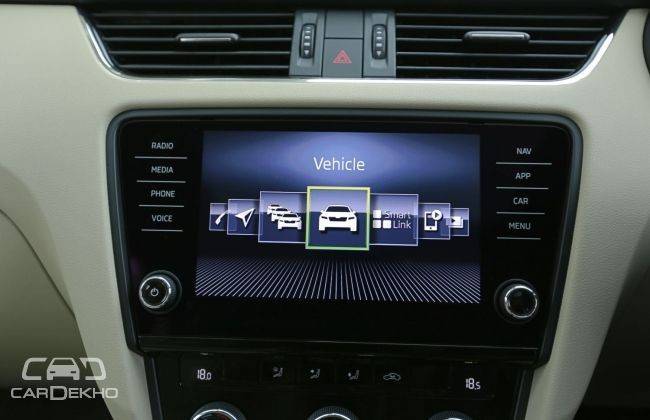 Like before, MirrorLink, Apple CarPlay and Android Auto support are present and it also has built-in navigation. The touch works flawlessly just like our smartphones and features crisp graphics as well. The upcoming India-bound Kodiaq also features an identical unit as well as the Karoq. Eventually, Skoda will replace the Superb's 6.5-inch unit (available with the pre-facelift Octavia) with the same as well.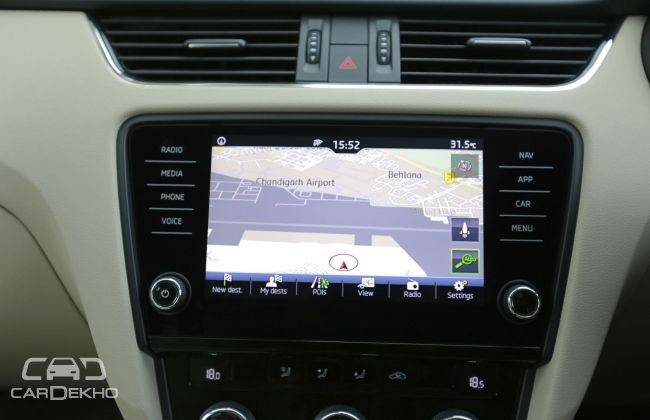 The Octavia was Skoda's first vehicle to be based on VW's famed MQB platform, which later spun out the Superb, Kodiaq and the Karoq. The MQB platform's prime goal was to maximise interior space, while keeping the vehicle relatively lightweight. Thanks to its underpinnings the Octavia has larger footprints than two of its arch rivals, the Corolla and the Elantra, which results in a roomy cabin.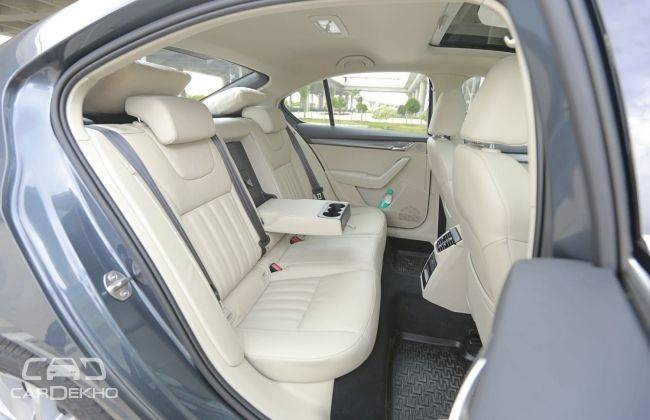 Since there are no dimensional changes with this facelift, the cabin remains spacious as ever. However, the under thigh support of the rear seat could have been improved compared to the pre-facelift model. The rear AC vents aid to keep the cabin cool, but there is still no blower control for the rear vents.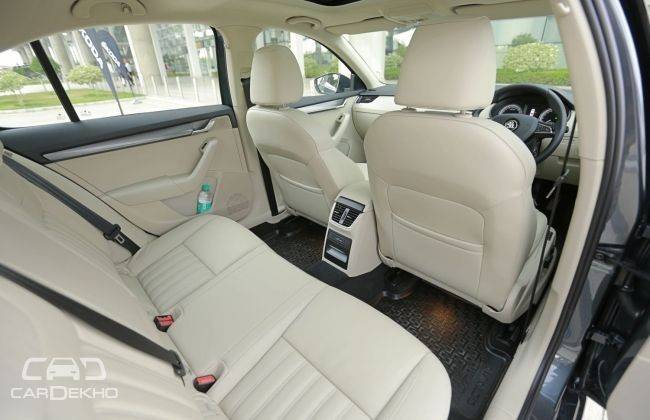 The Octavia's notchback design makes its cavernous boot space of 590 litres a tad more practical. Further, the rear seat is nearly flat-folding, liberating more space, and it also has a 60:40 split function as always.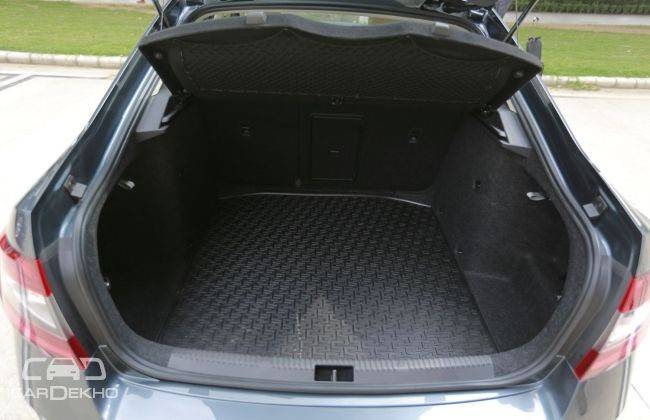 The updated Octavia has quite a few new party tricks up its sleeve! It now comes with hands-free parking. You just have to brake and accelerate, while it steers itself in a parallel or a perpendicular parking spot. Cool?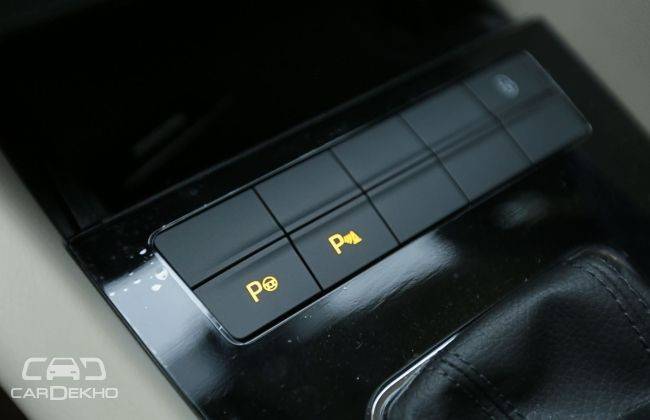 Interestingly, this tech made its debut with the Octavia in India and is not available in the Superb as of now.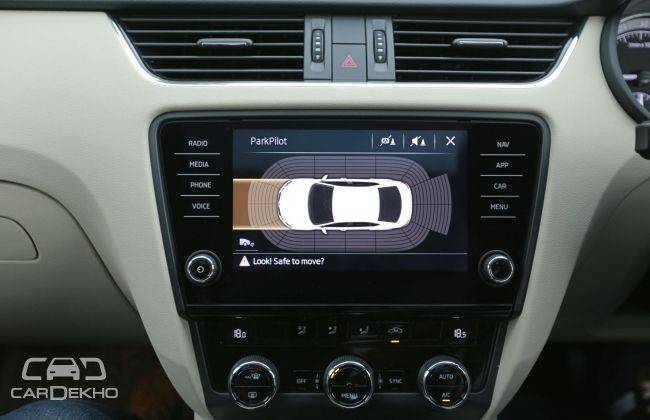 There's a new ambient lighting on offer as well with multi colour option (10 colours to choose from) similar to the Superb.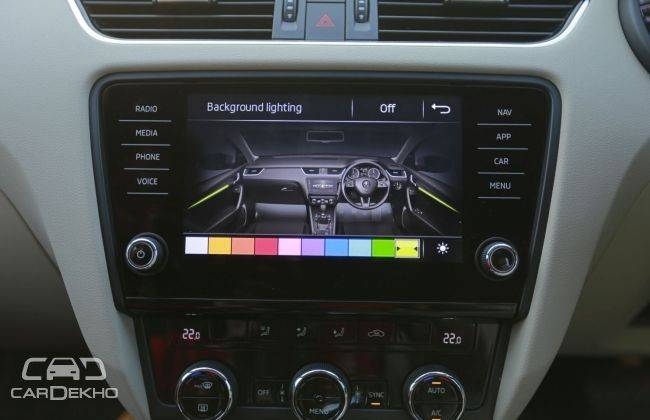 It has thin LED strips that run on the upper edge of the door trims.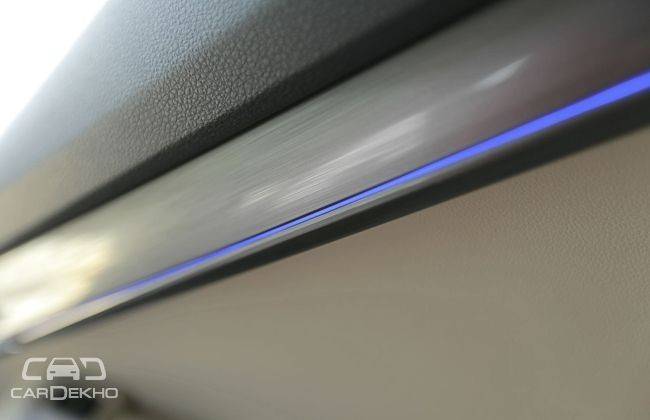 It also pampers its chauffeur-driven owners with an app-based control of the new infotainment system, BossConnect via Skoda Media Command app, which really comes in handy compared to the rear armrest-based controls in most of its rivals. It is a basic app which lets you quickly browse through the available FM stations, streaming music and sharing playlists along with setting locations through car's built-in navigation.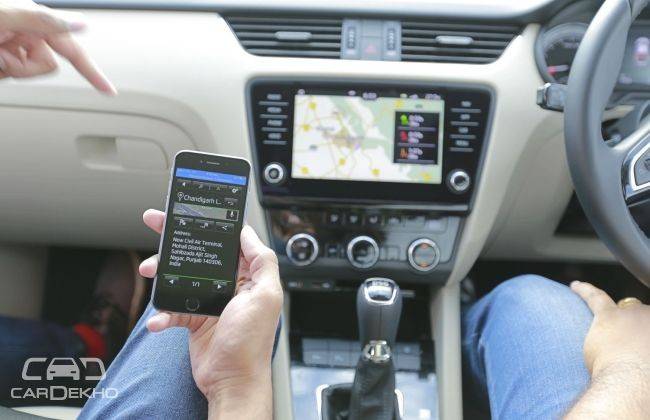 Finally, there are two new fast-charging USB ports for the rear passengers, which also connect to the car's infotainment unit.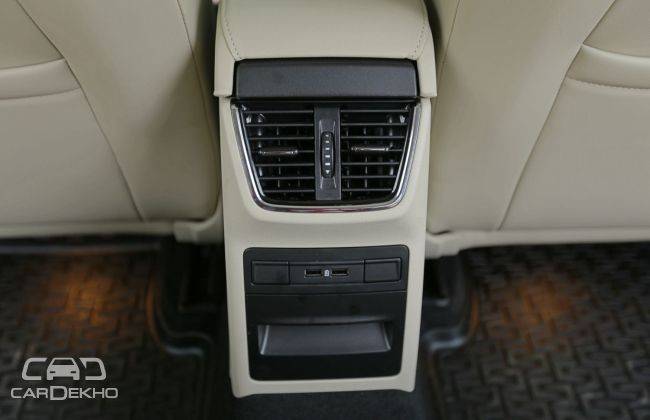 Safety
The third-gen Octavia had a strong suite of safety features in the country and the 2017 model continues to offer the same. It comes with a total of eight airbags (dual-front, front and rear side along with curtain airbags). The dual-front and front side airbags are standard as before.

In terms of braking tech, it gets ABS (anti-lock braking system) with EBD (electronic brake-force distribution) and hydraulic brake assist. Also on offer are ASR (anti-slip regulation), MSR (motor speed regulation), EDL (electronic differential lock) and MKB (multi-collision braking), which are an extension and parts of its ESC (electronic stability control) and traction control systems. There's tyre pressure monitoring as well.
Safety Comparison
Toyota Corolla Altis
Anti-Lock Braking System
Standard
Central Locking
Standard
Power Door Locks
Standard
Child Safety Locks
Standard
Anti-Theft Alarm
Standard
No of Airbags
4
Day & Night Rear View Mirror
Not Available
Performance
All the three engine options of the Octavia remain unaltered with this facelift in India. And that is not a bad thing since the third-gen model offered potent yet frugal motors. All the three engines are direct-injected and turbocharged and are mated to either a 6-speed manual or a 6/7-speed DSG (dual-clutch automatic).

The petrol range starts with the 1.4-litre TSI motor, which puts out 150PS and 250Nm and comes only with a 6-speed manual. It also has a range-topping 1.8-litre TSI petrol, which offers a blistering 180PS and 250Nm and is coupled to a 7-speed DSG. The Octavia 1.8-litre TSI is the most powerful sedan in its class and it excels by a large margin. The torque figure is identical to 1.4-litre TSI because the 7-speed DSG is rated for 250Nm.
The mainstay motor in the Octavia's line-up is the 2.0-litre TDI diesel, which puts out a healthy 143PS and 320Nm and comes with an option of a 6-speed DSG or a 6-speed manual. The fuel efficiency of all the three motors remains identical with a little improvement. The 1.4-litre TSI is rated at 16.7kmpl, the 1.8-litre TSI delivers 15.1kmpl and the diesel Octavia delivers 21 and 19.5kmpl for its manual and DSG variants, respectively.
Performance Comparison (Diesel)
Toyota Corolla Altis
Power
86.79bhp@3800rpm
Torque (Nm)
205Nm@1800-2800rpm
Engine Displacement (cc)
1364 cc
Transmission
Manual
Top Speed (kmph)
170 Kmph
0-100 Acceleration (sec)
11.8 Seconds
Kerb Weight (kg)
1270kg
Fuel Efficiency (ARAI)
21.43kmpl
Power Weight Ratio
68.33bhp/ton
Performance Comparison (Petrol)
Toyota Corolla Altis
Power
138.03bhp@6400rpm
Torque (Nm)
173Nm@4000rpm
Engine Displacement (cc)
1798 cc
Transmission
Automatic
Top Speed (kmph)
200 Kmph
0-100 Acceleration (sec)
11.46 Seconds
Kerb Weight (kg)
1310kg
Fuel Efficiency (ARAI)
14.28kmpl
Power Weight Ratio
105.3bhp/ton
Ride and Handling

The updated model comes with a slightly tweaked rear suspension setup for the 1.8-litre petrol and the 2.0-litre diesel to improve handling and ride quality. The former gets a 30mm wider rear track (distance between the wheels on the same axle) for its reworked multi-link rear suspension. The diesel, on the other hand, gets a 20mm increase, but features a torsion beam setup (non-independent). The Octavia is the only car in this segment to feature an independent rear suspension setup with its 1.8-litre petrol variant (check out the image below). This model gets an independent rear suspension for relatively better road manners because it has a wide power advantage of 30 and 40PS compared to the base petrol and diesel versions, respectively.

The Skoda Octavia is known to offer one of the best ride and handling packages in the segment since the first-gen model. The third-gen sedan stepped up its game, thanks to its MQB underpinning. And the updated 2017 model carries over the same traits. It feels sure-footed for most of the times with certainly the least body roll in its class.

The 2.0-litre diesel, which we were mostly driving, is a gem of a motor, and is found under majority of cars under VW Group. The torque builds up from as early as 1700rpm and maxes out at 3000rpm, so you get a healthy range with minimal lag to potter around in the city or flex its muscle on the highway. Though at idle the cabin is absolutely silent, the engine gets a little audible as the rev climbs. That said, this is the only downside of this 2.0-litre diesel that we can find, and we are nit-picking here, because just put on its amazing sound system (eight-speaker system) and the little diesel humming fades away!

The steering, light at city speeds, weighs up nicely as the speed builds up, with adequate feedback. However, a little more connected feel would have been appreciated. If you're looking for a sporty drive, pick the 1.8-litre petrol, which is a cracker of a motor. This variant feels more planted and offers a slightly better ride as well with its exclusive independent rear suspension setup. The shifts in the 1.8-litre petrol are also faster by a slight margin compared to the diesel, but they are evident. Otherwise, the 2.0-litre TDI fits the bill most of the times. All in all, the 2017 Octavia still retains the fun-to-drive character it is known for!

Variants
Like before, the 2017 Octavia facelift is available with three variants to choose from. However, it now has two range-topping models. Earlier it had Ambition, Ambition Plus and Style Plus. Now, it comes with Ambition, Style and Style Plus.
Verdict
With this facelift, Skoda has worked to iron out a few wrinkles in the third-gen Octavia's packaging. It always had potent powertrain options and a lengthy list of class-leading features. Surprisingly, Skoda has added more luxuries from the Euro-spec facelift model, which are unheard of in the segment. In fact, features like hands-free parking and the new big screen infotainment system are not even offered in the Skoda Superb as well. As SUVs/crossovers are eating into the sales of these D-segment sedans nowadays, they need to lure customers with over-the-top features, and the 2017 Octavia has got that double ticked!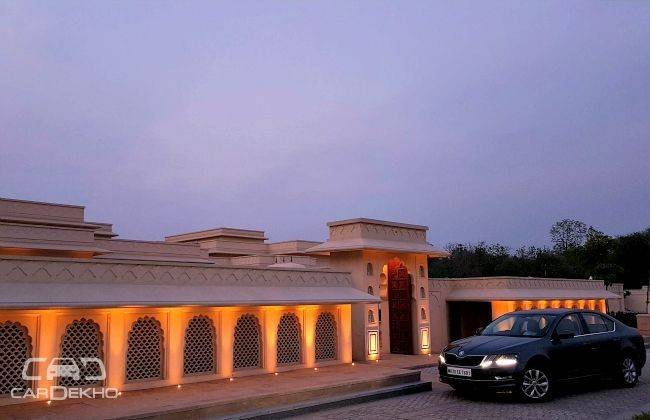 Skoda is also actively working to enhance its after sales service, which had a few loose ends earlier. It offers up to four-year additional warranty and economically priced four-year all-inclusive periodic maintenance package. There's a MySkoda app as well, which aims to make the overall service experience more transparent. This will surely help in clearing the mindset about its aftersales and in turn, improving the sales.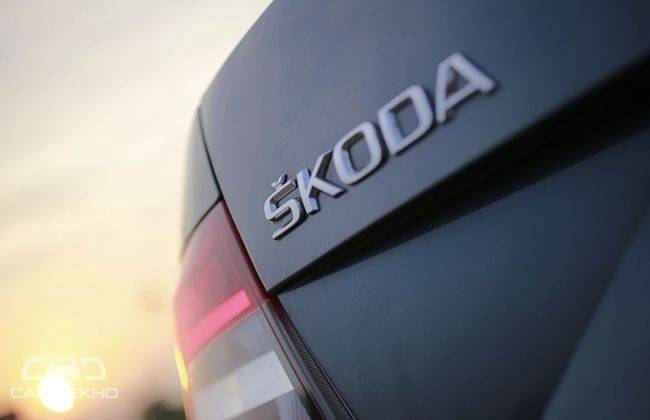 The GST is all set to go in action from July, which will make cars like these slightly more affordable. The 2017 Octavia facelift might be priced lower than the previous model, and this, perhaps, will singlehandedly become the USP of the updated model. We expect pricing for the updated sedan to begin from just about Rs 15 lakh (the outgoing model is priced just below Rs 16 lakh) and go up to Rs 22 lakh.
Pros & Cons of Skoda Octavia 2013-2021
Things We Like
Drool-worthy vRS badge and limited stock make it extremely desirable.
Almost sportscar-like performance and handling at a fraction of the cost.
All the comforts and practicality of a four-door sedan.
Things We Don't Like
Ride quality isn't the most comfortable.
Step on the gas pedal and efficiency goes out the window.
Limited numbers only.
Stand Out Features
2.0-litre TSI engine

Alcantara Leather upholstery

3-spoke flat bottom vRS steering wheel
Specification of Skoda Octavia 2013-2021
| | |
| --- | --- |
| ARAI Mileage | 16.7 kmpl |
| Fuel Type | Petrol |
| Engine Displacement (cc) | 1395 |
| No. of cylinder | 4 |
| Max Power (bhp@rpm) | 148bhp@4000-5000rpm |
| Max Torque (nm@rpm) | 250Nm@1500-3500rpm |
| Seating Capacity | 5 |
| TransmissionType | Manual |
| Boot Space (Litres) | 590 |
| Fuel Tank Capacity | 50.0 |
| Body Type | Sedan |
| Ground Clearance Unladen | 110mm |
Skoda Octavia 2013-2021 User Reviews
All (49)
Looks (14)
Comfort (15)
Mileage (10)
Engine (13)
Interior (12)
Space (8)
Price (11)
More ...
LATEST
HELPFUL
VERIFIED
CRITICAL
Great car for enthusiasts and business people. Daily utilization within a region, then you must go for the petrol variant. Just love the combo of TSI and DSG.

What a crazy engineered car for the best price, cherishing the happy moments forever and ever. I really, love the suspension and performance.

Why do we spend 40Lakhs on this normal Sedan? We get better interior, design, features, mileage, performance, maintenance under 25 lakhs car. For my self, it is too expen...Read More

Most dependable car for me as I have taken this car to last village of India the Mana village after crossing Badrinath temple in Uttarakhand.

The is packed with features and a comfortable drive, definitely a reliable car on a long journey. It has a spacious boot space and fuel-efficient as well.

View All Octavia 2013-2021 Reviews
Skoda Octavia 2013-2021 Latest Update
Latest Update: Skoda India has begun delivering the limited-run, performance-oriented Octavia RS245 to customers. The first unit was given to a customer in Goa.
Price and Variants: The Octavia is now only available in one variant called RS245. The Octavia RS245 is available in limited numbers, with only 245 units allotted for the Indian market. Skoda is demanding Rs 35.99 lakh (ex-showroom) for each one. All the other variants have been discontinued as the company is expected to launch the new-gen model later this year.
Engine and Transmission: Underneath the bonnet of the RS245 is the most powerful engine ever seen in an Octavia. The BS6 2.0-litre inline-four cylinder petrol engine makes 245PS and 370Nm of torque, and all of that is sent only to the front wheels via a 7-speed DSG gearbox (dual-clutch automatic). All other engine and transmission options, including the 2.0-litre diesel, have been discontinued.
Features: Skoda has packed in quite a lot of features in the Octavia RS 245 including nine airbags, 12-way fully adjustable driver and passenger seat, an 8-inch touchscreen, an adaptive front lighting system, Alcantara leather seats, and a 12.3-inch digital instrument cluster which acts as a virtual cockpit.
Rivals: The Octavia's traditional rivals have always been the likes of Honda Civic and Hyundai Elantra, but with the kind of power it offers and the price tag it carries, this particular performance-oriented variant of the Octavia now gives more of a competition to the likes of the BMW 3 Series and the Mercedes-Benz C-Class.
Read More
Must read articles before buying Skoda Octavia 2013-2021
Skoda Octavia 2013-2021 Videos
Skoda Octavia 2013-2021 2023 has 1 video of its detailed review, pros & cons, comparison & variant explained,test drive experience, features, specs, interior & exterior details and more. Watch our Latest Hindi video of Skoda Octavia 2013-2021 to know price, safety features & more.
Skoda Octavia RS 245 | The Last Hurrah! | PowerDrift

Dec 07, 2020
Skoda Octavia 2013-2021 Images

Skoda Octavia 2013-2021 Mileage
The claimed ARAI mileage: Skoda Octavia 2013-2021 Diesel is 21.0 kmpl | Skoda Octavia 2013-2021 Petrol is 16.7 kmpl.The claimed ARAI mileage for the automatic variants: Skoda Octavia 2013-2021 Diesel is 19.5 kmpl | Skoda Octavia 2013-2021 Petrol is 15.1 kmpl.
| Fuel Type | Transmission | ARAI Mileage |
| --- | --- | --- |
| Diesel | Manual | 21.0 kmpl |
| Diesel | Automatic | 19.5 kmpl |
| Petrol | Manual | 16.7 kmpl |
| Petrol | Automatic | 15.1 kmpl |
Skoda Octavia 2013-2021 News
Found what you were looking for?
Skoda Octavia 2013-2021 Road Test

Are you Confused?
Ask anything & get answer in 48 hours
*Ex-showroom price in New Delhi
×
We need your city to customize your experience