Mahindra Xylo Looks User Reviews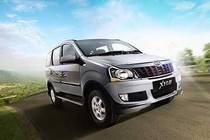 Rs.8.51 Lakh - 12.00 Lakh*
This car model has expired
Looks User Reviews of Mahindra Xylo
All (108)
Mileage (40)
Performance (18)
Looks (49)
Comfort (63)
Engine (40)
Interior (25)
Power (33)
More...
Awesome, powerful car with solid looks and the problem is only with ride quality and build quality and the power is very less according to a powerful engine.

The look is a little poor, publicity is very important, the body bold part is not reflected. The latest color is not highlighted, the wheel cap is a major factor.

It has been a long time driving my Xylo and I thought to pen down my driving experience. It's been about 4 years and over 30,000 kms of driving and right, in the beginning, I want to say that I have enjoyed owning this utility vehicle so far. First I would like to start with the positives of this vehicle. Styling is a subjective matter so I won't c...Read More

At present, we are six members in our family. The car we were driving was Maruti Ritz which was quite small and needed to upgrade seeing the limited space we get. It was a 4-5 seater vehicle and that makes all of us quite cramped inside. My father thought of buying the MUV Toyota Innova and along with that, we searched for many other cars as well. ...Read More

I bought my Mahindra Xylo after comparing against Toyota Innova, Tata Safari and Mahindra Scorpio. Innova had the best engine. However, they were very expensive. Having used Camry and Sienna in the US, I felt cheated by Toyota's features and pricing. Tata Safari was good on looks but handling was very tough. So, knocked it off. Finally, it came to ...Read More

Look and Style GOOD ... Comfort GOOD.... Pickup GOOD.... Mileage.. 10-11.... Best Features AC AND GC... Needs to improve PLASTIc & REAR CUP HOLDER.... Overall Experience GOOD....Read More

Look and Style: Awesome, Fantabulous. I call mine a White Beauty or sometimes the White Bull. Comfort: Extremely comfortable. Best and better than Innova. Pickup: Very High Torque, beats Innova in all ways and terrains. Mileage: Better than Innova. I get 18 kmpl on Highways and in City it is around 13 to 14 kmpl. Best Features: Tall boy, feel like ...Read More

Unless you are buying this vehcile for 3 years, stay as far away as possible. Stranded on road about 3 times, had to tow vehicle paying 4K each time, each time the dealership had to change something costing me an average of 25000/-. The looks of this vehicle can be deceiving for anyone looking at the car, but it is all plastic as everyone already k...Read More

Look and Style are good Comfort excellent with commanding view of the road ahead. Pickup mhawk 2.2 is an excellent engine and offers better pickup and accleration Mileage: It offers decent 12 km/litre of fuel economy Best Features: There are lot many consisting of ground clearnce, turn radius, aircon on all four rows, follow me home headlamps, stur...Read More

Look and Style :- SPORTYLOOK AS COMPAIR TO INNOVA Comfort :- VERY COMFORT FOR LONG DRIVE Pickup :- VERY HIGH Mileage :- 16 KMPL Best Features :- SITTING ARRAGEMENT Needs to improve :- SHOULD INCREASE BACK SIDE HIGHT SO AS NOT TO CRASH ON HIGH SPEED BREAKER Overall Experience :- VERY NICE AS COMPAIRED TO PRIZE.Read More

Look and Style GOOD ... Comfort GOOD.... Pickup GOOD.... Mileage.. 10-11.... Best Features AC AND GC... Needs to improve PLASTIK & REAR CUP HOLDER.... Overall Experience GOOD....Read More

Well, the all new Mahindra Xylo H8, which was launched recently in Indian markets is an improved model and it is launched as a replacement for E series Xylo. Soon after its launch, it caught my attention as it was launched with some improvements in its features. I was looking for purchasing an affordable MPV and I have searched for a lot of models ...Read More

Look and Style GOOD Comfort GOOD Pickup GOOD Mileage OVERHALL 9 TO 12 Best Features GROUND CLG,AC,PIKUP Needs to improve PLASTIC BAHUT HI GHATIYA QUALITY KA H....PLZ CHANGE, SEATING ITNI AARAM DAYAK NAHI H JO EK FAMILY CAR ME HONI CHAHIYE. PLZ CHANGE TO SEAT Overall Experience GOOD Read More

Except backside it looks excellent, the back side of quanto is better than it. Comfort is better but I never judge it at back row. But I dont find any diff from scropio in highway. the interior is better than scropio special the dash board and AC system. Mileage, I dont know, any one help me. I dont find any satisfying ans for particular model D4, ...Read More

Look and Style: Good Comfort: Excellent Pickup: Very Good Mileage: During our trip from Mumbai to Kerala in Sept '12 (around +4000 kms) we got an average of 12 kms/litre. This month (Oct '12) we went to Bangalore from Mumbai and the average is almost the same. During low speed trips (@ 60-70 kms/hr) we are getting a higher aver...Read More

Look and Style - very good Comfort - super Pickup - avarage Mileage - 13 KMPL Best Features - leg space Needs to improve - diesel pump is in all time repair always break down, very poor service by tvs Overall Experience after 20 months the over all experience is lost of money , thi...Read More

Look and Style -better Comfort - good Pickup - better Mileage- very very bad Best Features- average Needs to improve - automatic climate control, alloy weel, air quality control, more mileage.. Overall Experience- goodRead More

Look and Style : awesome Comfort : excellent Pickup : average Mileage : seems to be better Best Features : comfort and interiors with all facilities Needs to improve : gear position the rod like lever seems to be a truck in one option Overall Experience : good needs still some modification however the vehicle is excellentRead More

Look and Style the front grille is not great though tolerable. The Rear side though is a lot more thoughtful, though dominantly straight Comfort - seating comfort is AMAZING, irrespective of where a person decides to park himself! Pickup - no complaints, except that there is a huge roar from the engine when engaged to a high rise on the accelerator...Read More

Look and Style : Past week I was searching for a multipurpose vehicle and recently I undergone new Mahindra Xylo test. I found this Mahindra car stylish and powerful as well. The stunning and aggressive exterior appearance provides a feel of sporty vehicle. The newly designed front grille with a bit of rectangular shape and a masculine body graphic...Read More

Look and Style : VERNICE LOOK @ STYLE Comfort : GOOD BUT IMPORVE MORE Pickup : VERY GOOD Mileage : 14.5KMP/L Needs to improve : INETERIOR SEAT DASHBORDS Overall Experience : VERY GOOD TO DRIVE LONGRead More

Look and Style : need to improve Comfort: Great Pickup : just like a petrol car Mileage : getting average 13 Best Features : comfortable interior and driving perfomance Needs to improve : quality of material used for interior and exterior design Overall Experience : Great car for family. Read More

Look and Style awesum looks Comfort great comforts and feels like businness class in airplanes Pickup slow pick up but good performance Mileage great mileage Best Features the comfort Needs to improve nothing Overall Experience best car in the segment and do not go for a seanRead More

Look and Style : Great, no compromise in looks. Comfort : amazing, great Pickup : good Mileage : 11kmpl in city driving, 16kmpl on highway at an average speed of 90 to 100 kms. Best Features : seating and over all view on all sides Needs to improve : interiors Overall Experience : my vehicle number KA 05MJ 3537, driven...Read More

Look and Style Wonderful look likes a WINNER Comfort I liked its seating sense and space. Pickup Very nice pickup - Mileage i am getting 11 KMPL milage in city while my car has just cross 500 KMS. Best Features DDIS is best feature pluse its all alarming system give feeling a forign car. Needs to improve Riverse camera shuld...Read More

Look and Style : is ok Comfort : for front & middle seats Pickup : poor Mileage : poor not more than 10 KMPL Needs to improve : back shape

Pre-sales: Mahindra Xylo is not the right vehicle if you want to use it for personal use. It's presales is designed only for commercial sector. I went for a test ride at sterling motors Gurgaon several times but to my surprise the vehicle which was offered for test ride was having defective clutch, despite their promise to fix the issue before next...Read More

Look and Style : ITS HEVY BODY MAKES TO FEEL DADY OF MUV'S ND SUV'S. It dosent have fair looking but looks coollllllllllll........... Comfort : Uncoparable in case of comfort.SCORPIO ND SAFARI r nthng infrtnt of this car in case comfort.I had traveld toooooo comfortbly till nepal on the back seat of its Pickup : All car only taste its dust............Read More













Not Sure, Which car to buy?
Let us help you find the dream car

Are you Confused?
Ask anything & get answer in 48 hours
Popular Car Insurance Companies
*Ex-showroom price in New Delhi
×
We need your city to customize your experience