Maruti A-Star - disappointing model with excellent engine
Hot Hatch in the market. Will definitely make Hyundai to rethink about Hyundai i10. Even rethink i20 pricing, though it belongs to different category. Kudos to Maruti for their hard work. But some problems are here....... today i had the test drive of maruti a star, my height is 6 feet believe me it took a lot from me to get seated at the drivers seat.My knees wear touching the steering and when i pushed the seat back to the maximum there was no chance for a person to seat at the back seat and when i sat at the back seat my head was touching the roof.whatsmore there is very little chance that 3 healthy people can get accomdated on the back seat comfortably.. Overall First time in the History of INDIAN AUTO industry that Maruti has introduced one new model (which is definetely not going to be hot-cake) with new generation engine, and without any refinement or knowledge about the current expectations of Indian buyers. And i think Maruti losing its hold in the industry by closure of Esteem & Old Zen AND the introduction of not-so-user-friendly and costly vehicles to its worth (like zen estilo, A Star)
Write your Comment on Maruti A-Star
1
a
abhi
Sep 21, 2013 1:06:15 PM
Guys,M planning to buy a car,as others i also looked for BEAT ,RITZ and WAGONR but going ahead with A STAR VXI 2013 model bcoz of MARUTI netwrk and good reviews of ASTAR. Even after the face lift of WAGON R ,this tall boy looks the same except for the few features added. Beat is a nice car but in diesel variant,service and maintenance of CHEVY is high,moreover except for city spare parts are rare to find easily. Ritz again is a nice car with almost the same performance as SWIFT,only drawback is the rear LOOK. Inner space is nice but a bit higly priced as in 4.6l on road aftr discounts and other stuff u r getting only AC and power steering. But with ASTAR in 4.37 on road u r getting evrything excpt for ABS and airbags(ofcourse 2 rear speakers also) ASTAR has recently got a face lift which has made this cute car transformed into an aggressive car .. The only issue is the rear seat has got cramped space .If u r healthy adult (Normal BMI) then there is no problem fr 2 ppl sitting at the back but height could have been increased a bit. one more add on ASTAR is the hghst exported car from maruti. 70 % export share ,thts huge i guess.
Reply
1
A
amit
Sep 10, 2013 6:56:50 PM
Hi All, Please suggest me If a 6 feet tall guy can accomodate on the back seatt of the A-star.
Reply
1
S
shivanand
Apr 11, 2013 3:01:35 PM
I am buying a Astar ZXI used car FROM MY FRIEND AT CHEAP PRICE please help to finalize my decision I am 6 feet boy with backpain
Reply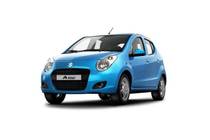 This car model has expired