Poor service and damage done by Trident Hyundai service, Kanakapu...
I had very bad experience with Trident Hyundai service station located in Kanakapura road, bangalore. I had given car for service in morning. I got call from incharge that power windows motor is weak and suggested me to replace. I didn't had any issue with power windows, hence I told no to him. Evening when I went to collect the car, I saw both front power windows are not working. When enquired, he told simply you have to replace the motor, when I told him they were in perfectly working condition when I gave for service, he told it can go wrong any time, when I asked about the price, he mentioned 5K/motor. I got shocked and shouted at them and asked them to give my car in the condition I have given for service, then they started blabbering it might have went wrong before service and I am lying. I have told them it was in perfect condition and I won't leave this place until it got fixed, then they did something and started working. Finally, the fix they made didn't last more than one day. Even after re-visit and arguing with didn't help. They cudn't answer my simple questions like - If motor has gone bad, why they called me told it right side window motor is weak and to be replaced - how come both motors have gone bad by evening time. - Even if they can go bad, how it can happen on same day? These cheats asked Rs 5000-6000 to replace one motor, where as local mechanic replaced both for Rs 3000 rupees.
Write your Comment on Hyundai Santro Xing
1
v
vikram lakhanpal
May 12, 2013 11:11:14 AM
It is advisable to hand over the vehicle informing the exact problem ,and showing all the important gadgets working properly.Also confirm from other customers the reputation of the workshop beforehand. Do inform your experience with Hyundai customer Care
Reply
1
r
rajesh
Apr 18, 2013 4:15:32 PM
Kindly note that the service person will remove the good cont parts and replace with weaker parts.
Reply
1
s
siddhartha
Dec 29, 2012 6:07:00 PM
well you should drag such idiots to consumer court
Reply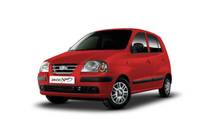 This car model has expired