My diesel rocket
Look and Style Hi guys, I have brought Fiat Punto in October and drove more than 7000 kms till now. Frankly speaking I have not faced even a single problem regarding my cars performance. Everything is superb and up to the level of perfection. Body colored bumpers and door handles along with front and rear fog lamp are according to present trends. This car give a head turn notice to all. Comfort I has not faced any discomfort till now in any form. This car is quite spacious from inside. Dual-tone dashbord and interiors, full safety features, automatic climate control gives extra comfort. Driver seat height can be adjusted according to requirement. All general features of other cars is available in this car with more perfection. Pickup Smooth pick up will make you feel like heaven. This car is made for both city traffic and for long tours. Fiat engine is not a new name and the name only describes the pick up and performance of engine. Strong torque make it simpler to drive. Mileage I am getting around 15- 16 kmpl average in city which is too good for me and this mileage will surely increase after first service. Best Features Fire prevention system, chrome plated door handle, alloy wheels and broad tyres are some of my cars best features. Needs to improve Space utilization can be improved. Overall Experience I have two more cars also but pleasure of having this car is totally different. I have not even drived them after buying this car. My overall experience is very good. I have trusted first time for Fiat and my trust was not broken. This car is made for those who like style with comfort and power.
Write your Comment on Fiat Grande Punto
1
s
sharath
Feb 19, 2016 11:51:54 PM
Wt abt mileage bro
Reply
1
m
mangesh
Mar 13, 2011 2:15:08 AM
hey after reading all reviews i'm planning to buy PUNTO ACTIVE DIESEL.But more worried about mileage in normal city with ac and without a.c. but only want clear advice. No advice from promotor of this company or other.please suggest me as too many people from other company are behind to sell their product but we as a customer should not get fooled....i dont have habit of changing vehicles regularly...
Reply
2
s
saji
Mar 18, 2011 3:29:11 PM
It is good that you are going for punto. but the active version is not equiped with all the features of Emotion. The mileage I am getting with AC is 18.8Kms. (city Highways)
Reply
3
l
laxmiprasad
Mar 17, 2015 10:45:45 AM
My punto emotiona given 25+
Reply
4
m
mr misal
Mar 21, 2015 10:49:28 PM
25+ for how many ltr of fuel?
5
V
varun sodhi
Jul 7, 2015 12:02:29 PM
I think 25+ is 1.5 ltr of fuel (Diesel)
1
N
nikhil
Jan 29, 2011 3:04:43 PM
I am not denying with mileage of SWIFT as it also has FIAT diesel Engine. But do SWIFT VDI has all the features I mentioned in Punto Emotion. Also I am not saying that Swift is a bad car I am just saying that my experience with PUNTO is great and I am happy with it since 8 months and driven 18000 Kms. 1. Huge boot space 2. Electronic controlled side mirrors 3. It has 2 trip meters 4. Both trip meters shows Average mileage, Avg. Speed, Instantaneous mileage and trip duration 5. It will display lot of details on the console like: How many kms. you can go with the remaining diesel, Temp, Date, Stereo info, Service reminder 6. It will also display in written Front Right Door Open, if any door including boot is open 7. The folding key has in built center locking. 8. Auto down in all four power window and auto up in driving side. 9. Nice blaupunkt music system with a feature like volume increase & decrease with speed. 10. Driving seat height adjustment. 11. Stearing height adjustment. 12. Rear Wiper with Defogger. 12. Double glove box. 13. Service at 15000 Kms with approx cost of 4500/-. I got my Punto Emotion Diesel on road for 602000/-. I was also confused between Swift VDI(585000), Punto Emotion, Polo but looking at all the features offered in this price range I decided to go with Punto and I do not regret my decision. I gave 15000/- extra for Punto then Swift but I got my car with in 7 days not 4 months waiting time. Also just for info FIAT is parent company of Ferrari. :)
Reply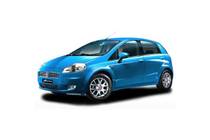 This car model has expired