Skoda Kushaq First Drive Review: All That You've Been Waiting For?
Published On Jun 25, 2021 By Alan Richard for Skoda Kushaq
The Kushaq is arguably the most important car in Skoda India's history but is it the compact SUV that many have been waiting for?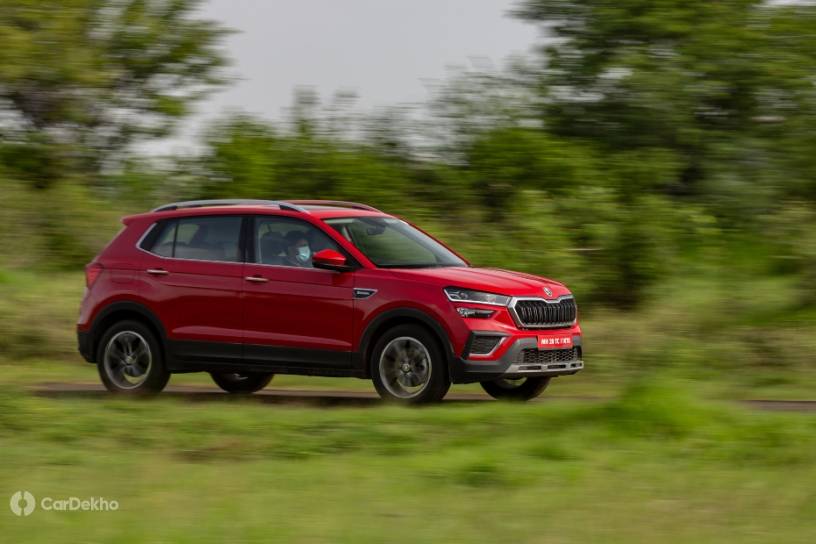 After experiencing it in the flesh a whole lockdown ago, we finally drove the Kushaq just days before its price announcement. It's name is derived from the Sanskrit word 'kushak' or king and the carmaker is making royal claims for the most important car in its India history. It has a lot of firsts under its belt already: first made-in-India, first named-in-India, and first made-for-India product. So is it going to live up to its name and rule over the compact SUV segment or can the Seltos and Creta sleep easy once more?
Looks

The Kushaq has a lot going for it. There are some nice linear and sharp lines with rather flat sides and short overhangs which give the Kushaq a nice boxy SUVesque image that fans of the genre favour. The signature Skoda grille, smart headlamps, and sporty-looking bumper make for an attractive face. Even the 17-inch alloys and boomerang tail lamps look rather cool. At the same time, some curves and flared arches around the wheels are missing which could have given the Kushaq some more presence on the road. Overall, it's a smart-looking SUV that will please most but it doesn't really stand out. It's shorter in both height and overall length than it's big rivals but it actually sits on a larger wheelbase.
Interiors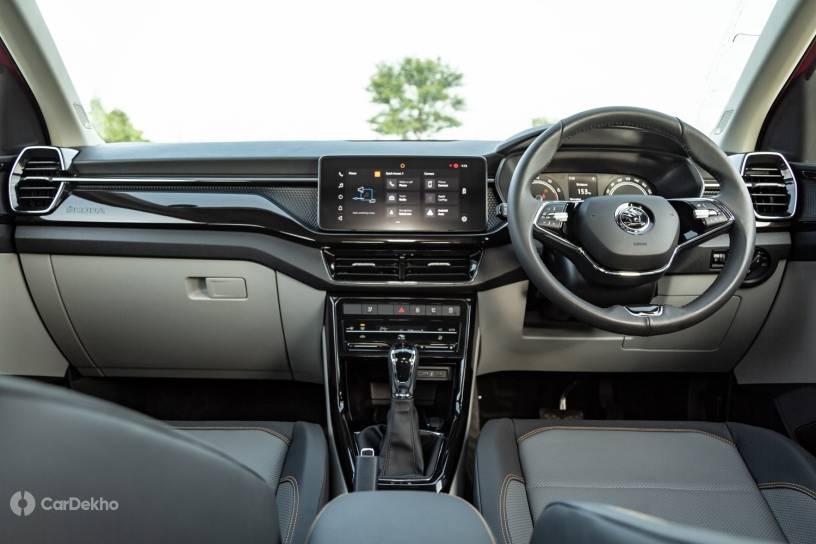 Like the exterior, the insides of the Kushaq are clearly well-thought through, particularly the dash and interior layout. However, unlike the more sterile exteriors, there are some nice touches on the inside. The two-spoke steering, chrome accents on the aircon vents, and the steering-mounted control knobs catch your eye and draw you in. The snappy touchscreen and functional dash don't disappoint either. The seats are supportive, well-contoured as well as ventilated in this top-end variant.

At the rear, there's plenty of leg and foot room so it's quite comfortable for four adults. There's more than enough headroom too, but with a narrow cabin and aggressive contouring for the rear seats, seating three is a struggle. The contouring gets uncomfortable for the outer passengers when they are pushed outwards by the middle occupant. So, for a large family, this may be a problem but for four, it's quite comfortable.


There are lots of practical storage spaces in the doors and the phone pockets behind the front seats are a nice touch. The cooled glove box can accommodate even large bottles with ease. The cup holders and even the cubby between the front seats have rubber padding at the bottom to keep coins or keys from rattling.

The boot space, at 285 litres, may sound small but its shape allows you to fit in a lot. The low-loading lip is almost flat and the 60:40 split seats help free up more space even if they don't fold completely flat.
There are also some areas where better materials could have been used, such as the flimsy-feeling side aircon vents, the hard plastic handbrake lever, the roof panel near the IRVM, and the sunshades -- all of which could have been better executed. So while we still say that the overall experience is upmarket, these hiccups are noticeable.
Features


The Kushaq has all the basics covered with ventilated seats, climate control, auto headlamps, cruise control, sunroof, and wireless charger. There's even telescopic adjustment for the steering, rain-sensing wipers, and touch controls for the climate. However, the competition does a little better with features like powered seats, a digital instrument cluster, an air purifier, drive and traction modes, and a panoramic sunroof. That said, you also get AC vents, charging ports, big door pockets, armrest with cup holders, and adjustable headrests for the middle passenger at the back as well.


Special mention for the 10.25-inch touchscreen which is snappy to use, has a simple interface, and pumps out some very nice tunes through the 7-speaker sound system. Sweet sounding enough to give its branded rivals a run for their money. There was a little glitch with the wireless Android Auto and Apple CarPlay on our test cars, though, a simple software update should fix that before launch. This, coupled with the wireless charger, makes for a rather convenient and wirefree feature.
Engine & Performance

The Kushaq is powered by either a 1.0- litre turbo petrol making 115PS and driving the front wheels via a 6-speed manual or auto. The second engine is a 1.5-litre turbo petrol making 150PS with a 6-speed manual or a 7-speed DCT transmission. The 1.0-litre turbo is the same powertrain we have experienced on the Rapid, but it wasn't available for this first drive.
The 1.5-litre engine was the only choice and we managed to drive both the manual and auto variants. The engine is smooth and refined with linear power delivery and there's plenty of power for exciting twisty roads as well as effortless long trips. We had no trouble hitting triple-digit speeds with ease and Skoda's claims of 8.6 seconds to 100kmph sounds perfectly believable. Only going to drive in the city? Well, the motor pulls from as low as 1300rpm, so it has excellent driveability at city speeds as well.

With the manual transmission, shifts are smooth, clutch action won't be a bother, and ratios are tall too. So that means fewer shifts in the city and better efficiency on the highway. Further boosting that efficiency is cylinder deactivation which shuts off two of the four cylinders when coasting.

Still, if you are driving in the city, auto is your best bet. There is some jerkiness at crawling speeds but shifts are smooth and even sudden throttle inputs, like when a quick overtake is required, doesn't confuse it.
Ride & Handling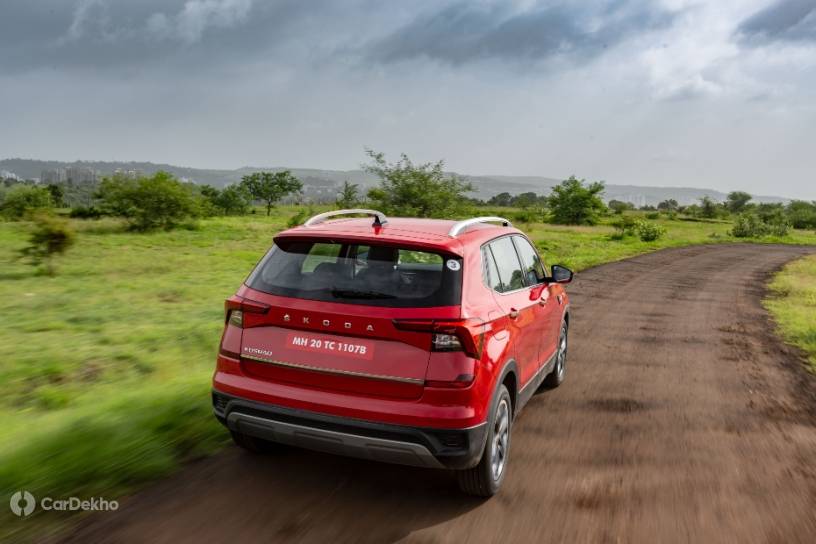 The Kushaq has a great balance to its ride setup. It's comfortable over paved roads, absorbing small imperfections well, staying composed over bigger bumps and settling quickly after. The suspension does a good job over completely broken roads as well and though there is some side-to-side motion, it isn't uncomfortable.

This translates to good handling around corners as well. The Kushaq remains planted with very little body roll. The steering is comfortably weighted in the city and weighs up nicely on the highway as well. In short, people who like to drive will enjoy being behind the wheel of the Kushaq.
Safety

The Kushaq has a full safety net with ABS and EBD, ISOFIX mounts, six airbags, hill-hold control, multi-collision braking, rear parking sensors, and a camera. A standout in the segment is ESC, which is offered as standard. What's missing in the Kushaq are rear disc brakes, pressure readouts for tyres, and for some reason (price?), the automatic transmission variants get only two airbags.
Verdict
The Kushaq then comes into a world full of expectations: it should look great, be reasonably priced, drive and handle well, and be packed to the brim with premium features. In terms of looks, build and design, Skoda seems to have nailed the brief. When it comes to performance, there's little more you could ask for from the two tractable powertrains. It also gets a long list of features, including some premium items too.

But there are small hiccups everywhere. The slightly plasticky bits in the cabin, narrow cabin at the back, lack of more wow features, and no diesel engine mean this 'king' has his flaws. Are they big enough to ignore the Kushaq's royal claims? Maybe for some feature-conscious buyers, but if priced right, the Kushaq is still a desirable and sensible package for small families.