Mercedes-Benz EQC India Drive Review
Published On Sep 04, 2020 By Tushar for Mercedes-Benz EQC
Does buying an electric Mercedes-Benz get you a different kind of luxury?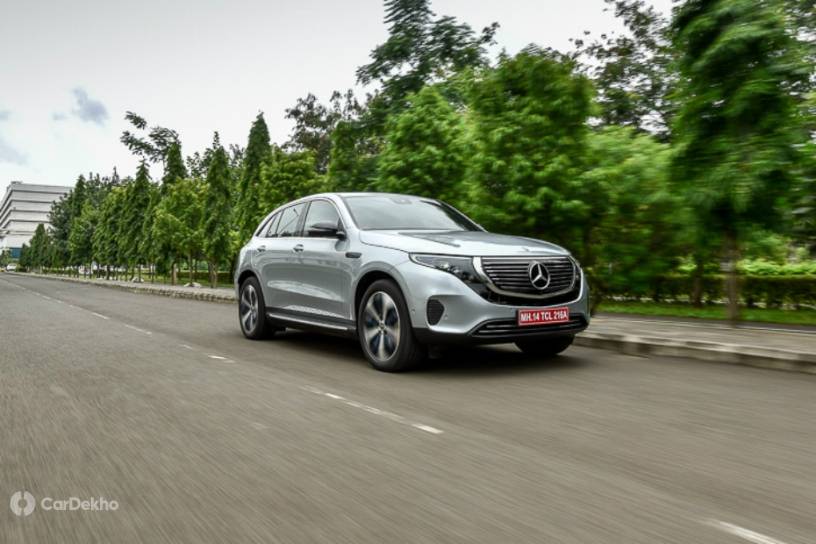 Anytime a car is imported to India, the value for money argument simply ceases to exist. Those looking to buy such a car are looking to fulfil a want, not a need. The Mercedes-Benz EQC is one such car. With an expected price of around Rs 1 crore, it falls into the same territory as Mercedes' own flagship SUV, the GLS 7-seater.
Of course, a large share of the cost is down to the EV technology and import duties, but is that all? We'll get to all of that but first, a little background.
What Took So Long?
It's surprising that most major carmakers were beaten to the EV game and by a good few years at that. Tesla managed to carve out a space for itself as the go-to EV carmaker while some of the biggest names have only just started their product onslaught.

The EQC itself is a fresh launch for India (a few months delay due to the pandemic), but was revealed to the world back in September 2018. As a product, the EQC is a big deal for Mercedes-Benz as it launches its ambitious plan of making 100 percent of its fleet carbon neutral by 2039.
That said, as a brand, its work on electrics goes back over a century. It started in 1906 with the first EV prototype, the Daimler Motoren 'Electrique'. In the 1970s and 1980s, it developed more prototypes based on a few vans and estates. In 2002, Mercedes-Benz revealed the hydrogen-powered A-Class F-Cell. In 2007, Mercedes' sub-brand Smart began testing the Smart ForTwo electric before its 2009 launch. Mercedes-Benz also revealed the electric version of the SLS AMG supercar that delivered 1000Nm of torque and a 0-100kmph time of less than 4 seconds.
So, Mercedes-Benz is by no means a stranger to electric vehicles but it is taking things at the same pace that they seem to be finding favour. Basically, even those starting now aren't late to the party. In the few countries where EVs have become popular (Norway, for example), acceptance is heavily dependent on government subsidies and incentives.
Exterior

Unlike say, the Tesla Model X, the Mercedes-Benz EQC hasn't been developed only for use as an electric vehicle, in fact, it is based on the Mercedes-Benz GLC. That is apparent in the EQC's stance and size. It even has the same 2,873mm wheelbase and is about as wide, but longer by 92mm.

But the EQC strikes you as a Mercedes-Benz first and as a car with a difference, second, because there's certainly something offbeat about the look. For one, the design looks rather clean with not too many cuts and creases. The one big differentiator is the styling up front that is nothing like any other Mercedes. No diamond pins or chrome bars. The EQC gets a black and chrome grille with a gloss black panel underneath and is flanked by uniquely styled multi-beam LED headlights.

The side profile is highlighted by the outlandishly styled 20-inch alloy wheels. Yes, the EQC gets these big wheels as standard. What stands out is the oddball styling as the regular spokes are accompanied by black fins with blue stripes. These are essentially in place to reduce drag but also hint at something out of the ordinary with the car itself.

The rear end is the most subtle angle of the EQC. The connected LED tail lamps make it look more like something from the latest range of Porsche SUVs rather than a Mercedes-Benz. Simply put, the EQC maintains a subtle design. While it doesn't scream EV, most onlookers will give it a second glance and not just because of the green number plate.
That is a big part of the EQC's appeal, seeing how it's India's very first luxury brand EV with no direct rival until the Audi e-tron is launched here.
Interior
Thematically, the interior reflects the attitude outside i.e. there's definitely a different flavour but it's not over the top. While a flashy new interior may have helped the EQC make stronger headlines, familiarity is key here. In all likelihood, it's not going to be the buyer's first luxury car or even the first Mercedes-Benz in the garage.

While the layout has similarities with the GLC, there are some notable changes unique to the EQC. The AC vents are rectangular, as opposed to the circular vents seen in other Mercedes cars, and get rose gold highlights. Even the dash top has a distinct design with some fin pattern which can also be seen on the doors.

That aside, the layout is user friendly and familiar even if you've just driven an entry-level Benz such as the A Class or CLA. The gear selector is mounted on the steering column, the steering has buttons with touch-sensitive controls, and there's a dual-screen setup for the infotainment system and instrument cluster as seen in new-age Mercedes-Benz cars.
What's also familiar is the top-notch quality. Every touchpoint feels rich and luxurious which in turn makes you feel special like any Mercedes-Benz should. One key difference though is that the ingress/egress isn't as easy as the GLCs. The side sills are thicker because the battery pack is encased within the wheelbase.

You also have to make peace with the cabin space that's good enough for four six footers, but isn't grand considering the price. A good family car no doubt, but you cannot simply look at this as an electric alternative to the 7-seater GLS, not only in terms of space but also functionality. Outside of a rear climate control zone, an armrest and manual side sunblinds, there are no infotainment controls from the backseat or even a wireless phone charger.

That said, it doesn't lack practicality. The 500-litre boot (space saver spare tyre underneath the boot floor) has adequate room for a weekend's worth of luggage and it also gets split-folding rear seats. The boot has buttons to drop the rear seats back for added convenience, though, these are just release switches and will not electrically bring the seats back up. The door pockets have ample space for large bottles. Then there are cup holders and armrests with storage for both, front and rear occupants.
Technology


As standard, the EQC gets heated and powered front seats (including underthigh support adjustment) with three memory settings, heated steering and a motorised steering adjuster, head-up display, three-zone climate control with a perfume diffuser, a 13-speaker Burmester music system (that offers excellent sound quality and punch), and even massage seats.

The dual 12.3-inch screens are your command centre. Both screens can be managed via steering-mounted controls, while the central infotainment screen can additionally be operated by touch, voice commands, and even a trackpad. While the setup itself seems daunting to use, the interface is easily one of the most user friendly in the business. It can be used to shuffle through display themes, manage the 64-colour ambient lighting, and view information about driving behaviour, charge flow and the battery management system through an EQ menu.

It also features an electric sunroof, auto-dimming IRVM and powered tailgate.
Performance

The EQC is an all-wheel-drive SUV with one 150kW asynchronous motor on each axle for a combined output of 408PS and 760Nm. Under normal driving conditions, it functions as a front-wheel-drive car and engages the rear motor when you're driving more enthusiastically or if the need for more traction arises.
As you'd expect, the EQC is very responsive to drive and is a breeze to use in just about any driving condition. The performance is particularly enjoyable when you're looking to make quick overtakes on single-lane roads, like we had to while going from Mercedes' Chakan factory to the Mumbai-Pune Expressway. Even in Dynamic mode, it puts the power down cleanly and never gets overwhelming. In fact, it lacks drama.

A 0-100kmph time of 5.1 seconds is quick but even hard launches in the EQC aren't hair raising. It just feels too easy! A big part of this is due to the noise insulation. Most electric cars come with added sound deadening to counter the ambient noises your ears pick up in the absence of engine noise. The EQC seems to be stuffed to the brim with it and eliminates wind noise and tyre noise with serious efficiency. This is also why you need to keep an eye on the speedometer because there's simply no other indication from the car to make you realise how quickly you're climbing up the speedo. Of course, there are the beeps at 80kmph and 120kmph. Annoying as they may be, they are genuinely needed here.

Otherwise, as a city commuter or highway cruiser, the EQC gives you no reason to complain. There is an Eco mode too for efficient driving. Aside from calming the throttle response, this mode actually gives you resistance at the accelerator pedal to make you avoid hard inputs.
What got us curious though is that switching the drive modes didn't alter the estimated range. However, playing with the air conditioner alters it by a huge margin. Switching off the AC from 24 degrees, bumped up the displayed range by some 40km!
For improved energy conservation, the EQC also gets five levels of brake energy regeneration, all managed through steering paddle shifters, explained below.
| | |
| --- | --- |
| D Auto | Automatically controls regeneration based on the speed, drive pattern and traffic ahead using the active cruise control radar |
| D+ Gliding mode | Functions like coasting mode and offers no resistance to your momentum. |
| D | Mild regenerative braking. Suitable for free flowing traffic and highway drives. |
| D- | Medium regenerative braking. A single pedal mode in slow moving traffic and can be used on the highway as long as there's a good distance from traffic behind you |
| D-- | Strong regenerative braking. Single pedal mode for crawling traffic and useful for downhill corner carving. |
As per the New European Driving Cycle (NEDC), the EQC has a rated travel range of over 450km on a full charge with its 80kWh lithium-ion battery. While we couldn't run a real-world test for our drive, we'd estimate a real-world range of 250km quite easily, without having to drive with a feather foot. Essentially, a full charge should suffice for a week's worth of city driving or even small intercity drives.
Charging
First, we must preface this by saying that Mercedes-Benz India will not be investing in a charging network of its own. The reason? Data indicates most owners simply use the home charger provided with each car, even in countries where EVs have found more takers.

The majority will use a car such as this as a city commuter. If you can charge the car at home overnight every few days, why bother relying on a fast charger that may or may not be operational?
EQC Charge Times (10-100%)
| | | |
| --- | --- | --- |
| Charge Option | Type Of Charge | Time |
| DC Charge (50kWh) | Fast | 1.5 hours |
| AC Wallbox charger (7.4kWh) | Medium | 10 hours |
| Portable charger (3.4kWh) | Slow | 21 hours |

The wallbox charger is included in the cost of the car and can be installed at the owner's preferred location, even before the car is delivered.
Ride & Handling
This is the one area where the EQC is a mixed bag. While it does ride on rather risky sounding 20-inch wheels (235/50 R20 front | 255/45 R20 rear), the ride quality is actually decent. It stays composed and comfortable over even damaged roads and at the most, you're dealing with some suspension noise and side-to-side movement over uneven stretches. The high-speed manners are good too. It feels planted taking on the expressway's sharpest turns at over 80kmph without screeching or rolling too much.
Then comes an astonishing issue: this high-riding SUV feels like a low-slung supercar over even a normal speed breaker. The bottom end scrapes far too easily and even with just one person on board. Sections that the E-Class long wheelbase following us handled head on, had to be tiptoed over in this! It doesn't seem to be an issue with ground clearance but more with the suspension setup.

The EQC rides on steel springs up front (like the GLC) but gets rear air suspension. However, it weighs nearly 2.5 tons with a big share of that taken up by the 652kg battery pack. That makes the EQC about 700kg heavier than the car it's based on! The suspension has been tuned to be a little soft in the interest of ride comfort but that seems to make the car sag just low enough after the front wheels have cleared a speed breaker for the undercarriage to get hit. Mind you, we're not talking about a minor scrape but proper underbelly to tarmac contact.
Of course, the battery is well protected in an aluminium cage but it occupies the entirety of the wheelbase. The sound of that getting hit can make the wealthiest of owners wince.

One key difference in the drive experience is braking. As with most electrics, the car engages the regenerative mechanism first before activating the normal brakes. So the initial bite isn't sharp and you have to press the brakes slightly harder especially while slowing down at highway speeds.
Safety

The EQC comes with standard safety features such as seven airbags, ABS with EBD, traction control, ESP, blindspot assist, attention assist, lane keeping aid, adaptive radar-guided cruise control, front and rear parking sensors, as well as a surround view camera, including a rear camera that offered a crystal clear view even in the rains.
Verdict
The Mercedes-Benz EQC is for a select few owners who want the bragging rights of being first movers in the luxury EV space. At an expected price of around Rs 1 crore, you are getting something unique but the experience isn't otherworldly. For all intents and purposes, this is a GLC electric.

The truth is that once you've imported any car, the value for money argument is long gone. Add to that the expense of an EV and you're paying less for the car and more for what it represents. If you want a luxurious SUV that makes a statement, you will find better options in Mercedes' own stable. You won't get a different kind of luxury in the EQC, but you will get a very different kind of exclusivity. The latter is largely what you're paying for.