Maruti Suzuki S-Presso vs Renault Kwid: AMT Comparison Review
Published On Jan 03, 2020 By CarDekho for Renault KWID
We help you make a choice between two affordable cars with interesting feature lists and design languages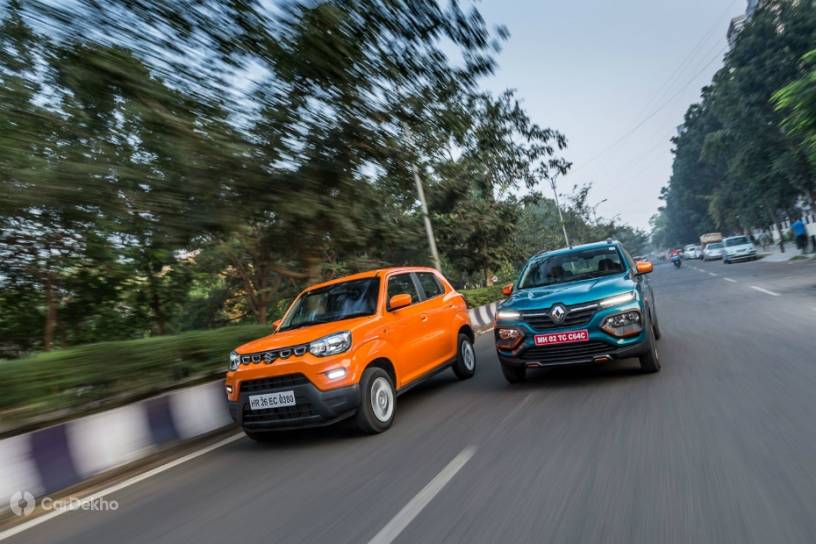 The start of October 2019 saw two back-to-back launches in the affordable segment in the form of the Maruti Suzuki S-Presso and the facelifted Renault Kwid. Both models get similar equipment, transmission, as well as price tag. Besides, both fit into the realm of a first car and a daily city driver. Which one should you opt for then?
Cars Tested
Maruti Suzuki S-Presso
Variant: VXI+ AGS
Price: Rs 4.91 Lakh
Renault Kwid
Variant: Climber (O) Easy-R
Price: Rs 4.92 Lakh
Looks

| | | |
| --- | --- | --- |
| Dimensions | Renault Kwid Facelift | Maruti Suzuki S-Presso |
| Length (mm) | 3731 | 3565 |
| Width (mm) | 1579 | 1520 |
| Height (mm) | 1490 | 1564 |
| Wheelbase (mm) | 2422 | 2380 |
| Boot Space (litres) | 279 | 270 |
| Ground Clearance (mm) | 184 | 180 |

If this were a beauty contest, the facelifted Renault Kwid would take the cake with some well-placed plastic cladding, orange accents around the lower headlamp units, as well as the split headlamp setup. Overall, the Kwid is bigger on the outside with a muscular design and some interesting bits like a clever 14-inch wheel cap design that resembles alloy wheels. It also benefits from a 4mm higher ground clearance, which is always beneficial on our ever broken roads

The Maruti Suzuki S-Presso clearly isn't going to win any beauty pageants thanks to its odd boxy proportions. Its front-end design takes some cues from the Vitara Brezza. However, it should have had some rugged cladding as standard instead of being an optional extra as the colour combination looks a bit odd. Even the 14-inch wheel caps aren't as tastefully designed as on the Renault. The DRLs though add some spunk to its odd design. But you have to shell out Rs 10,000 to equip it as an optional accessory, which ideally should have been a standard feature like in the Kwid.
Features


Going inside, the two cars get common bits including a touchscreen infotainment system with Android Auto and Apple CarPlay, manual AC, front power windows, remote central locking, a USB, 12V charger, as well as 2 speakers.

Head inside the Renault Kwid and you get a conventional cabin layout with the driver's information display in front of the driver. While it gets a bigger touchscreen compared to the S-Presso and operates smoother, Renault hasn't utilised the bigger touchscreen to full effect. It also gets rear power windows and a rear camera, but misses out on internally adjustable ORVMs and steering-mounted controls. The infotainment system doesn't display much information and you have to dig deeper into the menus to access features.

In comparison, the S-Presso gets a unique cabin design with a central and circular speedo layout. It isn't exactly ideal since you have to take your eyes off the road, but you get used to it. However, you miss out on a tachometer, which should have been possible in this layout. Other cabin highlights include orange accents on the centre layout as well as the AC vents, steering-mounted audio controls, loads of storage space, and internally adjustable ORVMs. Its infotainment system may be smaller than the Kwid, but it gets additional readouts such as fuel-efficiency status. Its AC unit also works well with the cabin cooling off pretty quickly. It's infotainment system, however, is a bit laggy in operation. It also misses out on rear power windows, a rear central armrest, as well as a rear camera.

In terms of space, the Kwid's front seats are lower than the S-Presso but are angled in a way that isn't very comfortable. There's ample central space around the gear knob, but it could have been utilised better instead of an odd phone holder in place of cup holders. The rear seats may have adequate knee room but it isn't particularly ideal for long leggers. That, coupled with a low angle, gives off a restrictive position. The Kwid does offer some comfort in the form of a pull-down armrest.

While it may have been smaller on the outside, Maruti has made full use of the cabin with spacious front seats and an upright seating position, which doesn't make you feel restricted. It also features spacious rear seats with decent leg-room and knee room to stretch out. Moreover, the upright angle feels very comfortable. Also, the headrests are adequately thick, compared to the Kwid where they seem non-existent for a person with a height of 5'7.


While both cars can accommodate four people, it isn't advisable to seat 3 passengers at the rear seats if you're looking to experience a comfortable journey.
Boot Space


On paper, the two cars don't differ that much, but the Kwid benefits with a larger boot floor. The Kwid also gets a lower boot opening so storing luggage shouldn't be much of a struggle. The S-Presso is similar, but features a high boot opening that makes it difficult to plonk heavy luggage.
Safety

The two cars share basic safety equipment in the form of ABS with EBD, rear parking sensors, driver and co-driver seatbelt warning, as well as high speed alert. The S-Presso benefits from dual airbags as standard in its variant, whereas the Kwid gets Driver + Passenger airbags as an option. The Kwid benefits with a rear camera as its rear parking sensor.
Engine And Performance


Specifications

Models

Maruti S-Presso

Renault Kwid

Engine

998 cc

999 cc

Power

67PS @ 5500 RPM

68 PS @ 5500 rpm

Torque

90Nm @ 3500 RPM

91 Nm @ 4250 rpm

Transmission

5-Speed AMT

5-Speed AMT
Under the hood, the two models share similarities with 1.0-litre petrol engines, a 5-speed AMT transmission, as well as near-identical power and torque figures except the Maruti motor is BS6 compliant.
Performance

Maruti S-Presso

Renault Kwid

0-100kmph

15.10s

19.05s

20-80kmph

9.55s

10.29s

100-0kmph

46.85m

42.75m

City Efficiency

19.96kmpl

17.09kmpl

Highway Efficiency

21.73kmpl

21.15kmpl

Jump in the S-Presso and it feels right at home in the urban jungle. The engine feels peppy and the AMT gearbox executes shifts quickly for an AMT, which helps it feel light-footed in the city. You also get a manual mode, which helps you be in the right gear at the right moment, especially when you have to execute a quick overtake. On the downside, you have to be careful with the throttle as the S-Presso sometimes gets a bit too enthusiastic especially in stop-go traffic. This responsiveness helps out on the highway as well where you can hold on to triple-digit speeds and have some power to spare to execute an overtake with ease.

The same can't be said of the Kwid though. The Kwid's AMT box in comparison feels more laidback and the 1.0-litre motor doesn't feel as zippy as the S-Presso's. The Kwid's AMT also struggles in stop-start traffic and struggles to find the right gear. The power delivery from the engine too can be a bit abrupt at times, which makes driving the Kwid smoothly a task. This characteristic also reflects out on the highway, where you have to plan overtakes well in advance. Our Vbox figures confirm this where the Kwid is around 4 seconds slower to 100kmph. It also lags behind in the drivability tests.
As the S-Presso feels more effortless, you don't have to work the engine hard, which, in turn, helps its fuel efficiency too. It returned an impressive 19.96kmpl in the city and 21.73kmpl out on the highway. The Kwid, on the other hand, returned almost 3 kmpl less in the city, while highway figures were quite close.
Ride & Handling

When it comes to ride comfort, the Kwid has the upper hand over the S-Presso. At city speeds, the Renault takes even sharper road imperfections with ease and it also has the quieter cabin of the two. Out on the highway, the soft suspension means, the Kwid does bounce around but never to the point of feeling uncomfortable.

In contrast the S-Presso's ride has a hard edge to it as even small bumps are felt inside the cabin. The cabin insulation too isn't as good as the Kwid. But as soon as you start picking up speed the ride does become more comfortable, which makes it ideal for brisk city commutes or highway cruising. The S-Presso wins back with ease of driving. Thanks to its narrow stance, large glass area and short turning radius the Maruti is a breeze to drive in traffic. The Kwid isn't bad either but it does feel slightly more cumbersome mainly due to the slow responding powertrain.

When it comes to straight-line stability, the Kwid offers a more reassuring feel, as it feels more planted and predictable than the S-Presso. However, neither will set your pulse racing around corners. The S-Presso thanks to its stiff suspension feels more eager while the Kwid exhibits more body roll and feels lazy in comparison.
Verdict

This comparison has turned into an example of not judging a book by its cover and clearly, on paper, the Renault Kwid is the stronger car. It is funky and muscular looking and comes with a decent amount of features. However, from behind the wheel, you realize that its mediocre engine and transmission hold it back. Although bigger on the outside, it lags behind the Maruti considerably when it comes to cabin space and even the interior fit and finish isn't that great.

The S-Presso, on the other hand, misses out on a lot of standard features such as LED DRLs, side cladding, and reversing camera. At first glance, it doesn't even have the visual appeal, but when it comes to performance, fuel efficiency and cabin space, the S-Presso outclasses the Kwid by a big margin. Yes, the S-Presso isn't exactly beautiful, but when you look beyond its skin it starts looking like the more attractive choice.
Words by Gaurav Davare