BYD e6 Electric MPV: First Drive Review
Published On Dec 17, 2021 By Tushar for BYD E6
While it's a B2B electric MPV, we can still check out how is it to drive, right?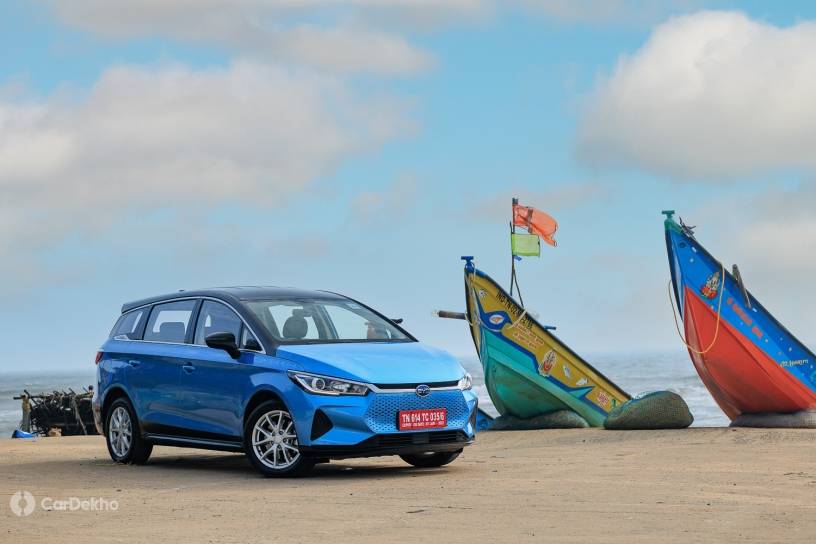 Build Your Dreams (BYD) is an electric vehicle manufacturer (among a long list of other things) that has launched the e6 electric MPV for business-to-business (B2B) customers i.e. the e6 will not be available for sale to private car buyers.s
Even so, this car has generated a lot of interest, largely because it promises a real-world range figure of between 415-520km (WLTC Combined-City). At the outset, we must make it clear that this is primarily an electric mobility solution and not something that'll offer a lot of features or amenities for its asking price of Rs 29.15-29.60 lakh (ex-showroom). We drove it from Chennai to Pondicherry to see how efficient it can be in our real-world test cycle and if this is a viable solution for fleet customers.
Exterior

The e6 may be for a customer focused on functionality(even in the markets where it is sold overseas) but that hasn't stopped BYD from designing a good looking car. Especially in this blue and black two-tone paint scheme, the e6 grabs attention without having to resort to any over-the-top styling cues. There's a light use of chrome around the fascia, windowline and tail gate and no excessive use of cuts, creases or character lines, giving it a clean and European look.
On the size front, the Innova Crysta is only slightly longer and wider but it is much taller. However, the e6's 2800mm wheelbase is larger than the Toyota's. BYD offers two variants - GL and GLX. Irrespective of the version you get, the e6 sports halogen projector headlights (for the low beam), LED DRLs, 17-inch alloy wheels and indicators on the wing mirrors.
Interior

Like the outside, the e6's interior styling is also tasteful and clean. The dashboard is largely button-free as a lot of the functions are controlled by the free-standing touchscreen. The seats get draped in black leatherette upholstery, there are piano black accents on the doors and a chunky faux blackwood finish on the dashboard. While this makes the cabin look premium, what seals the deal is the build and finish quality.
There's a great sense of heft to the doors, the plastic trim feels robust with a very smooth finish and there's good attention to detail, with leatherette upholstery applied to the centre console and even the roof liner uses good quality cloth.
There is one big catch to this MPV, and that is the seating configuration. While it does have a longer wheelbase than the Innova Crysta, the e6 only seats five. So it won't accommodate more people than a premium hatchback or sedan. Here are the cabin's key highlights:
Pro: Ingress/egress is very convenient as the floor height isn't too high. Even senior citizens are unlikely to need a side step

Pro: The windowline isn't too high, the glass area is generous and the rear row is placed higher than the front, so passengers have a good sense of space and a nice view out.

Pro: The kneeroom and headroom are generous. Users around or even slightly above six feet in height can sit comfortably behind one another with space to spare.

Pro: It's a good five-seater. The cabin width has been put to good use and three passengers of an average build can comfortably fit into the rear seat. The floor is flat too.

Con: The rear seat is close to the floor, so you sit a little knees-up. As a result, underthigh support isn't great, even for those who aren't particularly tall.

Con: You don't get much by way of amenities - no rear armrest, no rear sunshade, no adjustment of any kind for the rear seat and no blower speed control for the single, floor-mounted rear AC vent either. You do get two USB chargers underneath the AC vent, though.

The 580-litre boot is perfectly shaped to accommodate multiple large suitcases, so there's enough storage space for intercity trips or airport runs. Travel agencies aside, this will be a good option for hotel chains. There's a steel-rim spare tyre underneath the boot floor as well (space-saver). Unfortunately, the rear seat doesn't fold to liberate more room, should you need it.
Technology
As mentioned at the outset, this isn't a feature-packed product for the price. You get four power windows, height-adjustment for both front seats, tilt and reach-adjustable steering, auto AC with rear AC vents, leatherette upholstery and a colour MID.

The one stand-out feature it gets is a rotatable 10.1-inch Android touchscreen infotainment screen. The screen physically pivots so you can choose between the traditional in-car infotainment landscape orientation and a more phone-like portrait mode.
You don't get Android Auto/Apple CarPlay connectivity but using an external hotspot device, you can download apps off the Google Play store, including Google Maps. The screen can be used for video playback and can even stream videos off YouTube. The e6 comes with a four-speaker music system (two in the front doors + two in the dashboard) which offers good sound quality, though, it will only be enjoyable for those seated up front. There are provisions for rear door speakers if you want to add them.

Safety
Safety features include ABS with EBD, ESC, traction control, all-wheel disc brakes, hill-start assist, ISOFIX, four airbags and tyre pressure monitoring. It also gets a rear camera, rear parking sensors and speed-sensing auto-locking doors.
Charging

DC fast charge (60kW) - 1.5 hours

6.6 kW slow charger - 12 hours
Drive

While we were roped in by the high-range figure courtesy the 71.7kWh battery, we couldn't help but wonder what the catch was. The immediate suspect - performance. The BYD e6's output peaks at 94PS and 180Nm. Of course, with a direct drive and instant torque delivery, that figure isn't as meek as it would have been in a petrol/diesel car, but the e6 still weighs over two tonnes and has a lower output than smaller/lighter EVs like the MG ZS EV or Nexon EV.
However, the e6 does offer usable performance at low city speeds, on open highways and even on inclines. What you won't experience is a strong surge of performance at any given point of time. Even pinning the accelerator doesn't throw you back in the seat or make you go wow like we've seen even in budget EVs like the Tigor. The power delivery builds up smoothly and you can get up to 60-70kmph easily.

Note: While in motion, up to 30kmph, the e6 emits an electronic humming sound. This is for pedestrian safety, to let those around you know that there's a car around.
The top speed is capped at 130kmph but the ECU will be updated at the time of registration as per commercial vehicle top speed regulations (80kmph limit). The e6 will happily cruise at 100kmph with enough performance for overtakes at speed, albeit with a little planning.
What's impressive about this behaviour is how little it changes even with load. We drove the e6 on Chennai's high-speed ECR highway and up very sharp inclines with a full load and luggage, and the performance was more or less consistent with how it behaved with just one person on board.
On the subject of sharp inclines, with or without a full load, the e6 lifts off gently, no matter how hard you go on the throttle. It makes for smooth uphill launches and the e6 can manage driving on inclines but for those driving in the hilly regions of India, the performance may be a little underwhelming, especially for uphill overtakes.

What stands out above all else is the e6's range. Most of our drive was on open highways, where electric cars lose the most range. Our drive cycle also included hard launches and quick corners for action shots, along with city traffic. In our experience with EVs, there's always been a disconnect between distance driven and range lost, even with monitored driving i.e. 50km of driving would generally drop the range by 65-70km.
That's not the case here, and there's an almost 1:1 ratio between distance driven and range lost in the e6, even with the erratic drive scenarios of media drives. The day started with 500km of displayed range and after 70km of driving and even leaving the car idle with the AC on while it was being shot, that figure only dropped to 426km.
Based on our experience, you could do Mumbai to Pune and back in under one full charge, without having to alter your driving style much. This does bode well for the target audience because the benefit isn't just in terms of range, but the cost vs doing that same distance with a diesel car. It is also viable for fleet users who need a car to do distances like this multiple times a day, because BYD says every charge of the e6 can be a DC fast charge, courtesy their developed-in-house Blade battery technology.
Ride & Handling

The BYD e6 is assembled in India as a semi-knocked down (SKD) product with no revisions in the chassis or suspension made for India vs what is sold internationally. The suspension is tuned for ride comfort above all else. The car is very comfortable at low speeds and deals with potholes and rough roads with ease. It is set up on the soft side, so after speed breakers or bumps, it does need some time to settle down and you will feel the vertical movement especially in the rear seat.
Even as speeds increase, the ride stays bouncy and mild undulations on open highways will result in a notable amount of up-and-down movement for the passengers. We noticed this on the uber smooth tar-built ECR, so on concrete roads like the Mumbai-Pune Expressway, this will be even more apparent.

With 170mm of ground clearance and a 2800mm wheelbase, we were worried about clearance but even with a full load on board, it did clear the few speed breakers we encountered without the driver having to slow down to a crawl. In that sense, you can think of it like a sedan when it comes to the ground clearance, wherein it'll tackle most urban obstacles but unusually bad roads or everest-sized speed breakers may need some care.
Verdict

The BYD e6 is not a direct alternative to popular fleet MPVs like the Innova Crysta or Ertiga, mainly because it's only a five seater. However, for clients like call centre companies, hotel chains, airlines and even some travel agencies, this is an alternative that's practical and can offer a real world range that's suitable for heavy usage. Of course, the lower operating costs of an EV are another bonus.
Cars like the e6 are important because the day you can blend this kind of efficiency with more exciting performance and a strong features package, while offering it at a compelling price is the day range anxiety becomes an old memory.