2021 Jeep Compass: First Drive Review
Published On Feb 19, 2021 By Dhruv for Jeep Compass
Is Jeep simply charging what they can for the Compass or is there a hidden value in its price tag?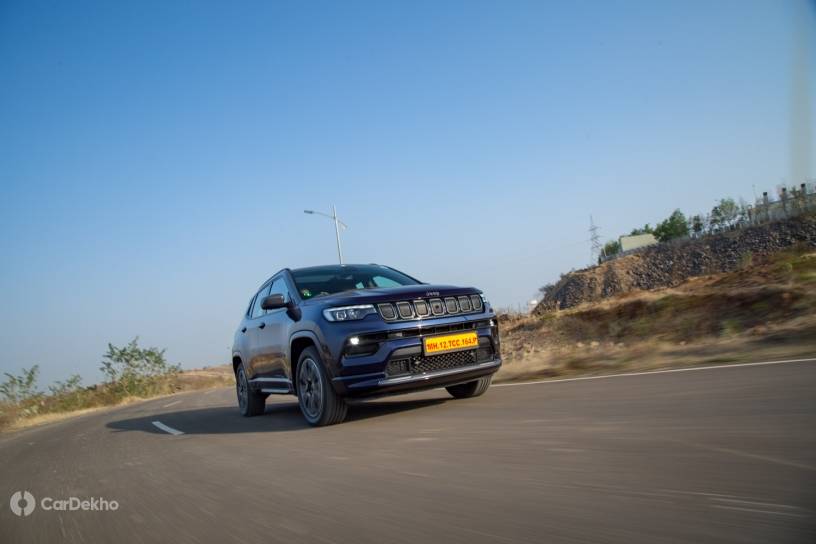 When Jeep launched the Compass back in 2017, the top-end variant of the SUV cost a little over Rs 20 lakh. Fast forward to 2021 and the top-end variant of the Compass now costs close to Rs 29 lakh. There have been multiple updates along the way, such as a panoramic sunroof and a diesel-automatic powertrain, and now we have a facelift that adds a healthy dose of features to it. But, still, is the Compass able to justify its Rs 8 lakh increase in price over four years? We find out by spending a couple of days with the new 2021 Compass.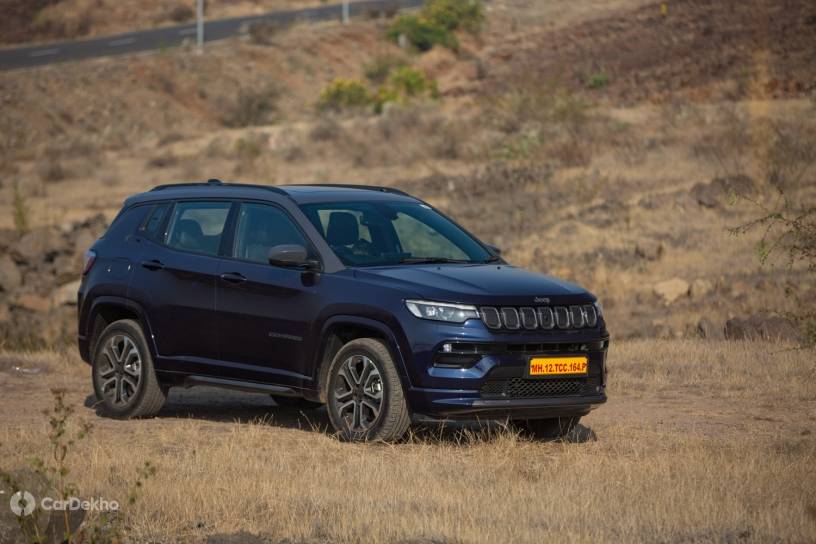 Looks

Take one look at the Compass and you might begin to wonder - what exactly has changed for it? To be honest, not a lot. The headlamps have gotten sleeker, the front grille has been blocked out, and it has even been blacked out along with the Jeep moniker on the bonnet of the top-of-the-line Model S variant. More than that, the fog lamps, air dam and front bumper have all been given a nip and tuck to keep things fresh. Rest of the details have stayed the same as before, although you now get to pick between three new colours: Techno Metallic Green, Bright White and Galaxy Blue. We had a Galaxy Blue Compass as our test car, and we have to say, we were pretty impressed with how it looked in the flesh. It is a dust-magnet however, so be ready for that, if you do pick the Compass in this shade.

Interior

Jeep has completely changed the interior of the Compass. You'll find that the white and black combo interior from before has now been replaced by an all black colour scheme. That is, at least in the top-spec Model S variant. Lower variants get dual tone colour schemes, and the colours depend on the variant you pick. The dashboard now feels a lot more premium than before, thanks to the multiple layers of synthetic leather on top. The touchscreen is now available in a floating configuration and Jeep is even offering a new steering wheel. The centre console, along with the buttons for 4x4 and climate control, are also new which keeps them in line with the new cabin. The rear continues to be the same as before, save for the change in interior colour. You still get AC vents and a 12V port for your smartphone in the rear. The overall cabin quality of the Compass has seen a sharp increase in its premiumness factor.

Features

If the interior is a big step up for the 2021 Compass, then the features list is standing right next to it. Jeep has updated the touchscreen display of the Compass. It is now a 10.1-inch setup, running their latest UConnect 5 system. The highlight of this screen is that the display quality is crystal clear and that it supports wireless Android Auto and Apple CarPlay. You'll find the incredible display quality useful when the 360 degree camera pops up on your screen while reversing. The feed from the four cameras is quite clear and sharp, be it day or night. The screen however sometimes hangs when you are trying to make a call using Android Auto. It however felt like a software issue, which can easily be resolved with an OTA update. The instrument cluster is also a 10.2-inch digital affair. It is fully customisable, and you'll end up devoting some time to understanding it due to the plethora of menus. Jeep even gives you the option to display the speed in mph instead of kmph, just in case you end up feeling the need for some overlanding adventure.

Both the driver and front passenger can now adjust their seats at the touch of a button, with the driver-side even having the option of two memory profiles. You'll also find wireless smartphone charging onboard, so if your phone supports that, you will never again need to carry a cable when driving around in the Compass. And you will want to spend some quality time in the Compass as not only does the cabin feel premium, but so does the sound quality from the 9-speaker system by Alpine. You get ventilated seats, and we don't need to tell you how important those are in India's hot and humid climate. There are however no physical buttons to operate these, and you have to dive into the touchscreen to get them going. A tad complicated if you ask us. Last but not the least, connected car tech too is offered along with the 2021 Compass.

Safety

Being a premium SUV, the Compass packs in a premium suite of safety features. What you will find impressive is the fact that no matter which variant of the Compass you pick, you'll find an electronic parking brake, traction control, ABS with EBD, electronic stability control (ESC), ISOFIX child-seat mounting points, roll mitigation, hill start assist, front seat belts with lap pretensioner, rear parking sensors, reversing camera, rear wiper and defogger and dual airbags to be a part of the safety suite. No matter which way you look at this list, it is impressive. Higher variants add some new features such as auto hold (only with 4x4 AT), four more airbags, a 360 degree camera and a tyre pressure monitoring system.

Engine And Performance

With so many changes under its belt, Jeep has to retain some bits somewhere. And that's exactly what they have done with the powertrain combinations for the Compass. You continue to get a choice between a 1.4-litre turbo-petrol and a 2.0-litre diesel engine. You can spec either of these engines with a manual or an automatic gearbox. However, those looking for a 4x4 option will have to stick with a diesel engine.
| | | |
| --- | --- | --- |
| Engine | 1.4-litre turbo-petrol | 2.0-litre diesel |
| Power | 163PS | 170PS |
| Torque | 250Nm | 350Nm |
| Transmission | 6-speed MT/7-speed DCT | 6-speed MT/9-speed AT |
| Drivetrain | 4x2 | 4x2/4x4 |
One thing Jeep has done here that baffles us is not offering a diesel-auto combo with the 4x2 versions of the Compass. Most people need an automatic gearbox nowadays, but they don't need 4x4 capabilities all that much. And it will sting spending all that extra money for something you might not even use that often.

Apart from that, the diesel engine we drove continues to perform just like before. It offers good performance and continues to perform excellently under the 3,000rpm mark. You never really feel the need to rev it past that as it offers good bottom end and mid-range grunt. And if you do, it revs all the way to the 4600rpm red line without a fuss. It however does make a racket when you do so. The 9-speed auto gearbox in our test car also continued to perform just like before. It's quite smooth in its shifts but if you are looking for an electric driving experience, then the gearbox does feel a little slow in its shifts. Overall though, this powertrain combo works quite well in the city and out on the highway as well.

Ride And Handling

The Compass always had an excellent ride quality. It perfectly balanced the need for good cushioning and less body roll by making use of Frequency Selective Damping Suspension. To give you a simple explanation, the Compass easily soaked up bumps and still managed to go around a corner without any noticeable body roll. That's high praise for an SUV. And if it was possible, Jeep seems to have tuned the ride of the Compass to make it even better. The SUV felt like it stabilised more quickly, and silently, after going over a bump. This was not a problem before as you hardly noticed it, but now that Jeep has made this change, it definitely feels like an upgrade over the previous setup.

Verdict

Come to think of it, the Compass continues to excel at being itself. It remains a powerful yet easy SUV to drive that combines a cushioned ride experience with excellent corner stability to deliver an un-SUV like experience. Jeep's sweetened the pot with an all new interior which makes the experience more premium than before. It's also added many features that, to be honest, should have been there from before keeping the Compass' price in mind. The big question then like always is the price.

Many buyers feel that the Compass is simply not offering enough for the hefty price tag it commands. But the true value of the Compass comes out only when you compare it with something. To put it more simply, the next time you are looking to buy a car in the Rs 20 lakh to Rs 30 lakh bracket, take a look at a similarly priced Compass and you just might understand what we are on about.