2021 Audi Q5: First Drive Review
Published On Oct 29, 2021 By CarDekho for Audi Q5
Audi's middle child of the Q range makes a comeback, after over a year's hiatus. Has the midlife refresh made it a more appealing offering over its rivals?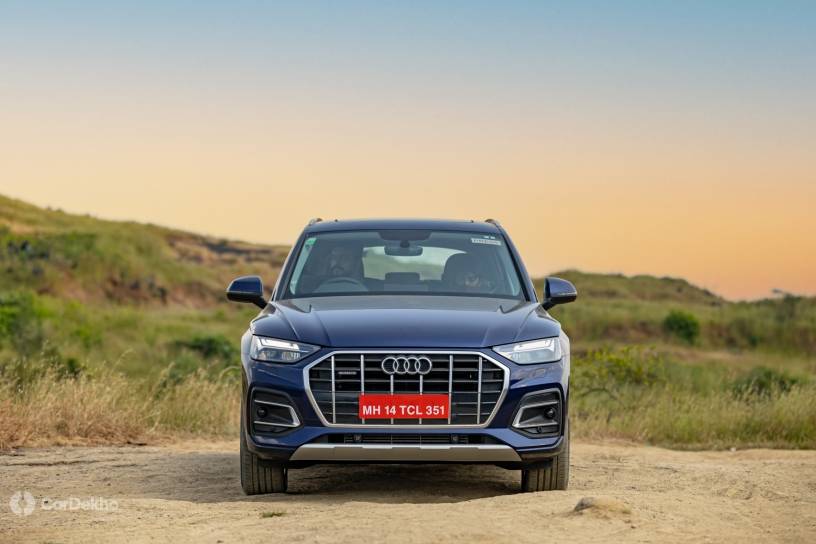 It was during the start of the BS6 era, back in 2020 where India had to say goodbye to the Q5 SUV. Fast forward to 2021, and the middle child of Audi's Q range of SUV has returned with a midlife facelift.
First breaking cover in markets abroad in June 2020, it's the first update to the second-gen luxury SUV. The Q5 is already known to strike a balance between size and functionality. So what has this midlife update done in an attempt to improve the SUV's finely balanced formula?
Looks

At a glance, Audi looks to have shed the pre-facelift Q5's 'corporate' design and have gone more towards a sportier look. Up front, you get a fresh face thanks to a new front grille featuring chrome vertical slats. You'll notice some familiarity here, as it's similar to its larger sibling, the Q8. Next up is a bolder bumper, and new LED headlights that are paired with a snazzier set of DRLs.
Elsewhere, you get a new set of alloy wheels which are now 19-inch units instead of the 18-inch wheels from before. Head over to the rear, and the tail light internals have been tweaked for a slightly more aggressive look. Unfortunately, it's not the organic LED (OLED) taillights with selectable light patterns sold in markets abroad, but will likely arrive later as part of a tertiary update.

Audi is offering the 2021 Q5 in five colour options: Ibis White, Mythos Black, Navarra Blue, Manhattan Gray, and Floret Silver. For us, it was the Navarra Blue that stood out amongst others, fitting any kind of scenery from bright sunny days, to low-light sunsets.
Overall, the design changes have given the Q5 more of an identity of its own, and it does manage to grab eyeballs while not necessarily being something in-your-face, which is something suitable for someone looking for a finely balanced luxury SUV.
Interior

It comes as no surprise that the Q5 gets a well organised cabin with everything placed in the right areas, with a proper fit and finish to comprise a good looking layout. That being said, the Q5 could've done with more soft-touch material as a lot of the cabin features hard plastics which bring the premium quotient down. Nonetheless its layout feels modern enough compared to the BMW X3 and Mercedes-Benz GLC.
Hard plastics aside, the Q5 does manage to get the 'comfort' factor right with its well cushioned and supportive seats covered in leatherette + leather upholstery. Seated up front, there's plenty of room to stretch your legs for the passenger, and you won't feel tired on a long road trip. The same can be said for the rear seats for those who would rather be chauffeur-driven. There is ample cushioning, good legroom and under thigh support, there are rear AC vents, and you can pop-out a cup holder from the middle seat to be seated in comfort. The SUV as a whole is perfect for a family of four, but for those that are quite tall, that leg room might fall a little short. Also, because of the seat contouring and cabin width, squeezing in a third passenger will make the other two a bit uncomfortable.
Features

Now to what's really changed in the SUV. You're treated to a new 10.1-inch infotainment system which is now finally a touchscreen unit. Using the infotainment system was a breeze with no lag, and an interface that has easy access menus for media, connectivity, car settings, as well as navigation. It comes with Android Auto and Apple CarPlay connectivity, but it's not a wireless feature. What's wireless though, is the phone charger.
Another important addition to the Q5 is a 19-speaker Bang & Olufsen music system considering its rival, the Volvo XC60 has a 15-speaker Bowers & Wilkins setup. Whether you're listening to Pink Floyd, or Ed Sheeran, this extensive sound system manages to play these tunes effortlessly with top notch quality. Thanks to the speakers being integrated into the doors, dashboard and even the pillars, the surround sound fills the entire cabin. That being said, you will notice a bit of blaring when playing music at full blast. Credit also should be given to the great cabin noise insulation, so you can listen away comfortably even in the middle of a traffic jam riddled area at a lower volume.

Other notable bits in the 2021 Q5 include three-zone climate control, a panoramic sunroof, ambient lighting, powered front seats with driver memory function, as well as a powered tailgate with hands free operation. Also who can forget Audi's Virtual Cockpit digital driver's display that can be customized into a variety of combinations.
Boot Space

As for the boot, luggage for a weekend getaway trip or an airport trip can be accommodated without a hiccup with two full size suitcases in the trunk. You can also squeeze in duffle bags with the leftover space. If you are the adventurous kind and want to load larger articles for camping trips, you can simply fold the rear seats in the 40:20:40 layout. The loading lip is at an adequate height where you don't need to do much lifting to load or unload luggage.
Safety

The Q5 handles the safety department with eight airbags, hill hold, front and rear parking sensors, hill-descent control and a rear camera. But we think the SUV would have benefited with the addition of a 360-degree camera, and advanced driver assets such as lane-keeping assist as well as adaptive cruise control. Features that now can be seen in SUVs starting from a much lower price point.
Engine And Performance

Getting the on-paper facts out the way, the Q5 gets a 2-litre turbocharged TSFI petrol mill delivering 249PS power and 370Nm of torque. Paired to a 7-speed S tronic twin-clutch automatic gearbox that drives power to a front-biased all-wheel drivetrain. It is claimed to do the 0-100kmph sprint in 6.3 seconds, with a claimed fuel efficiency of 17.01kmpl.
When it comes to driving it in the real world, the Q5's powertrain setup is quite enjoyable. It offers a smooth power delivery while accelerating from a standstill and the pick up energetically to execute overtakes with relative ease. The smooth throttle response is also beneficial while navigating bumper to bumper traffic scenarios. The 7-speed S tronic twin-clutch automatic transmission manages to shift into gear seamlessly even while using the paddle shifters. Even if you're not pushing the SUV, the powertrain is refined enough to manage a comfortable cruise, treat it as a daily driver, or even make a long road trip with relative ease.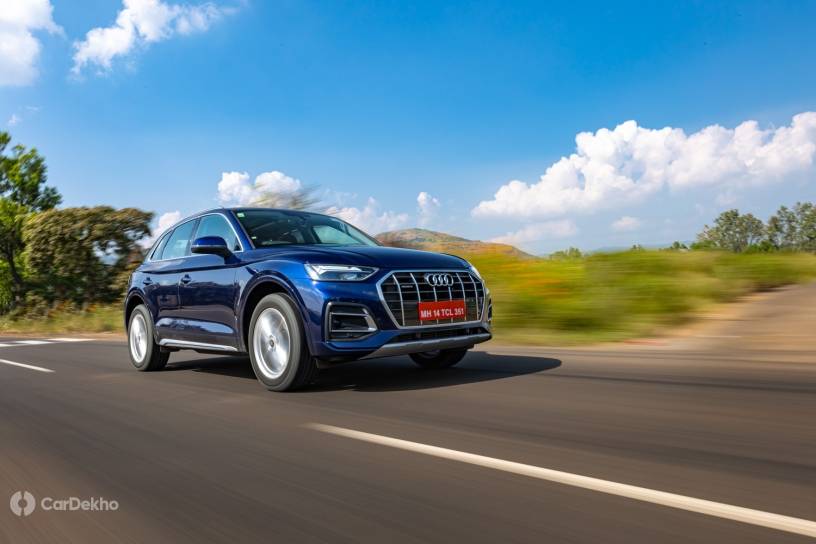 There are also six drive modes to choose from: Comfort, Dynamic, Efficiency, Individual, Off-Road and Auto. Out of them, the Comfort mode manages to do the job for pretty much any scenario. There is one minor gripe, that it is tricky to reach the buttons that access these modes. That's down to the fact that the buttons are positioned for a left-hand drive setup.
Ride and Handling

Over civilised roads, the Q5 does the job comfortably enough to have no issues being a daily driving SUV, with no visibility issues despite its size. It also managed to handle most speed breakers and undulations without being thrown about. That being said, if you go through high undulations, you will feel the bumps. As for how it handles, the SUV's turning radius can handle tight hairpin turns, and has limited body roll thanks to adaptive dampers which makes the Q5 live up to its 'balanced' tag. Sure, it's not something you can really push like a performance model around corners, but you feel in control enough to make it an enjoyable experience.
In our short drive there were plenty of narrow roads, broken paths, as well as low-grip terrains, so we got to experience the SUV's all-wheel drivetrain, as well as off-road mode. The difference in traction while going through rocky or low-grip surfaces can easily be felt thanks to the throttle response, shift times, and ESP being altered in this mode. Even the hill-descent control that automatically activates while using this mode came in handy in downhill sections to keep a controlled momentum for the SUV. Those concerned about the bigger 19-inch wheels can take some solace, as they're protected by chunky tyre sidewalls.
Verdict

The midlife refresh has further accentuated the 'well balanced' feel of the Q5 SUV. It's now got more of a sporty personality, is practical for the family, loaded with features, and is enjoyable to drive, whether you're driving enthusiastically or in the city or on a Sunday cruise.
The 2021 Q5 is slated to go on sale in November, with a price range likely starting from Rs 55 lakh (ex-showroom, India). Its rivals include the Mercedes-Benz GLC, BMW X3, and Volvo XC60 that are priced in the range between Rs 57.90 lakh to Rs 64 lakh (ex-showroom, India). So if you're looking for something balanced - that does a little bit of everything in a luxury SUV without veering towards one extreme, the Q5 should be the ideal pick.