2019 Hyundai Grand i10 Nios Review: First Drive
Published On Aug 29, 2019 By Arun for Hyundai Grand i10 Nios 2019-2023
Hyundai's latest small hatchback claims to have big things in store for you. Has the i10 levelled up yet again?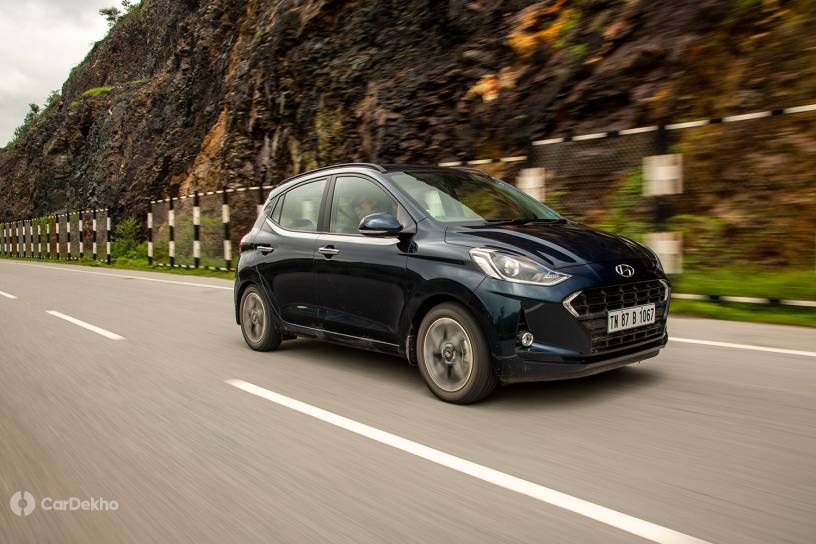 Hyundai's first i10 proved to be a logical upgrade to the erstwhile Santro. And, half a decade later, the Grand i10 stepped into those shoes comfortably as well. Now, there's a new i10 on the block. It not only carries over the 'Grand' prefix but brings with it a 'Nios' suffix as well. Hyundai says Nios means 'more' in Irish, which should mean that this little hatchback delivers more in every way possible. Has the i10 finally evolved into a proper premium hatchback?
Exterior

Hyundai hasn't gone to town reinventing the Grand i10; they've simply brought it up to speed with today's times. The Nios looks like it's just the right size for the city. And it has (expectedly) grown in size compared to the Grand i10 too. It's 40mm longer, 20mm wider and has a wheelbase that's longer by 25mm as well. However, it still isn't quite the same size as the segment stalwart - the Maruti Suzuki Swift - that's larger in every measurable way.
| | | |
| --- | --- | --- |
| Dimensions | Hyundai Grand i10 Nios | Maruti Suzuki Swift |
| Length | 3805mm | 3840mm |
| Width | 1680mm | 1735mm |
| Height | 1520mm | 1530mm |
| Wheelbase | 2450mm | 2450mm |
| Boot space | 260 litres | 268 litres |
With the added real estate, the design too has taken a bolder approach. It may not be universally appealing, but it's hard to dislike the youthful, energetic vibe it has. Hyundai has added bright eye-popping colours such as Fiery Red, Alpha Blue and Aqua Teal especially for India. If we were to pick our very own Nios, it'd surely be between these three. You get to choose between dual tone paint schemes as well (albeit only in the Sportz variant): there's Teal and White, both offered with a black roof and mirrors.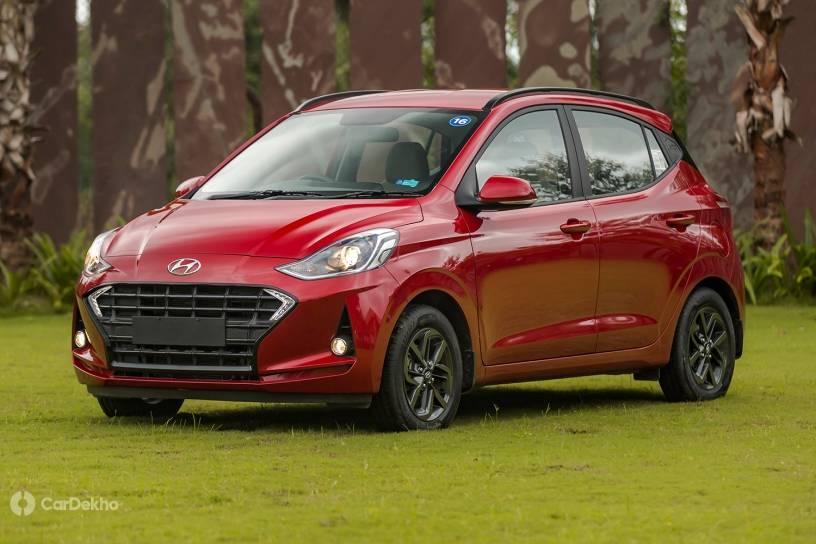 The front end is familiarly Hyundai, with the large 'cascading' grille taking centrestage. We're happy about the lack of chrome: the gloss black treatment really makes the face pop. Cleverly integrated daytime running lamps shine bright with white LEDs. But there's no more LED anywhere else. You get projector headlamps and projector fog lamps, but both come equipped with regular halogen bulbs.
It's easy to spot an evolved Grand i10 in the Nios' silhouette. Hyundai has tried to liven things up with machine-finished 15-inch alloy wheels (in the Sportz Dual Tone and Asta variants only), and a blacked-out element on the C-pillar. You'll spot 'Gi10' branding here, set against an intricate honeycomb background.

And the honeycomb theme continues as you peer into the almond-shaped tail lamps. Again, no LED elements here. Also, yes, we do see the resemblance to the Tiago here. Thankfully, there's nothing here that'd put you off. The Nios badging takes prime spot on the boot lid, drawing inspiration from the Venue. Hyundai's also added a small sprinkle of sportiness with blacked-out bits on the rear bumper. A nice set of meaty exhaust tips would've sealed it for us!

Subtler elements work in conjunction to accentuate the Grand i10 Nios' appeal. The subtle dollops of chrome on the door handles, the thin strip on the bootlid and the shark fin antenna are little details that draw attention. Step back and look at the larger picture, and it's all cohesive. It should get the all important nod from the folks at home!
Interior
Getting in and out of the cabin of the Nios is a walk-in/walk-out affair. Even the elderly in the family would appreciate the height at which the seats are set. Unlike cars like the Figo or the Swift where one has to lower themselves into the cabin, the Nios provides an easy-on-the-knees alternative.

Get into the front seat and you're greeted by a dashboard that looks and feels like it's from a segment above. Yes, the design looks like a mix and match exercise between that of the Venue and the Seltos. But the execution definitely deserves a doff of the hat. Right from the honeycomb mesh-like embossing on the dash to the turbine-like vents, it's all well designed. More importantly, the quality of materials is among the best we've seen in this class. Small bits like the knobs for the AC vents and infotainment system and the headlamp and wiper stalk do feel a bit budget-grade. But, overall, this definitely feels like something that'd age well with time.
The front seats themselves provide ample support for the back and lower back. However, those with wide shoulders might find themselves spilling out of the seat. Another bugbear (as is the case with most budget-grade Hyundais) is the lack of adjustable headrests for the front occupants. What you thankfully get is a height-adjuster for the driver's seat. And more importantly, Hyundai is offering the feature in all variants save for the base-spec Era. Ditto for the tilt-adjustable steering. Put together, it's easy to find a driving position that's tailored to you. And unless you're really tall, you wouldn't really feel the lack of telescopic steering adjust either.

As you'd expect from Hyundai, everything falls to hand easily. Switches for the power windows, the start/stop button and even controls for the infotainment are placed where they feel natural. But we're still counting how many pennies Hyundai has saved by not illuminating the power window switches. As we've experienced with the Grand i10, this can become an annoyance at night, causing you to fumble for switches.
Storage options include a chilled glovebox, a small shelf above it, and space ahead of the gear lever for your knick-knacks. If you buy the Asta variant, please remember to keep metallic objects like coins and keys away from the tray here, since it houses the wireless charger (they could interfere with operation, and also possibly melt). A couple of small cupholders near the handbrake and 1-litre cubbies in the doors wrap up things at the front.

There's a smaller cubby in the rear door, and a seatback pocket on the co-driver's seat for the rear occupants. A couple of cupholders (maybe in a flip down armrest) would've been helpful here. Similarly, while there's a 12V socket to charge your phone, there's no place to actually keep the device. Pro tip: buy a really long cable!
The small misses seem almost insignificant once you get comfortable in the rear seat of the Nios. Hyundai has addressed the pain points of the Grand i10: lack of underthigh support and kneeroom. It's pleasantly surprising to see the amount of space that's been carved out here. Makes us wonder what the upcoming Nios-based sedan will have in store for us. Where the new hatchback is similar to the old one is in terms of headroom (of which there is ample) and width. It continues to be a four-seater in our books, and five is a definite squeeze. However, Hyundai has flattened out the seat base and added 60mm of bolstering at the side in an attempt to make the three-abreast experience better over longer journeys.

Bootspace, too, isn't a big leap over the older one. But it's more than enough. At 260 litres, it's just 8 litre shy of the Swift. You can fold the rear seat down to liberate more space. Oddly enough, the Nios doesn't get 60:40 split seats like the Maruti.



Technology & Features

Hyundai has been clever in offering the headline features with the Nios. For instance, the big 8-inch touchscreen is definitely going to get conversations going. It's the same unit we've seen in the Venue, albeit without the BlueLink tech. It also gets support for Android Auto and Apple CarPlay, along with support for the reverse camera. In terms of interface and ease of use, there's nothing new to report. It works without a hiccup, is lag-free and super easy to get used to. This is paired with a four-speaker audio system that can be controlled using the buttons on the steering wheel.

Instead of Blue Link, Hyundai is throwing in the 'iBlue' app. This essentially acts as a Bluetooth-based remote control for the infotainment system. This is convenient if you're in the rear seat and want to hijack the audio system to DJ. For your phones, there's a wireless charger up front, a USB quick charger and a USB port as well. The rear occupants get a sole 12V socket placed under the rear AC vents.

Speaking of which, much like the Grand, the Nios too gets automatic climate control with rear AC vents. The turbine-shaped AC vents at the flanks have a flow control knob (which feels plasticky) that lets you shut off air flow completely. Ditto for the central AC vents. Air-conditioning performance felt adequate, even though we tested the car in a super rainy Udaipur.


The instrument cluster houses an analogue tachometer along with a 5.3-inch MID. This screen is home to the digital speedo, fuel gauge and parameters such as distance to empty, and efficiency. It also has a nifty readout that tells you which door is open.

Do note that the AMT is not available in the top-spec Asta variant. So you miss out on quite a bit including a rear wiper, keyless entry / go, and wireless charging. Overall, there's not much here that is setting big benchmarks in the segment. Hyundai could've chosen to push the envelope here and offer more in the form of automatic headlamps, automatic wipers or maybe even cruise control! However, it's offering what you'd expect from a car that's priced as much.
Performance
Petrol
| | | | |
| --- | --- | --- | --- |
| | Grand i10 Nios | Swift | Figo |
| Displacement | 1.2-litre | 1.2-litre | 1.2-litre/1.5-litre |
| Power | 83PS | 83PS | 96PS/123PS |
| Torque | 114Nm | 113Nm | 120Nm/150Nm |
Diesel
| | | | |
| --- | --- | --- | --- |
| | Grand i10 Nios | Swift | Figo |
| Displacement | 1.2-litre | 1.3-litre | 1.5-litre |
| Power | 75PS | 75PS | 100PS |
| Torque | 190Nm | 190Nm | 215Nm |
You get to choose between a 1.2-litre petrol and a 1.2-litre diesel for your new Grand i10 Nios. Pick either and you get to further choose between a 5-speed manual transmission and a 5-speed automated manual transmission (AMT).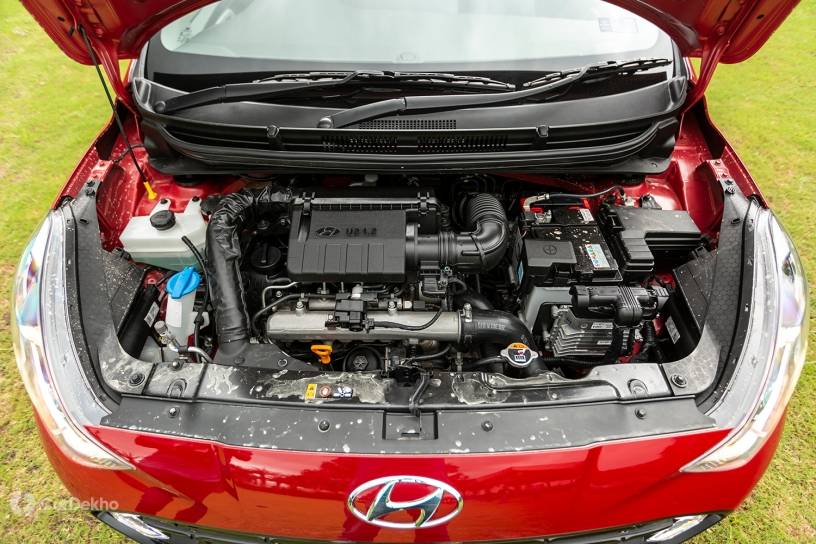 On paper, the 1.2-litre petrol motor seems unchanged. It continues to make 83PS of power and 114Nm of torque. That's on par with the Swift and the Ignis, but behind the Ford twins that pack a solid 96 horses. The biggest update with this engine is that its now BS6-compliant. ARAI-certified fuel efficiency sees an uptick as well, at 20.5kmpl for the AMT and 20.7kmpl for the manual.
If we had to describe the engine in a single term, we'd say it's easy going. If you enjoy driving in a relaxed manner, this motor should be a happy partner. It continues to be refined and barely audible at city speeds. Yes, it isn't as refined as say Suzuki's K12B motor, neither is it as eager to rev up. But for your daily commutes and highway runs, you'd have no complaints. It requires an extra dose of throttle to get going in first gear but on the flipside, second gear is practically an automatic. You can upshift to second at as little as 10kmph and pull all the way past 65kmph in the same gear. For highway stints, this motor will be at ease chugging along at 80-100kmph.
However, if you foresee a lot of highway usage, we'd recommend the diesel motor. This engine has been carried over unchanged. That's to say it hasn't been updated to BS6, and makes the same 75PS / 190Nm. But Hyundai has promised that the motor will be upgraded by April 2020. In a game of top trumps, it's the Ford again that takes the top spot with 100PS / 215Nm. That said, there's no separating the Nios and the Swift, at least on paper.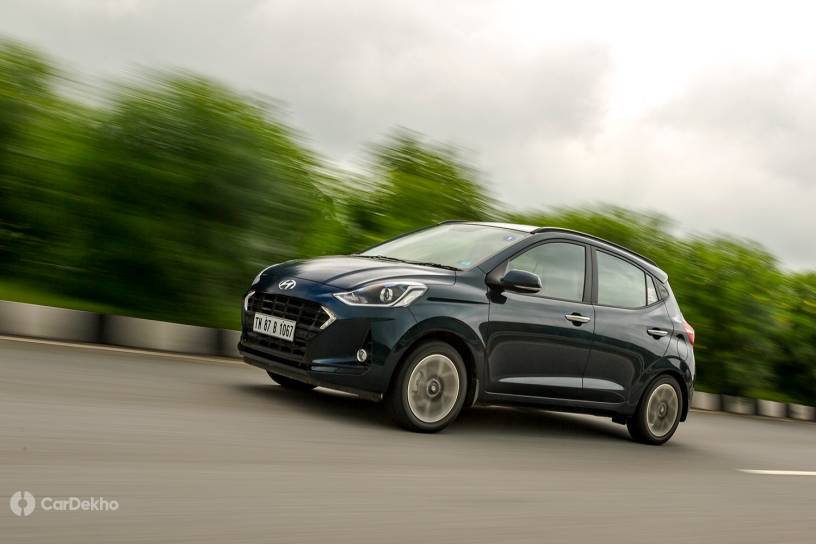 The motor remains drivable as ever, ready to pull in a gear higher at lower speeds. With the extra torque, it feels a lot more relaxed at triple digit speeds on the highway. That extra punch comes in handy inside the city too, as it'd save you from shifting every now and then. But power delivery in third is slightly peaky, which may cause the car to lunge forward a bit. Leave it in second gear for those speed breakers and slow crawls inside the city.


Don't want to change gears at all? AMT to the rescue! The experience for both the petrol and diesel Nios is hassle-free. At city speeds, where you're most likely to be at part-throttle, power delivery is seamless. In fact, you'd be hard pressed to figure out when the AMT has shifted up. Downshifts, though noticeable, are never jerky. You get a manual mode as well that lets you take control of the gears yourself. However, stray too close to the redline or slow down too much and the AMT will override your input and shift up/down.
Ride and Handling
Given the Nios' tall and upright seating, large windows and slender A-pillars, it's easy to feel confident in the driver's seat. Couple that with the light controls and you've got a hatchback that should be kind to first time drivers too. In the front seat, the Nios keeps you shielded from road imperfections quite commendably. Irrespective of speed and surface, the suspension manages to take out the shocks well. Over really deep and nasty potholes, you'll notice some side to side rocking but that's pretty much it. The rear suspension has a tendency to get every so slightly bouncy, especially when you hit undulations in quick succession. For those long trips with the family, be sure to take a quick break in a couple of hours.

From a handling standpoint, we see Hyundai making a significant improvement. The enthusiasts among us will crib for better feedback from the steering. However, there's no denying that it's quick and precise. Also, unless you really (and we mean really) flog it around the bends, it doesn't get unnerving either. Brakes are confidence-inspiring irrespective of the variant you're driving. Even from triple digit speeds, the Nios managed to come to a halt in a straight line with no hair raising moments. Thumbs up!

Safety
Standard features across the Grand i10 Nios range include dual airbags, ABS with EBD and a seatbelt reminder system. Surprisingly, none of the variants have ISOFIX child seat mounts to offer, something that both the Ignis and Swift offer as standard. It's Ford that's setting a benchmark here by offering six airbags. We'd have loved to see Hyundai turn up the heat on Maruti by offering side and curtain airbags, at least as an option on the top-spec Asta trim.
But there's no denying that the Nios is solid in its construction. Approximately 65 per cent of its structure employs advanced high strength steel (AHSS) and high strength steel (HSS). For reference, the Swift uses ~40 per cent high strength steel (HSS). Notably, the Grand i10 Nios hasn't been crash tested by an independent body yet. There are no NCAP crash test scores available. However, the Grand i10 Nios is compliant with Indian crash test norms.

Variants

The Hyundai Grand i10's variants include Era, Magna, Sportz and Asta. Further, the Sportz variant gets the two tone treatment and some additional features in the 'Sportz Dual Tone' variant. The petrol engine is available in all trims while the diesel is available in all but the base-spec variant. Do note that the petrol manual is available across variants, and the petrol AMT is available in the mid-spec Magna and Sportz variants only. On the other hand, the diesel manual is available in the Magna and Asta variants, whereas the Sportz variant is available exclusively with the AMT.
The base-spec Grand i10 Nios is quite barebones, missing out on essentials like central locking, day/night IRVM and even an adjustable steering. So we'd recommend ruling it out completely and starting your search with the Magna variant at the least. In this variant, a few basics such as adjustable steering and driver's seat, a basic audio system and some feel-good features such as electric ORVMs and rear-AC vents are bundled in. Move a variant higher and you get some flash value by way of 14" alloy wheels, a touchscreen infotainment system and automatic climate control. This is also the top-spec variant if you want an AMT. The absolute top-spec Asta adds the premium elements in, including chrome door handles and a leather-wrapped steering.

For a detailed look at how the variants stack up, refer to our Hyundai Grand i10 Nios Variants Explained story.

Verdict
Has the Grand i10 levelled up? Simple answer: Yes, it has. It's levelled up on space, style and features. The drive experience remains friendly as ever and with four options to choose from, there's a Nios for every use.
Now, we think it could've done with a few more feel-good elements in the form of automatic headlamps or an auto-dimming IRVM. Even the feature mix across variants could've been better optimized. Having basics such as rear headrests and rear wiper exclusively in the Asta variant does raise eyebrows.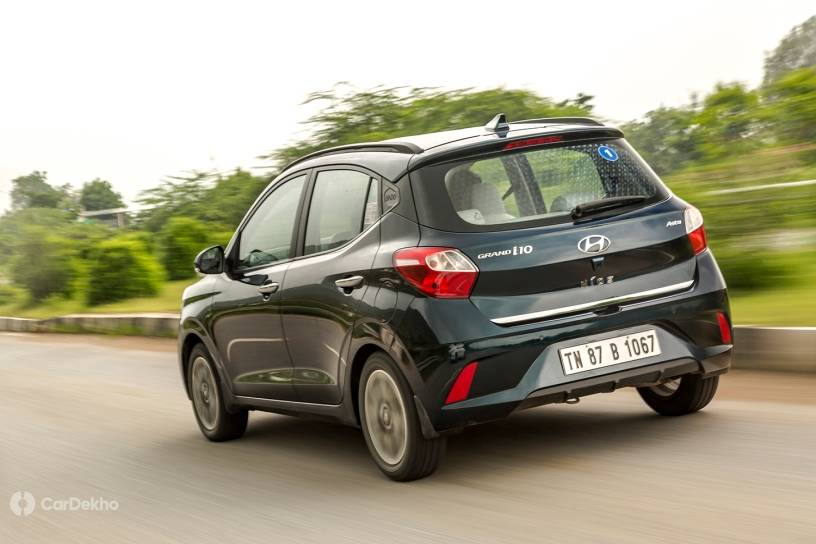 With prices starting at Rs 5 lakh and topping out at Rs 8 lakh, the Nios is asking for more compared to the Grand. But when you dial in the richer experience, you'd find that it is delivering more bang for buck than ever.