Top 5 Villain Hotwheels
Modified On Jul 31, 2015 05:57 PM By Manish
Cars have always been an aspirational medium of expression. Be it the Delorean time machine, revving to Marty Mcfly's white sneakers in the back to the future franchise, or the very recent souped-up, stealth Kawasaki ridden by the dark Robocop, these automobiles are an extension to the personalities of these larger than life characters and aim to inspire all of us to express our own brand of individuality, but expression need not always be as wide-eyed as we are led to believe. The quest that culminates with the discovery of every great hero usually commences by introducing a dastardly villain and as everyone has a right to expression, we have listed down the top 5 most sinister rides.
5) Bill's Mangusta- Kill Bill 2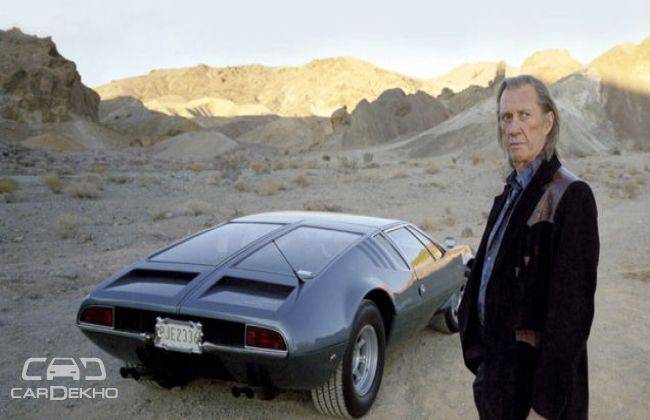 If you were able to spot this car in the film, then it was either by sheer luck or because of extremely compulsive obsession. Even rarer to its screen time was its production run. Only 401 cars were ever produced and out of those rare few, only 250 still remain in existence to once again bestow upon us the distinctive V8 growl. Mangusta is Italian for mongoose, an animal who is considered to be a cobra killer and that was a metaphor for the rumored objective behind the creation of this particular automobile, which was to replace the Shelby cobra. As ford and Shelby have always made a point to be ancillary units only to the hero figures, this particular car was conceived with sinister objectives.

4) Cruella's Panther Deville- 101 Dalmatian

Segregating the stereotype around the fear, that is insinuated in every single driver on the road, at the very sight of a female driver, we manage to take a feminist take with the help of this particular listing. Cruella de villes ride was a neo-classic luxury icon that captured every essence of the nouveau-riche taste. If exclusivity is your forte, then consider this: only 60 de villes were ever built, i.e. Hand-built, with a jaguar v8 or v12 for a heart. This included eleven two-door convertibles, which for many years were listed as Britain most expensive production cars.The growl did not just end there but trickled down to the very design of the car. Lines of the flowing wings were styled to imitate the Bugatti Royale and de ville featured lavish luxuries such as TV sets and drink bars, which certainly made it a ride for a very resourceful man or a woman.

3) The Flip Car- Fast and the Furious 6

Yes we are all deeply saddened by the demise of Paul Walker, tragically so behind the wheel of a Porche, infamous for piling on a death toll that includes James Deen. Fast and the furious franchise also impacted our lives with a particular innovation in the automotive-combat segment. After Nolan's Tumbler Bat-mobile featured in the Dark Knight trilogy and the Hummer being featured in various action flicks like "the Rock",we were led to believe that the only way to bust through a barricade is with a tank and then came the flip car. This car was designed and built to not project the menace of its villainous owner, but to terrorize his contenders as a weapon, all on its own. The car comes shielded in armor plating, and uses a front mounted ramp that can "flip" any car on its back regardless of its shape, size and speed. Add to that the fact this car can also crab and drive on its sides with the help of four-wheel steering and has a 480 horsepower LS3 engine strapped in to its Formula one race car construction, and you may concur that the car is furious indeed.

2) Assasin Charger- Bullit

Steve Mcqueen is the personification of cool and there is no denying that. Persol shades, Ferrari Californians, Heuer and Rolex watches, you name it, the "Thomas Crown affair" star had a taste for all things fine and luxurious, which is why we were led to believe that there will never come a day, when we will be supporting anyone or anything that did not feel the same awe for Mcqueen, as we did. Then The Dodge came charging in. The lamps that hide behind the black grill added to its evil on-screen charisma, which made Dodge chargers one of the most iconic muscle cars of all time. As much as we love Mcqueen for being our idol of heroism that transcended decades, we love this car used to carry out his on-screen assassination, more, as it posed to be such a worthy rival.

1) Joker Mobile- Suicide Squad

Topping our list is the new "Joker mobile". Two of the most legendary villains of all time, have to be Darth Vaydor and the Joker, and the car used in the upcoming suicide squad movie is a combination of certain vain characteristics of both. The car is an Infinity G35, which wouldn't seem that sinister at first, but then it is warped in a Vaydor body kit, which at its very sight would send shivers down your spine. As joker is all about vanity and presentation, the car is rather befitting. Vaydor G35 will obviously not be featured in the movie in its stock features and specifications. With the recent behind the scenes pictures cropping up all over the Internet and the little glimpses that we saw in the new Suicide Squad trailer, we see the car featuring low-profile tires, five-spoke gold star rims, white interiors and a pink chrome paint-job. The car is as cheesy as jokers clown-like appearance, which is aimed at pointing out a sick irony imposed by his white skin, green hair, purple suit and his psychopathic persona. The car does the same and strapping on the blue neon lights makes sure that our favorite killer is always in the spotlight, just how we like him.

Was this article helpful ?
0 out of 0 found this helpful