Top 5 Christmas Car Decorations
Published On Dec 23, 2015 07:00 PM By Manish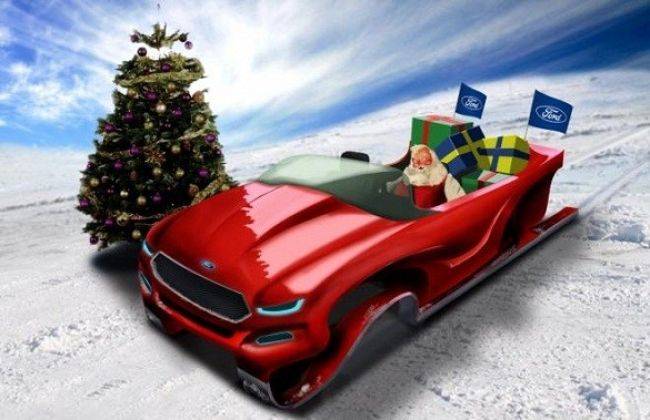 With the season to be jolly just around the corner, we have again taken it upon ourselves to bring to you another rendition of an amalgamation between one the most cherished holidays and the automotive industry (cause we're cool like that). So here are the top 5 Christmas decorations for lighting up your cars (if you dare) to celebrate this holiday season.
Capping it up With a Smart Car

Why should you be the only one drowning in the bliss of eggnog and wearing those seasonal party hats, your beloved car, especially if it is so tiny one like the Smart car, deserves to be a part of the merriment. So slap on a cap and proudly flaunt your holiday spirit.
Bringing in the Tree, Needn't be a Chore

Stepping out of the house and loading and strapping on that unreasonably heavy tree onto your roof, needn't be how you Christmas eve should play out for you. Make this seasonal chore a part of your celebration and parade the fully decorated Christmas tree on your way home from the lot.
Rudolph the Rednose Reindeer Hitchhiking

Santa's favourite reindeer may have landed in a spot of bother. After all, this time of the year is quite busy for the little fella with all the gifts that need to distributed to all the eager kids. So, check out how this good samaritan made sure that the cute little fella got where he needed to be.
Why Should Your House Have All the Fun

This argument doesn't apply to those, who actually live in their cars but is a valid argument nonetheless. Yes, your house is one of the most prized possessions that you own but your ride is the one that you adore. So, this Christmas season decorate your car with all the decorations that are humanly conceivable. Let the spirit of father Christmas overpower you and hell, even throw in a mistletoe while you're at it.
Wrap up this Christmas Season with a Car Wrap

Car wraps are all the craze these days, they're a cheap and cheerful way to overhaul the overall look of your car and what can be more opportune of a moment to wrap your car, than the most cheerful holiday of the year.
So here is me wishing all of you a very merry Christmas on behalf of the entire CarDekho team.
"Happy Christmas to all, and to all a good night."
Was this article helpful ?
0 out of 0 found this helpful