Honda Drive To Discover 6: Odyssey of Rajasthan
Modified On Feb 22, 2016 03:21 PM By Raunak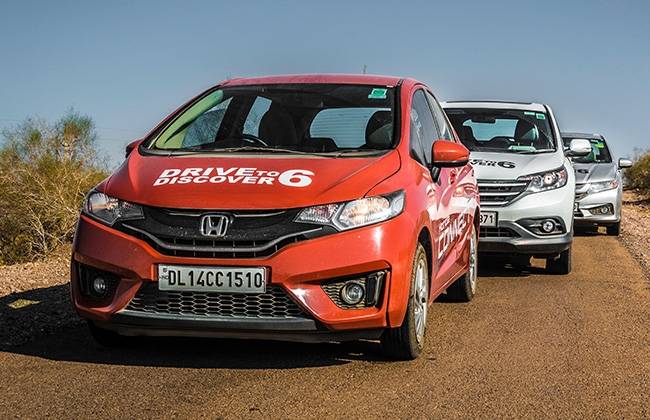 You'll be driving to one of the westernmost parts of the country - towards the border, stretches of barren lands, mountains, fabulous tarmacs, and windmills as well - this is how I spent three amazing days.

Honda had invited us for the sixth edition of Drive to Discover. The endlessly long roads of Rajasthan are one of the best the country has to offer and being a native, I was well aware of this all my life, though Jaisalmer in particular always has managed to surprise me. The route which we were meant to follow was Jodhpur-Jaisalmer-Barmer-Jodhpur. We had around 12 cars - 4 Citys, 4 Jazzs and 2 CR-Vs.

My ride started from Taj Hari Mahal, Jodhpur, in a Jazz diesel. Though, it wouldn't be the only car in which I was placed behind the wheel, we did shuffle all the three cars during the course of the journey. Jaisalmer was around 300 odd kms away from Jodhpur. Once you leave behind the roads of Jodhpur, the highway is mostly single lane and the route gradually turns deserted as you head towards Jaisalmer.

Though, the quality of tarmac doesn't disappoint you, the only problem is the sudden and random emergence of blue bulls (nilgai) in middle of the road. They just bounce over the small crossings, taking you by complete bewilderment. Beside this, a lot of deers also made untimely appearances courtesy lack of fencing. I even did manage to spot a few of blackbucks on my trip.

After driving for a few hours, our stomachs started to roar and we had to succumb to their demands. We stopped for lunch at a place called Manvar. I was taken in by the authentic Rajasthani demeanour of the place. Soon we were back on our track and were driving to the next stop point in Jaisalmer. Just as the sun was about to bid adieu, we found ourselves on the outskirts of Jaisalmer. Meanwhile, the Honda Connect App was popping notification - "braked too hard, accelerated too hard"!

For the uninitiated, the Japanese automaker has recently launched the Honda Connect services in India. It was launched around the end of December, last year. What it does is, it provides you with a lot of necessary information on the Honda Connect App regarding your car (currently available only for City, Jazz as well as CR-V and App for Android along with IOS). It provides you information like how well you drive your vehicle - in terms of braking, acceleration, high speed, average speed of your trips along with others. Moreover, you can also analyse if anyone else is driving your car. You can even share your current location with your near and dear ones. Though, in the case of any mishap or an impact, it will also provide assistance. Inform yourself further regarding the app through a video in the end.

Back to the trip, the next morning we left for Tanot! It is another 120 kms away from Jaisalmer and if you want to have a view of the Indo-Pak Border, you will require permission from concerned authorities. The road towards Tanot from Jaisalmer is touted to be one of the fastest in the country. There is not a morsel of doubt regarding that.

Few parts of the highway are under construction, as the Government is currently widening it. Once completed, it will be worth be cruising through. The highway is mostly flanked by dunes and the picturesque sight which greets you, resembles one which can be witness in the Middle East. Sadly enough, if you are bereft of the opportunity to pay a visit to the border, then you must see the Tanot Mata Mandir.

Then we travelled through the road less taken, connecting Tanot to Longewala. It is a deserted patch of land, as travellers usually prefer to carve their way through the highway, which is from Jaisalmer. However, we travelled by this highway on our way back.


Speaking of the Tanot-Longewala patch, it was not smoothly paved like the others, but it was a whole new experience in itself. Till Longewala, we just encountered a small village and beside that the entire route was secluded. I firmly believe pictures converse louder than words!


On the last day, before leaving for Jodhpur via Barmer, I along with few others visited a haunted placed named Kuldhara. It had been on my bucket list since the last time I paid a visit to Jaisalmer.

Its a folk belief that the place is haunted and a tale regarding this is easily accessible over the internet. The placed is filled with debris and since so much has been said about the place, that one is naturally bound to feel a little spooked up.

I was unable to visit popular sights like - the Sonar Fort and Sam. The drive to Tanot was more enticing, so it covered up for the loss of missed sightseeing, this time around. However, if you're going there for the first time, try not to miss Sonar Fort and stay at Sam desert camps!


We left Jaisalmer around 12 that afternoon for Barmer. Enroute to Barmer, you are greeted with good tarmac. On our way back, we saw a trailer carrying a blade which belonged to a windmill and it looked entirely as menacing as if you were standing right under the mill, waiting to just be carried away with the wind. I must bring it to your notice that there is a patch of road, somewhere between Jodhpur and Barmer, it is a proper supercar stuff! Quite a road indeed.


Speaking of the cars, I mostly drove City and Jazz and at times the CR-V. Being the only petrol SUV in its class as of now, CR-V is in a league of its own. Manuals versions are always fun to drive on roads like these!

Similar is the case with the City petrol manual. Beside this, City and Jazz are very comfortable cruiser at triple digit figures and you also receive a decent feedback from the steering wheel.

Recommended
:
Honda BR-V Gallery: Do You Find it Better Than Creta?
Was this article helpful ?
0 out of 0 found this helpful