Future of safety and entertainment by Hyundai
Modified On Mar 27, 2015 02:35 PM By Abhijeet
The ever increasing need for safer and connected cars has sparked such a glimmer in the automotive industry that every brand is all out making its cars more secure every year. Running through the Germans, the Japanese and the Americans, Korean manufacturer Hyundai will now run shoulder to shoulder against others when it comes to safe and connected cars.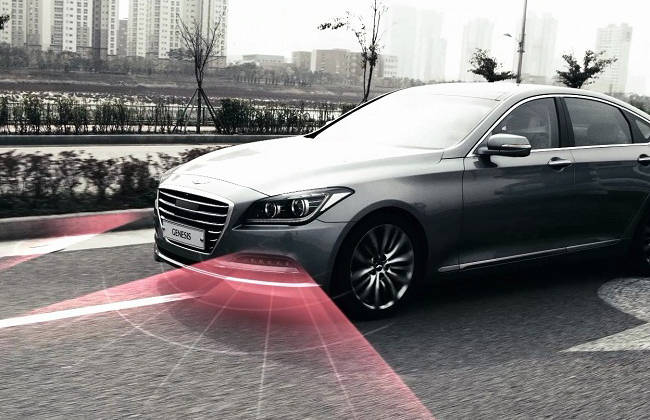 Be it connected cars, voice recognition, hand gesture controls, wearable devices and Smartphone applications, Hyundai is treading every possibility in improving the driving experience for customers. This year's Consumer Electronics Show (CES) saw a host of new technologies from the house of Hyundai, focusing on advanced infotainment features and driver assistance systems.
Augmented Reality Head-up
The display of heads-up unit dates back to the late 1980s with only the speedometer offered as the projected image on the windshield. The idea of this head-up display is that the driver keep eyes on the road and gets speed information suspended right in the front of the eye.

For the year 2015, the HUD on the new Hyundai Genesis will include detailed driving information, such as Smart Cruise Control status, navigation, Blind Spot Detection, and Forward Collision and Lane Departure Warnings. This information is projected at a perceived virtual distance of nearly 6 feet ahead of the driver for comfort and legibility while driving.

In fact Hyundai actually showcased a production ready augmented reality HUD concept, which displays even more driver information in the form of animations, which describe road conditions ahead. Drivers will view warnings when a car is about to unexpectedly enter their lane, arrows leading to exit ramps, highlighted street signs, Smart Cruise Control distance bars and one-way street markings.

Hyundai has also linked the augmented HUD to a wearable band. This band will vibrate when the Lane Departure Warning System is activated or when the car is about to unexpectedly enter the driver's lane. It is also a heart rate monitor that can notify 911 if a driver's heart rate changes rapidly.
Car Connectivity
It is not just inside the car that you are connected with your car. Hyundai features extend its new customer applications for connected devices even when you are outside of car.

Advanced features such as heart rate monitor, driver alertness monitor with a rest recommendation message, blind spot and safe following distance warnings, advanced low fuel level warnings and advanced turn-by-turn navigation system ensure a safer drive for you and your family. Sharing information among vehicle, cloud, tablet, Smartphone and wearable devices would trigger suggestions petrol stations and other amenities on route.

Rear Seat Entertainment
Tablets are soon becoming a daily appliance for the new age of connected users, hence, Hyundai is exploring possibilities using tablet devices to control features and monitor children in the rear seat. Rear seat passenger monitoring via the head unit screen and a connected tablet's camera enhances convenience.

Imagine how easy it shall become for parents to monitor infants at the rear seat which we discussed earlier.

3D Gesture Controls
Now although gesture control might sound sci-fi, but quite a lot of companies are now looking at the concept for controls. Hyundai's Cockpit Concept is able to recognise driver commands free from the distractions associated with finding buttons and switches. 3D hand-gesture recognition can be used to select navigation, infotainment, audio, HVAC, and even Smartphone connectivity functions.

For the infotainment system of your car, simple hand-gesture shortcuts can be used to play/pause music, advance to the next track or return to the previous track. Hand-gesture recognition is accomplished with advanced infrared and camera sensors. This intuitive gesture interface provides the driver with controls, while keeping their eyes safely on the road and represents Hyundai's future vision for human machine interface.
Advanced Driver Assistance Systems (ADAS)
Hyundai showcased 6 new advanced driver assistance systems for improving occupant safety and ease. The company assures that these technologies have high probability of coming to production cars in the near future.

The borderline for these driver assistance systems is that they are required to be functional, efficient and intervene only at appropriate times. A system called remote auto parking will enable parking manoeuvres automatically Connectivity among vehicles, infrastructure, and devices.

Advanced systems provide information on several other parameters like V2P (Vehicle to Pedestrian) gives a collision with pedestrian warning, V2I (Vehicle to Infrastructure), traffic signal information (current signal phase and countdown to change), speed suggestion, school zone info and weather. A V2V (Vehicle to Vehicle) assist helps in emergency braking, intersection assist, emergency vehicle warning, road construction warning and also a do not pass warning.

An interesting feature called narrow path assist recognizes if your car is travelling through a very narrow path and automatically controls lateral movements for safety and stability. A very important system, Pedestrian Alert, detects if a collision with a pedestrian is imminent, the system issues a warning beep and activates the brakes for the driver.

Was this article helpful ?
0 out of 0 found this helpful