Concept Cars that Will Be Reality Soon
Modified On Dec 10, 2015 06:49 PM By Konark
Toyota FT 1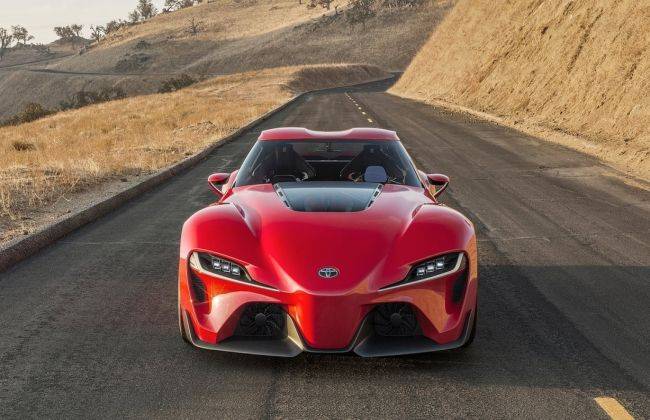 The FT-1 concept is Toyota's true performance and track-focused sports car model which has been designed by CALTY Design Research, Toyota's North American Design branch.
The FT-1 concept is a representation that captures the futuristic elements of the emotion and energy we can expect to see in upcoming vehicle designs. Its design is heavily influenced by Toyota's long sports car tradition that includes vehicles such as 2000GT, Celica, Supra and most recently, FT-86 (Scion F-RS)
Tata ConnectNext

Tata's ConnectNext Concept was showcased initially at the Auto Expo 2014. Tata has now showcased the car on the global stage by displaying it at the Geneva motor show 2015. The ConnectNext gets a wide range of electronics which include rear projected touch centre stack, rear projected instrument cluster, integrated co-driver display and iPod-inspired click wheel driver and co-driver centre arm control. It also gets a heads-up display, navigation system with driver warning and guidance display and a transparent screen with panoramic obstruction-free video streaming that doubles up as a rear camera when reverse gear is engaged. The second-row passengers get integrated screens along with wireless headphones.
DC Eleron Concept

The DC Eleron will be built on a carbon composite frame, and will be equipped with limited slip differential. It seems to be a massive SUV concept just like the Tia. 5 + meters in length, and 1.71 meters tall, the Eleron's daunting dimensions and open top stance make it a very exceptional vehicle. The SUV will seat four and is expected to use a 2-liter turbocharged petrol engine with 250 Bhp of power and 366 Nm of torque and is mated to a 5-speed manual gearbox and an all-wheel drive system .
Toyota S-FR

The Toyota S-FR has been pitched as a passage level model, the new concept accentuates responsiveness and plans to make a radical new era begin to shine out in the driving department. The concepts minimized body is unbelievably light, yet offers a smooth driving style. It matches the effortlessness of a section level model with a closeness that brings human and machine closer together.
Suzuki Crosshiker

Based on the Regina Concept which has been shown in several past motor shows which makes it lightweight and fuel efficient. It is targeted towards adults "who have a playful mind". The concept weighs only 810 kg, it is powered by a 1L three-cylinder engine and is designed to strike a good balance between environmental performance and driving performance.
Suzuki X-Lander
Based on the Suzuki Jimny platform, this mini SUV is for drivers who want to go out to play in field. Powering it is a 1.3L gasoline-hybrid system that has been matched to a new "automatically controlled" transmission. It also gets a feather weight hybrid system is built into the 4WD system which achieves environmental performance on par with today's vehicles.
Suzuki ETD4

The ETD4 Concept is an electric vehicle that will have features such a large shopping basket up front, voice instructions and tilt display. It also gives sound signal when it is turning left or right, or traveling in reverse. It has features such as an odometer, maintenance advisory indicator, and battery recharge indicator.
Toyota FCV Plus

Toyota's aim is to add an all-new sense of purpose to the automobile by turning fuel cell vehicles from eco-cars into energy-cars. In addition to the vehicle's own hydrogen tank, Toyota FCV Plusthe car can also generate electricity directly from hydrogen stored outside the vehicle. The vehicle can thus be transformed into a stable source of electric power for use at home or away. The car's fuel cell stack can be reprocessed as an electricity generating device, exceeding the traditional functions of cars. Put to handy uses around the world, these mounds could contribute significantly to mass population.
Toyota Kikai

The vehicle's internal workings turn out to be a piece of the outside. Notwithstanding the painstakingly composed structure, proceeded into subtle elements including the fuel tank, store tank and while most vehicles disguise their internal workings underneath smooth fumes pipes, the simple style meters and switches offer a drawing in dialog with the hardware. sheet metal, this idea urges us to value the perplexing magnificence of the mechanical parts of automobiles. All the more extensively, it helps us to remember the claim of the physical and material in a computerized age.
DC Tia Concept

The DC Tia compact city car was first revealed in concept form at the 2014 Indian Auto Expo. The Tia Concept will be a compact two seater, which measures just 2.55 meters in length. Powering the Tia Concept is a 1.2 liter turbocharged petrol engine which will churn out 130 bhp of power along with 190 Nm of torque. The car will weigh only 950 kilograms which will give it great power to weight ratio.
Was this article helpful ?
0 out of 0 found this helpful