Celebrating iconic Defender
Modified On Mar 26, 2015 07:22 PM By Prithvi
How often does one get to hear and see an iconic model come back to life? Well Land Rover in order to celebrate its most successful model 'The Defender' has decided to build the same replica of its original 1948 version as its current generation is set to go out of production in the U.K.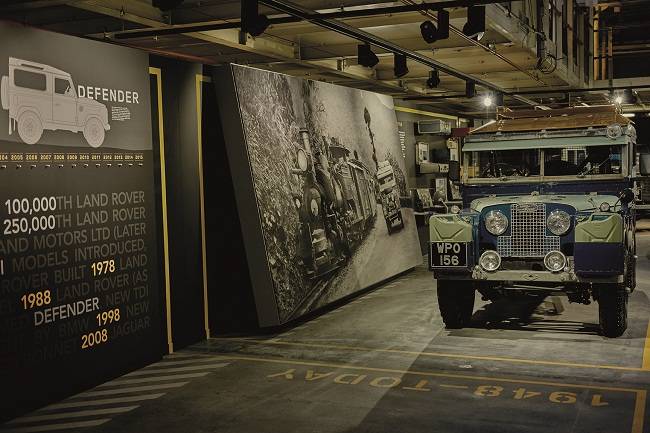 Calling it as 'Defender Celebration Line' the idea of the manufacturer was to re-create the entire production process as it were during the late 1940's. Therefore this particular exhibit lies in the heart of the Defender production line which happens to be located within the original production building at Jaguar Land Rover's Solihull factory. A part of the Defender Tour, 'Celebration Line' would provide a glimpse to visitors of the exact processes involved during that time to produce the first Series I Land Rover at the same facility after the Second World War.

Speaking about this initiative, John Edwards, Director, Jaguar Land Rover Heritage said the heritage line will take visitors back to the beginning of the world's most famous 4x4 manufacturer. "Land Rover has a rich heritage based around the Series I and Defender models, and we wanted to create something extra special that would give visitors and enthusiasts a unique insight into how it all started back in 1948", adds John. About the display in specific, it provides an insight into the life of production line during that using the same tools and draftsmen drawing board. In fact the visitors coming to this exhibit are asked to wear authentic overalls called as 'cow gowns' so as give it the same get up as it used to be.

Plus there is a dedicated area wherein an audio visual is played containing Land Rover founder Maurice Wilks unseen video footage that tells the story of the creation of original Series I. Adding on, John claims, "It has been a huge task to recreate a production line from almost 70 years ago, from sourcing original parts for the Series I models, to authentically re-creating the working environment and uniform of employees who were here. The team involved has been meticulous in their research, planning and creation of what is a fitting tribute to the legendary heritage of Land Rover."

And to be able to recreate this assembly line, the company turned to none other than Phil Bashall. Phil is the world's leading Land Rover enthusiast and restorer. He also happens to be the curator of famous 'Dunsfold Collection' of historic Land Rovers. But the actual reason for his selection was that he built his first Series I Land Rover when he was only 13 and who else would know things better than the man himself. Thus being an enthusiast and a restorer over 8,000 original parts are believed to have been sourced from him while other components like clutches, brakes, gaskets and pedals required for the showcase did take some effort on the part of Land Rover. The replica chassis and aluminium body work for the Series was constructed with the help of Land Rover Series I Club and a few skilled craftsmen. When asked about the build, Phil replied "It's been a struggle at times, but a real labour of love to source all of the original parts needed for vehicles that stopped production so many years ago."

Of the build itself, it said that it took Phil and his mechanic five weeks to complete the project. As for re-constructing the 'Celebration Line' it was Roger Crathorne who assisted the men as was a part of the company until last year when he retired after 50 years of service. He joined the company back in 1963 as an apprentice which is why his know-how is believed to have been essential in this replication.
In general, the Defender factory tour has duration of three hours in which visitors are only given an excursion of the body shop and a few parts of the assembling line wherein the engine and gearbox are lowered on the frame. For the rest it is out of bounce due to secrecy. Given this, coming to think of it an excursion of this kind is a feast for any enthusiast but unfortunately in India tours like this one aren't common.
Was this article helpful ?
0 out of 0 found this helpful