Automotive Technology at Defence Expo
Published On Feb 24, 2014 10:44 AM By Sundeep
5548 Views

Write a comment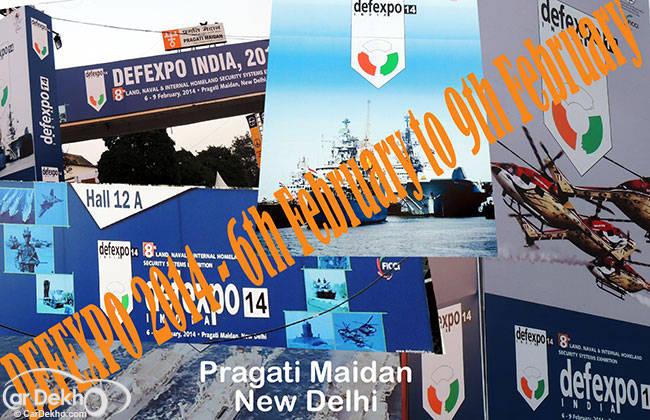 Apparently, Defexpo which was held from 6th February to 9th February at New Delhi did not garner the media attention, public interest and the very important social media buzz that it deserved. Perhaps the reason was the euphoria generated by the much more popular Auto Expo which practically coincided with Defexpo. Understandably, footfall at Defexpo was much less than what was witnessed at Auto Expo. This was despite the fact that Autoexpo was held at far flung Greater NOIDA whereas centrally located Pragati Maidan at New Delhi was the venue where Defexpo was located. But the fact remains that, even for people not connected with defence related affairs there was much to see and discover at Defexpo - an exhibition essentially showcasing the cutting age defence related technologies from around the world.

Innovations and technological developments in any field, however esoteric it may be at the formative stage, have the uncanny ability to finally get assimilated in the mass market for the common good of society in general. The only qualifying condition being that the said innovation or technology should be worthy enough. There is increasing evidence that cutting age military technologies tend to get blown into the civilian arena albeit after the necessary lag – similar to the case where technological developments initially intended for extreme motorsports ultimately percolate to mass market automobile manufacturing. The hugely successful and ever popular 4X4 SUV category is an apt example – the need for off-road capabilities had come to the fore during the world wars and it is well documented that progenitors of the modern SUVs had their roots in defence production mores. Another apt example would be the modern night vision enhancement technology found in some high end automobiles - another spin-off from the night vision capabilities developed primarily for enhancing the night fighting capability of armed troops. Actually there are several such examples and a very valid point to be noted is the importance of troop mobility and transportation in varied terrain under all kind of climatic / weather conditions; this being a very vital component of warfare both defensive as well as offensive, automotive technologies have held centre stage for militaries ever since the internal combustion engine based automobile was invented. And off course, before the advent of mechanized transportation, animal kingdom provided the much needed might to the transport capability of the armies of yore.

Anyway, with due apology for the digression in the preceding paragraphs, I would like to come straight to the point to state that Defexpo 2014 held at Delhi had some exceptional technologies and highly capable automobiles on show from around the world.

A couple of vehicles from AM General – the iconic HUMMWV and MLTV were on display at the Bharat Forge stall – sharing the limelight with one hell of a 155mm gun weighing close to 15 tonnes developed by Bharat Forge. The big gun from Bharat Forge goes on to emphasize the synergies existing between defence production and automobile production. Most probably, Bharat Forge which happens to be a leader as far as forge related technology (primarily for automobile engine / transmission components) is concerned, has leveraged the same expertise into gun making. Let us hope that Bharat Forge not only fulfills the needs of the domestic defence forces but also becomes a military hardware exporter to friendly and strategically important partner countries. Who knows, this could come as catharsis for a nation which has found it extremely difficult to come to terms with the trauma of BOFORS Gun related scandal as there has not been a proper closure till date and defence procurement system is commonly perceived to be murky.

The vehicles from AM General of USA - technically known as MLTV (Modernised Light Tactical Vehicles) and M1165 series HMMWV are at the pinnacle of extreme all terrain motoring for the armed forces. Everything is designed with one single aim - to provide the most rugged, fail-safe vehicles for military use in extreme environmental conditions.


The armoured, troop carrying MLTV, weighing in at about 7.5 Tonnes GVW (Gross Vehicle Weight) is an extremely capable machine with towing capacity of nearly 2 Tonnes. Ground clearance of 343mm combined with 52.1 degree approach angle allows this machine to climb vertical obstacles/ steps as high as one and half foot (18") and optional water fording kit allows it to go through water as deep as five feet. With engine power of 270bhp (624 NM torque) mated to a 4 speed autobox (combined with 2 speed transfer case) this ultimate machine can go as fast as 120km/hr.

M1165 series HMMWV is more than a tonne lighter and one generation older than MLTV but is equally capable - similar towing, obstacle climbing, water fording capabilities and 113km/hr top-speed. At the Defexpo, this vehicle was outfitted with a 105 mm gun fitted on the rear load-bed.

Speaking of all-terrain / off-road vehicles, Defexpo had a couple of interesting motorbikes and an extreme performance ATV on show.

The Swiss engineered T- ATV (Tracked All Terrain Vehicle) from OIS – AT appeared to be a fantastic machine. Powered by Rotax 1200cc 3cylinder motor developing 130bhp, this extreme machine (Dry weight 236kg) is capable of 0-100km/hr time of 3 seconds and top-speed of 180km/hr (as claimed). It can operate in extreme environmental conditions ranging from hot deserts to arctic terrains and the low centre of gravity combined with the exceptional traction provided by Kevlar / rubber track makes this machine very safe and virtually "unstuckable".

Tamilnadu based Altius Leo Automotive Pvt Ltd had a couple of interesting motorbikes on show. Although diesel powered, these motorbikes are a far cry from the Enfield Bullet chassis derived Sooraj Diesel motorbikes which were in vogue twenty years back. Powered by liquid cooled 670 cc single cylinder IDI diesel engine developing 33 bhp, the Altius Scimitar is capable of 0-100km/hr timing of less than 10 seconds and top-speed exceeding 150 km/hr with fuel efficiency figure of 46.6 km/l @90 km/hr (as claimed)

Ashok Leyland and TATA Motors stalls at Defexpo displayed several vehicles intended for military use. There was an interesting and contemporary looking vehicle from the TATA stable, christened "LAMV" - (Light Armoured Multipurpose Vehicle).

As per the placard placed with the vehicle, LAMV is an armoured and blast protected 8 Tonne (GVW) vehicle; equipped with 4X4 drive gear and all wheel independent suspension it has top speed capability of 105 km/hr. Presence of rubber bellows in rear wheel-wells mean that the rear wheels are apparently pneumatically suspended. As the vehicle is supposed to be mine-blast resistant a fail-safe limp home functionality must have been built into the pneumatic suspension with additional metal components to survive such incidents and retain mobility.

Another interesting concept from TATA Motors Defence Solutions was a wheeled amphibious vehicle. A pretty powerful machine, reportedly powered by a 600 bhp engine, this huge contraption looks visually imposing but for the tacky camouflage finish which was too glossy for something intended to be camouflaged.

There were several other technologies and products on display - ranging from the very popular and useful Victor Inox Swiss army knives to portable solar power solutions and unmanned remote controlled aircrafts / quadcopters. But even when viewed purely from automobile focussed perspective, Defexpo 2014 had much to offer for technology buffs. The best part was the presence of large number of indigenous manufactures in the Defexpo; this was certainly heart-warming and raises the hopes that in foreseeable future a large portion of the nation's defence related hardware could be sourced from within. Increasing domestic sourcing of defence related hardware would go a long way in enhancing not only the defence capability of the country but may also result in cost reduction apart from enhancing the power and prestige of the nation in the global arena.
Was this article helpful ?
0 out of 0 found this helpful