Airbags- Are they always safe?
Published On Jul 20, 2015 07:27 PM By Bala Subramaniam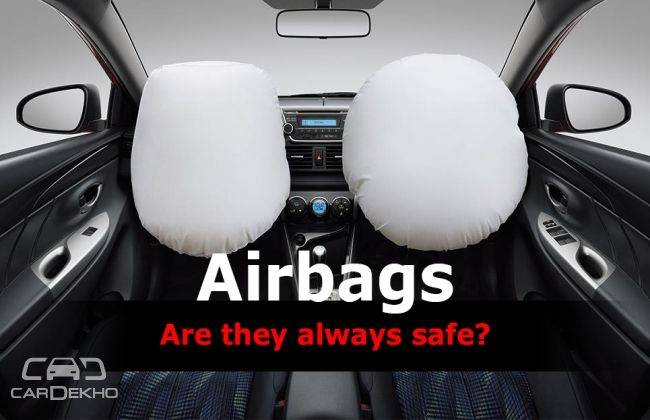 Airbags are probably one of the best innovations in automobile safety. It has saved significant amount of lives since their introduction and continue to do so. But there have been many incidents where the airbags have caused serious injuries and even deaths because of their deployment, which brings us to the question - are airbags always safe?
To answer the question, first we need to understand how airbags work to save lives. Airbags uses sensors to deploy in case a vehicle suddenly stops or slows. They work in hand with seatbelts to save the driver and passengers from any harm in case of collisions. Airbags and seatbelts together is the right combination to save live as airbag safety requires all the vehicle occupants to be properly seated and wearing their seatbelts.
Without wearing the seatbelts, airbag deployment may cause harm as they are deployed at high speeds, which can be harmful if the seatbelts are not worn properly. Proper seating position is also recommended to avoid getting injured from airbags. We should always choose to be as far away from the dashboard as possible without disrupting the driving functionalities or disrupting the rear seat passengers.
Another important thing to be noted is that the front airbags are not safe for infants or children in particular. Frontal airbag deployment can be dangerous or even fatal to infants or children in child seats, children belted only by the waist belt but not the shoulder belt and any child who is below the weight limit of the front seat, which is generally for kids under 12 years age.
Several experts have said that the safest place children in a vehicle is in the rear seat, fastened in a properly-fitted child car seat suited for the child's weight. Even in the absence of airbags, the rear seat of a vehicle is the safest place for a child to be in.

Air bags are fired by a controlled explosion and follow basic laws of motion. They are triggered by high velocity and open up much faster than a car crash i.e. within milliseconds.
Seat Belts are the primary safety feature in a car. Air bags are a distinctive concept, their main aim is to prevent serious injury to neck and head area.
The vehicle structure itself (having ample crumple zones) is also a very important part for vehicle safety.
Organizations like the Euro NCAP greatly emphasize on active safety features like Traction Control , ESP and adaptive braking.
Though the statement airbags are safe is debatable at many levels, airbags remain an important safety feature. Airbags have saved thousands of lives but it's all about how you use them. Always remember to buckle up your seatbelts properly and always put your kids in the rear seat. Drive safe.
Was this article helpful ?
0 out of 0 found this helpful