How to check and change your wiper blades
Published On Sep 12, 2014 12:49 PM By Prithvi
10001 Views

Write a comment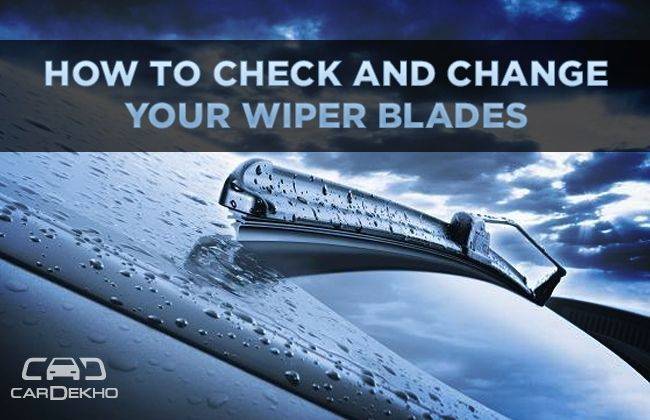 Wipers are an integral part of any vehicle. Their utility of keeping the windscreen clean during extreme driving conditions ensures safety of occupants at all times. From an Indian point of view, majority of us as end users do not pay heed to the need of taking care of this particular component. This is evident from the fact that the older your car gets, this component tends to degrade with time causing major concerns for the person behind the wheel who could face a problem citing vehicles coming from the opposite direction resulting in an accident or for that matter damage to the exteriors and under body parts of his or her machine.

How to check your wiper blades?
There is really no rocket science attached to it, it is fairly simple. One just needs to walk up to the windscreen lift up the wiper and check the state of the rubber underneath which remains in contact with the glass. First signs of degradation can be seen in the form of cracks that tend to appear on the rubber. Another indication of worn out wiper is inflexibility of rubber. In both these scenarios in order to avoid damage to the windscreen and also maintain clear visibility the best step is to replace both pairs. Ideally even if there are no signs of degradation, we would recommend that in every six months one should re-examine their condition to keep a close check.

How to change the wiper blades?
Changing wipers isn't a lengthy process nor does it require one to visit the nearest workshop. It can just be replaced in a matter of minutes. There are simple steps to carry out this particular exercise.

Identifying which part is to be replaced: Your car wiper is made up of three components, first comes the lower wiper arm which extends from the base, second is the tip that comprises of a metal blade connected to the lower arm and then the rubber. However in practicality one just needs to replace the metal blade that house a rubber strip in order to make an effective clean of the windscreen of your vehicle.

Procure a pair of new blades: This totally depends on the model and variant of the vehicle for which a serial number is required. One can go ahead and consult a mechanic or simply take a measuring tape to determine its size before actually visiting the market to procure the desired blades. Prices range from anything between Rs 300 – 2500 depending upon brand, model and variant.

Replacing the blades: It is fairly simple, start first by raising the wiper arm that will come up easily, however keep in mind that there is a spring assembly present within it, it could snap back and damage the windscreen. Therefore be very careful. Next step is to locate where the arm meets the blade, having done that unlock the small plastic button that is holding it in place in order to separate it from rest of the assembly. Then take the new wiper blade and insert into arm until one hears a click sound indicative that the blade is slotted in properly after which one put down the wiper arm to its original position wherein it meets the windscreen.

Same process needs to be repeated for changing the second wiper blade on your vehicle.



Was this article helpful ?
0 out of 0 found this helpful