Top Five Things to Consider While Selling your Car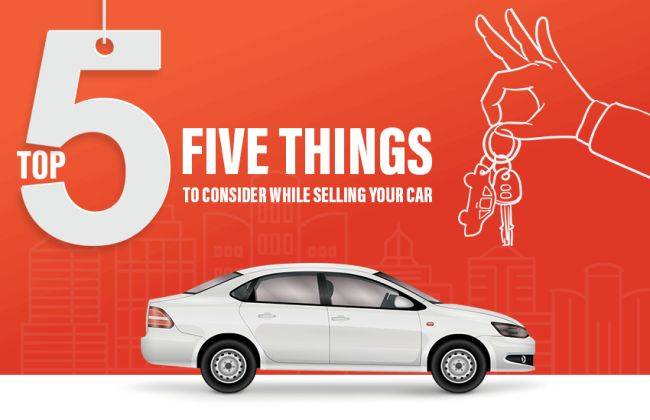 You might be planning it for a long time, but selling your old car is not an easy decision to make. You have invested so much in it, both financially and emotionally, and now, just a thought of letting it go makes you feel uncomfortable. On top of that, the selling process in itself is quite complicated and entails completing a number of complex procedures.
When it comes to selling an old car, one must appreciate the fact that there are no shortcuts. You must complete the selling process in a systematic manner, for it saves you from future troubles including the legal complications that might arise from the incomplete transfer of ownership. To help you out, we have put together five important things that you should consider while you finally decide to sell your car.
1. Complete the Documentation
First things first – Documentation is the most important task and you should start by having all documents in place before you initiate the sales process. Some of the important documents required during the selling include registration certificate (RC), valid insurance policy, pollution under control certificate, and no objection certificate from the bank if you have purchased the car on loan.
Once you have sold the car, the transfer of ownership should be your utmost priority. According to the Motor Vehicle Act, 1988, the seller will remain the owner of the vehicle until the RC gets transferred on the buyer's name. Post-sales, you should immediately apply for RC transfer to the Regional Transport Office (RTO) and submit the duly-filled form 29 and 30 and valid address proof along with other documents to get the application processed.
2. Service the Car
A prospective buyer might be interested in taking a test drive of your car before finally making the final purchase decision. Any kind of mechanical or cosmetic abnormality could potentially dissuade the buyer from making the purchase decision. Even a very small or insignificant flaw could conspire to break the deal. Therefore, make sure you take the car to the workshop and get it thoroughly examined to make it free from any kind of defect. Top up the engine with oils, lubricants, and coolant besides aligning/balancing tires and inflating them with correct air pressure. Servicing the car before selling may not sound appealing but believe us, it's a good practice and adds to your credibility as a genuine seller. You can also ask for a service report from the dealership as buyers usually prefer a car with good maintenance history and timely upkeep and even willing to spend extra bucks for buying such a vehicle.
3. Have an estimate of car's value
You should have a fair idea of your car's value before you start negotiations with the buyer. This requires a bit of research and you can also take the help of a car trader or various online platforms to estimate the value your car commands at present. Some of the important parameters that are usually considered while estimating car's worth include its model year, kilometers driven, type of fuel (petrol/diesel/CNG), transmission type (manual/automatic), and accident history. However, many parameters used in determining the car's value are purely emotional and/or perceptual and can differ greatly from person to person. Color is one such emotive issue and could play an important role in buyer's response towards the car's value. And one thing more, while making an estimate please keep in mind cars are evaluated according to segments they belong to, i.e., a budget car is evaluated differently from a luxury or a vintage car.
4. Looking the Part
They say the first impression is the last impression and that is certainly true while it comes to a car. A good first impression goes a long way in setting the right tone right for the deal. So make sure before you set out for selling, your car is free from any dent, scratch, or other visual imperfections no matter howsoever small they seem to be. The makeover might cost you some extra bucks, but you can always recover that by quoting a higher price for your car. In fact, there are many affordable measures that you can apply to get rid of small scratches, ranging from applying toothpaste to using filler and compounds, all of which are easily available in market. Like exteriors, interiors have an equally important role to play. Soiled upholstery and unpleasant odor can potentially put-off the prospective buyer and jeopardize the fate of your deal. So, it's important to give equal attention to the interiors of the car. Use a professional service to clean interiors and pay special attention to bring sheen back on plastics. A good quality wax can help interiors get back their luster while vacuum cleaning the fabric makes them afresh. No doubt a pleasant, nice ambiance is sure to put a new lease of life to car's demeanor and can certainly tilt the price factor in your favor.
**5. Clicking Pictures **
This is particularly important if you plan to sell the car through online classified service. Good visuals are bound to get more attention and attract genuine buyers. Selling your car by directly negotiating with buyers has its own advantages. You are likely to get the best value for your car but then it requires a strong commitment in terms of time and efforts – which many of us may not be having in plenty. Besides using classified services, you can also opt for online trading platforms for selling your car. In fact, online car selling portals are emerging as a preferred destination for many car sellers. These provide a hassle-free selling experience to customers through their end-to-end solutions. CarDekho Gaadi is one such online platform which offers a seamless car selling experience to customers. The portal has a rich legacy in the auto field and besides providing the best value for your car; it will take care of the RC transfer process at no extra cost. What's more, you will receive money instantly to your bank account. The smooth and hassle-free trading experience makes CarDekho Gaadi a preferred destination for selling your car. You can visit us at Cardekho Gaadi for any further information or query.
Also Read:- Things You Should Never Hide While Selling Your Car