10 Pro Tips to Sell Your Car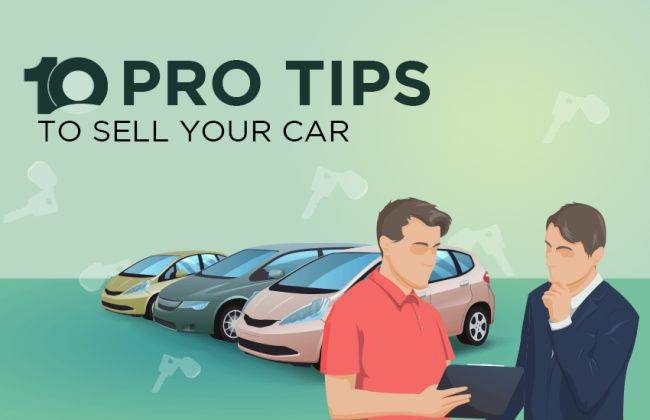 Want to get best-deal for your used car? Here're the ten tips to follow Making a decision to sell your beloved car is not an easy one. Along with the functional benefits, your car has also established an emotional bond with you over and therefore, it's quite natural to experience unease before you let it go. But if you've already made your mind and want to sell your car then the following list of measures will help you to get the best deal for your used car.
1) Regular Service and Maintenance
Irrespective of whether you want to sell your car or not, regular service and maintenance will help your car to run smoothly and efficiently. A well-maintained car is bound to have a positive impact on the buyers' mind and help you to get a premium deal. To keep your car maintained for a longer period of time, it is recommended that you approach only the authorized dealerships or service stations for any kind of repair work. The authorized facilities use the genuine spare parts which, in turn, keep the car healthy for a long run. The process of servicing the car at the authorized dealerships might cost you a bit more than a getting it serviced from your nearby garage but it can certainly boost your car's value in the long run.
2) Documentation and Service History
Make a well-organized file of documents belonging to your car and keep it handy with you all the time. Along with the documents, the file should also have service reports of your vehicle which demonstrate how well you have maintained your car throughout these years. If you do not have the service report, you can demand the one from the service station where you go for servicing of your car.
3) Power of extended warranty and Service Pack
If you have purchased extended warranty and service pack for your car which is still valid at the time of selling your car, you can certainly factor in these in the amount and negotiate for the higher price with the prospective buyer. These extra features will add to your bargaining power and help you to get a good value for your car.
4) Aesthetics Matter
The way a car looks on the outside and feels from the inside have a profound impact on the buyer's psychology and its perceived value. In order to cast a good first impression, make sure you thoroughly clean your vehicle and free it from any kind of abnormality – chipped paint, scratches, dents, or broken parts. Wax and polish interiors and pay special attention to restore the sheen of the dashboard. It has been often seen that we pay enough attention to exteriors but when it comes to interiors, we fail to live up to expectations. Spoiled and smelling interiors might severely dent the resale value of the car.
5) Importance of Electricals
It is not a big deal for the buyer to replace the fused parking bulb but then it can drastically reduce the perceived value of the car. A fully functional vehicle with zero defects is something that you should aim for. It won't take much time or money to make sure that all electrical components are up and running. It is a small investment but capable of providing you big dividends.
6) Avoid aftermarket accessories and fittings
You might have a liking for alloy wheels. Spoilers, roof rails, etc., but you can't assume the same for prospective buyers. Adding all the aftermarket fittings and accessories will push the price envelope and limit the range of prospective buyers who are interested in buying your car. Also, sometimes aftermarket fittings come in a different shade than your car's color and having them on your stock car could potentially ruin the aesthetics. This, in turn, will make the selling process more difficult.
7) Refrain from Performance Enhancement
Just like accessories, avoid any kind of performance enhancement – engine modification, suspension tune-ups etc. No potential buyer will pay you more just because you have got a car with the enhanced performance. In fact, on the contrary, there will be doubts about the reliability of the engine with many might suspect that tune-ups have affected the engine in a negative manner. Therefore, any kind of cosmetic and mechanical enhancement is strict no if you have the plan to sell your car in the future.
8) Shade Selection
It might sound subjective but the shade of your car also has a considerable impact on its resale value. Regular silver and white colors are the preferred choices among the masses and will get sold with little efforts. Flashy red, bottle green, or bright yellow, on the other hand, will require extra convincing on your part. However, the scenario becomes totally opposite in case you plan to sell high-end cars or SUVs where extra bling will help you fetch more money.
9) Keep the running affairs smooth
Pay special attention the way your car drives – the clutch travel, the braking efficiency, and suspensions ability to soak roads undulations. Do not ignore rattles or noises as these indicate that the car hasn't been well taken care of. This will have a negative impact on the resale value of your car and hence, it is recommended that you should solve all the issues (no matter how small they seem) and get your car in a perfect running condition before you put out it for a sale.
10) Steer Clear of Traffic Challans
Technological advancements have now made it possible to access the information of a vehicle online. If your car has outstanding challans, the prospective buyer can easily access the information and this could lower the resale value of your car. Therefore, make sure you have cleared all the outstanding challans or legal issues before you start negotiations with the prospective buyer.
Also Read:-Selling Your Old Car: Top 5 Things to be Careful About