RTO Forms: Types, Meaning, and Significance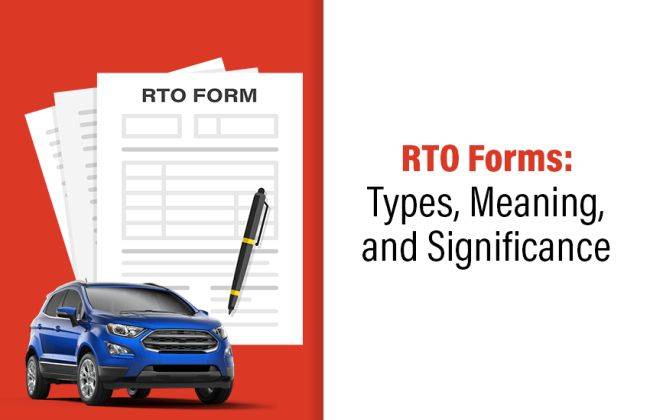 You require a variety of documents to sell your used car. These documents can be classified into the following categories: 1) Documents related to personal details 2) Documents related to the car, and 3) Documents issued by the Regional Transport Office (RTO). We all are familiar with the first two categories which include papers like identification proof, proof of residence, passport size photographs, registration certificate (RC), a valid insurance policy, and pollution under control certificate. However, when it comes to the third category, i.e., RTO-issued documents, most people are unaware and struggle to find what these documents are and what is their importance in the selling of their cars. If you too belong to such category, then read on to get answers to all questions you have regarding RTO-issued documents.
RTO Forms and Types
RTO issues the following documents that are required to sell your old car: Form 28, Form 29, Form 30, and Form 35. All these forms serve their own unique purpose and are required to successfully complete the ownership transfer process. These forms are available on the Parivahan Sewa portal which comes under the Ministry of Road Transport and Highways, Government of India. You can also get a hard copy of these forms from the RTO office in your area. Now let us look in detail at each of these forms and the important role they play in the ownership transfer process.
1) Form 28
Form 28 is one of the most important forms you require to sell your car as it pertains to obtaining a "No Objection Certificate (NOC)" from the registering authority of your car. The form proves that your car is free from all kinds of financial and legal liabilities, i.e., you have paid all the taxes and challans (no financial liability), and neither there is any kind of FIR (no legal liability) pending against your vehicle. In other words, Form 28 declares that you are free to sell your car, and registering authority has no objection against it.
You need to submit three copies of Form 28 at the RTO office with an imprint of your car's chassis number on them
Some state RTOs might also require you to submit a NOC from the National Crime Records Bureau (NCRB) that the vehicle is not involved in any kind of illegal or theft activity
Along with these documents, you need to submit the original RC, its photocopies, and original insurance and pollution under control certificate at the RTO with the requisite fee to transfer the ownership. The fee of ownership transfer that RTOs charge might vary from state to state, albeit the differences are not very large
2) Form 29
This form provides information at the RTO that you have sold your car to another person and all the documents related to your car such as RC, insurance, and pollution under control certificate have been handed over to the new owner of the car.
You are required to submit two copies of form 29 at the RTO
3) Form 30
Next in the list is form 30 which is a sort of confirmation that you have made in form 29. This form is used to intimate the RTO that as you have handed over the car to the new owner along with documents, the transfer of ownership now needs to be done as soon as possible. It is specifically written in the form that from here on the new owner of the car will be responsible for all kinds of financial and legal liabilities attached to the vehicle. A section of the form also has the clause of financier consent which needs to be filled only if it is applicable.
You need to submit two copies of form 30 to RTO and the most important part is that this submission must be made within 14 days of the sale of the vehicle
4) Form 35
This is applicable to sales of only those cars which have been financed. You have to obtain the NOC from the bank/ financial institution from where you have taken the loan and submit it along with form 35 at the RTO for the ownership transfer process. Upon submission, hypothecation will be removed from the RC of the car, showing that you have fully paid back the loan to the financing agency. Make sure you submit a copy of filled form 35 to the financing agency for the record.
Also Read:-Sell your car and get free RC transfer