How to Get the Maximum Value for your Car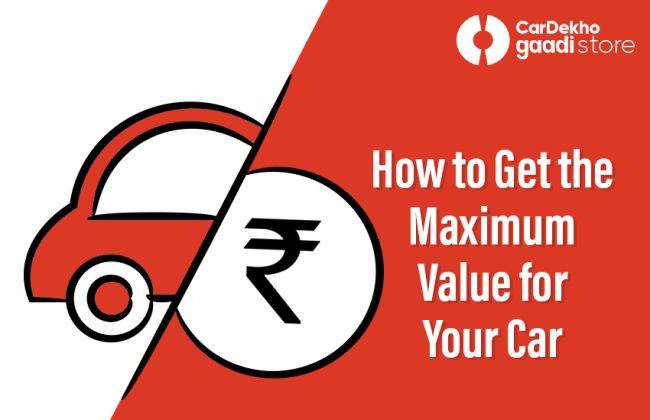 You need not be a marketing genius to sell your old car. However, if you are looking to get maximum money out of the deal, a little bit of preparation and attention to detail are certainly required. Here're steps you should follow to sell your used car at a maximum price.
1) Know your car's worth
Start by getting a fair estimate of your car's value for which you can use a number of different methods – visiting an authorized dealership, contacting a local garage mechanic, or getting an online estimate. You can also compare the prices of similar models online and get a fair estimate of how much you should be asking for your old car. Remember, knowing the worth of your car is absolutely essential for extracting maximum value from the deal. It'll help you to decide on the asking price and set the tone for further negotiations with buyers.
2) Fix it, clean it, and shine it
Before putting your old car on sale, make sure your car is free from any kind of damage or defect. If the car has some issue, get them fixed. This is because while making a deal, buyers will ask for a test drive and are bound to notice the way car drives on the road. If the buyer finds any problem during the test drive, he/she will be unwilling to purchase the car or negotiate hard on the price. This, in turn, will lower your chances of selling your old car at a maximum price.
Like flawless performance, the car should feel and smell good too which mandates that you should visit a professional car care agency before you put the car for sale. Give a try to some inexpensive yet significantly useful tips like replacing worn-out floor mats with new ones; or using a good quality wax for polishing interiors to get their sheen back, etc. Yes, these may cost you some money but then ultimately help you in making good money during the deal.
3) Reassure buyers with car's history report
Winning over buyers is necessary to encash your old car to the maximum value. Present the records and show buyers the car's history report to demonstrate how well you have taken care of your car over the years. The buyer might also ask for the service record and having the one will certainly be an added advantage, helping you to demand more value for your car during negotiations. If you have recently gone for an upgrade such as changing the old tires, replacing the battery, etc., pull out receipts and mention it in your dealings.
4) Sell on Cardekho.com
The most convenient and sure shot way of getting the best possible value is to sell your car on Cardekho.com. The process of selling here is incredibly simple: enter the car's details (model year, km run, contact number) and instantly get the price estimate for the car. Next, book an appointment for the free car inspection where your car's document, information, engine, mechanics, electrical, features, etc., are verified by the executive. Once the inspection is done, Cardekho offers you the best value for your old car thanks to its wide network of more than 1,600 channel partners. There is no issue related to any state your car is registered with as the portal has partners from all over the country. Once your document verification is done, they initiate the money transfer to your account instantly.
Also Read:- Top 10 Tips To Increase Resale Value Of Your Car