Quick Way of Selling Car: Things to Consider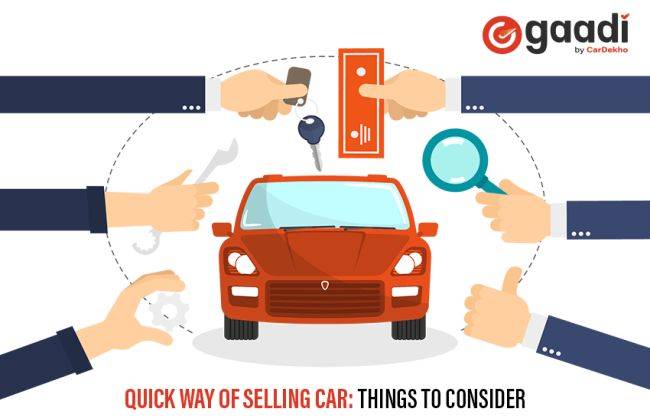 Selling your car could turn out to be a tricky task but with a little planning and preparation, you can save yourself from lengthy negotiations and unnecessary delays. Here's the list of things you should consider to quickly convert your car into cash.
Be Ready with Documents First things first – you must have all documents ready with you. Get the important papers including registration certificate (RC), insurance policy, pollution under control, and other relevant certificates in order. Check with Regional Transport Office (RTO) what all documents are required to sell your car. Make a list and keep these forms handy for the quick ownership transfer process.
Setting the Price Right Before you decide the selling price, it's important to do homework on the target market, current value of car, and how much you are willing to renegotiate on the price. Start by estimating how much your car commands at the moment. You can take the help of the internet, classified ads, local garage mechanics, or even dealerships to guesstimate its current worth. Out of these methods, getting the price estimate on online car selling web portals is the most convenient way of getting a fair estimate. Take, for example, Cardekho.com on which you can get a price estimate of your car in minutes – just select the model of your car, number of kilometers your car has run, and the contact number to get an estimate of your car's value. The portal has a wide network of more than 1,600 channel partners which ensures that you get a fair price of your car. Once you get an estimate, you can zero in on a legitimate range within which you are willing to accept the price.
Looking the Part The way your car looks and feels has a significant impact on the deal. A thorough wash and vacuum will help the car's demeanor and prompt the buyer to make the decision quickly. It's important that you pay attention to small details which the buyer is bound to notice. For example, your car shouldn't have any major body scratch; neither should it smell foul inside the cabin. Pay special attention to restore sheen of interiors which can be easily accomplished by using a good quality wax. No need to go for something expensive, just some minor fixes would do the trick.
Sell smartly Snap your car from every possible angle and then use the best-looking images to advertise it. Pictures are a wonderful way to impress the buyers as they act as a magnet to attract good deals. Avoid meeting parties who seem to be from multiple listings, rather focus on legit proposals even if they require some tinkering in your preset price. Selling the car through online car portals such as Cardekhko.com is a very convenient method to avoid cheats and quickly get a legitimate response for your car's selling proposal.
Close the Deal Stick to your initial price as long as possible, but do not shy away from negotiations. Let the buyer make an offer and if you think the price is respectable, seal the deal rather than suspend it in the middle. If you sell your car through Cardekho.com, then you will get payment in your account instantly which is another positive of selling your car online. Once your car is sold, the next important thing is to transfer the ownership. Make sure that the car gets transferred to the buyer's name quickly as according to Motors Vehicle Act, 1988 you will continue to remain liable as long as the vehicle's registration is in your name. Again selling your car through online portal such as Cardekho.com can save you from the hassle of transferring ownership as the portal takes all the pain and does the RC transfer on your behalf. What's more the ownership transfer won't cost you a single penny – isn't it amazing?
To experience a better way of selling cars, visit the nearest Cardekho Gaadi store and let the team help you sell your car in just a single visit.
Also Read:- Selling Your Old Car: Top 5 Things to be Careful About