10 Steps to Selling Your Car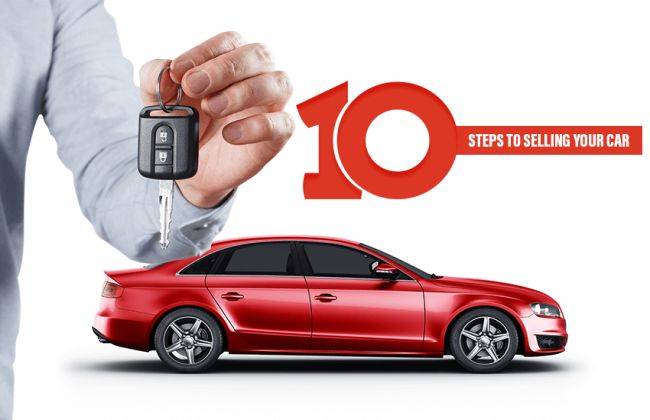 Whether you are looking to sell your car quickly or want to have the best price for it, a little bit of research and preparation always comes in handy. We, at Cardekho.com, are well aware of the difficulties one faces during the selling process, and to make things easy; we have prepared a list of 10 steps that will help you sell better.
1) Gather your car's records and information
You might be having all the important documents of your car like registration certificate (RC), insurance policy, or pollution under control certificate intact but we suggest you gather other related records of your vehicle too – especially details of the features your car comes equipped with. For example, if you own a 2015 Maruti Suzuki Swift then make sure you have the detail of its variant (VXi, ZXi, or LXi) and key features the variant comes loaded with. The resale value of ZXi variant (topmost variant in the Swift petrol range) will be considerably higher than the price of LXi (Swift's base petrol variant). So if you are the owner of Swift ZXi, you can certainly demand more money for your car owing to its high level of equipment. You can further bump up the resale value by obtaining the car's history report from the authorized dealership. If possible, you should also ask for the maintenance receipts from the service center or local garage where you take your car for servicing or routine maintenance work. These records will help in assuaging the concerns of buyers about your car's quality, maintenance, reliability, etc.
2) Know your car's real worth
It's natural for you to assume that your car "feels and drives" like a new one but then you must have a realistic estimation of your car's value. Having a fair estimate of your car's price will help you to set a reasonable asking price for the deal. You can take the help of a local mechanic or car expert in assessing your car's value. A more convenient way, however, is to log on to cardekho.com and get a fair estimate in just a few clicks. You can also go for a pre-sales inspection to determine the exact condition of your car - whether there's some serious fault that requires immediate replacement or a simple touch-up job is good enough to rectify the issue. Once you are equipped with all these crucial details about your car, you'll be able to sell it better and with more confidence.
3) Decide to sell it privately or trade-in
Both methods have their own share of merits and demerits. Selling the car privately might fetch you good money but mandates considerable time and effort on your part. Private selling also exposes you to a certain degree of risks especially when you meet strangers at your home, show them your vehicle, or go with them on a test drive, etc. No such safety risk is there when you decide to trade in your car but then the value you receive is quite low. In fact, among all the possible options of selling the car, trading-in is the one having the lowest returns.
4) Increase your car's face value
Irrespective of whether you decide to sell your car privately or trade-in, you can always get more value by refurbishing your car. Even if you are unwilling to invest a lot of money, make sure to at least clean, wax, and polish your car. Exteriors of the car should not have any major dent or peeling paint as it can have a negative first impression on the buyers. Similarly, make sure the car's cabin smells good, its upholstery is clean, interiors are not soiled, and the whole ambiance feels pleasant. Pay special attention to parts like lights, brakes, tires, and windshield cracks as these are the ones which buyers are most likely to inspect and influence their decisions.
5) Decide the selling price
As mentioned before, you should be realistic while setting the asking price for your old car. It's a common practice to set the asking price 10-15% higher than what you are expecting from the buyer but don't quote a price that turned out to be too high for the buyer. There are some factors which can increase your car's price. For example, if your car is still under the warranty or enjoying the benefits of an extended warranty, you can certainly claim a high price for it. However, there are other situations that can negatively affect the price like you want to sell the car quickly, or your car requires a major overhaul, etc. Factor in these situations and then make an informed decision about the asking price.
6) Reach out to buyers
There are many ways to do it but the most important point here is to focus your energy on reaching as many buyers as possible. Choosing the right medium is crucial and we suggest you go a place that offers you not just the best price for your car but also a transparent and hassle-free process; like a CarDekho Gaadi store located near you.
7) Screen interested buyers
Meeting a large number of potential buyers will be a daunting task and hence, it makes sense to screen potential buyers at the early stage of the deal. You can take a look at the profiles of buyers online and then have a telephonic conversation with some of the seemingly genuine candidates. Or you could avoid all this hassle and sell your car in just one visit. The best part is, more than 1600 people would try their best to win your car at CarDekho Gaadi.
8. Organizing a Test Drive
It's quite natural for the buyer to ask a number of questions about the car and asking price before the test drive. You should be prepared to address these queries and ensure that you go for a test drive on a familiar route for safety reasons.
9. Getting the best deal
Once the test drive is over, it's time for you to take a lead and negotiate to get the best deal on your car. Ideally, you should be sticking with your asking price and see what the buyer has to say about the price. If the offer price is reasonable and within limits then you should be willing to accept it even on the spot. In sum, be open-minded while negotiating with the buyer but remain firm on the lowest limit of accepting the deal.
10. Close the Deal
Once the buyer is ready to purchase your car at a mutually agreed price, you should close the deal without any unnecessary delay. Ask for the complete payment upfront and once that is transferred to your account, sign the title transfer document, and don't forget to ask about the RC transfer process. It is after all a rather crucial thing.
Also Read:- Best Ways to Sell your Car