Can I Sell my Car Without a Valid Insurance?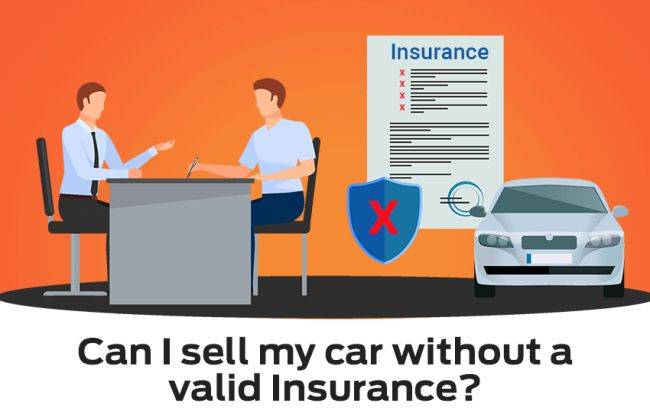 It is illegal to drive a car without a valid issuance cover. Similarly, it is against the law to sell your car with an expired insurance certificate. Many people don't renew their insurance cover once they decide to sell their cars. They think it's a waste of money to buy or renew insurance for a car that they are just going to sell. If you too are thinking along the same lines then read on to find why you must have a valid insurance certificate to sell your used car.
1. It's Illegal
You can't sell your old car legally without having a valid insurance – period. According to the Motor Vehicle Act 1988, you have to submit a valid insurance certificate, along with other documents, in the Regional Transport Office (RTO) for transfer of the ownership. If your car is not insured, you won't be able to apply for ownership transfer and registration certificate will continue to have your name on it. This situation is troublesome for both you and the buyer. Without ownership transfer, you'll be held liable for all damages and losses caused by your vehicle even as you are not in its possession of the car anymore. The buyer, on the other hand, will not be able to become the real owner as RTO doesn't process the ownership transfer application without a valid insurance certificate.
2. It's dangerous
Consider a situation: You just sold your car at a good price but failed to transfer the ownership because of not having a valid insurance certificate. The very next day you receive a call from the police station telling that your car had been impounded for rash driving or some other illegal reason. You feel shocked and try to convince the police that you had already sold the car and the responsibility of whatever crime had been committed was on the new owner who had just bought the car from you. However, this argument doesn't stand a chance as Supreme Court of India had ruled that until the RC is transferred to the name of new buyer, the seller continues to remain liable for the compensation. This means even if you haven't committed anything wrong, you have to compensate for the loss.
3. It's risky
Take another example where you go to meet the prospective buyer for finalizing the sales of your used car. The buyer asks for a test drive (a usual situation) and you happily agree for it. God forbid if during the test run any mishap happens, you won't be able to claim any compensation as your car is uninsured. This is even as the other person is behind the wheel and there is no mistake from your side. In case of some serious instance, you might get your driving license suspended in addition to paying some heavy fine for the incident.
4. It's unsalable
No genuine car buying outlet or dealership will purchase your car without a valid insurance certificate. After all, nobody wants to get into the legal complication for just a few bucks. This means places where you can get a good deal for your car is already closed to you. The option you are left with is to sell your car by yourself which has a lot of risks involved. You can read here why it's not a good idea to sell your car privately - Demerits of selling car privately
5. The Easy Way out
We understand that every penny of your hard earned money matters. We also acknowledge the fact that investing big amount on the insurance of a car which you are just going to sell makes little sense. The way out of the situation is to get third-party insurance for your car which is quite economical to buy. You won't need to empty your pockets and with a minimal amount, you can get your car insured. This will clear the way to sell your car legally and immediately after the sales, you can apply for the ownership transfer without any issue. However, it should be noted that third-party insurance is not considered an ideal cover as it provides bare minimum protection against the damage.
Also Read:- Sell your Car without being Scammed