Sell your Car without being Scammed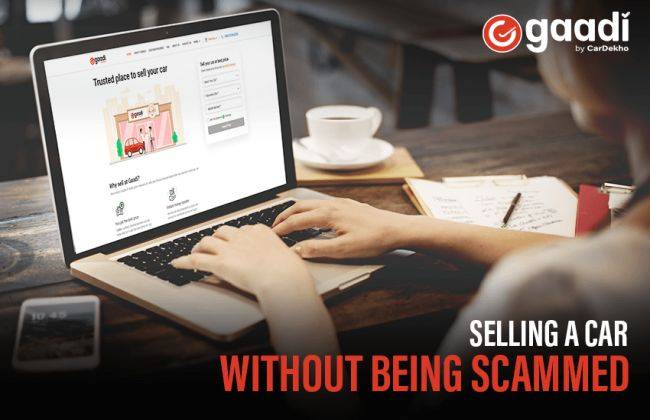 The horror stories of car sellers becoming victims of online frauds are not rare. Many unsuspecting people fall prey to scammers and these incidents reveal the ugly side of dealing with private parties. However, with a little care and precautionary measures, you can easily save yourself from being ripped off. Take note of the following situations and derive the learning that will help you to sell your old car without being scammed.
1) Buyer ready to buy even without seeing your car
Now that's rare and a bit weird too – isn't it? You should be suspicious of such people who claim to be ready to buy your old car without even inspecting or seeing it. Be wary of such persons and don't proceed ahead with discussions. These people may have an ulterior motive – they might deliberately damage the car after purchase and then allege that you have sold them a defective car. They may end up forcing you to pay for damages, something for which you are not responsible at all. To avoid these kinds of potential threats, make sure you meet the buyer in person, at least once. Encourage the buyer to inspect the car properly and reveal all the necessary details pertaining to the car. You can also ask the buyer to sign the "sold as is" receipt that will further minimize chances of any foul play in the future.
Key takeaway: Steer clear from people who want to buy the car but refuse to come in person to see/inspect the vehicle.
2) Buyer claim to have sent the payment online
Many fraudsters will offer to buy your car by making the payment through an online channel. To make their case stronger, these people may claim that they work for a large multinational organization (e.g. Microsoft, Apple, IBM) and due to paucity of time, they'll pay you online via net banking, Visa, PayPal, etc. What's more, they will ask you very genuine questions about the car to win over your confidence. Once the deal is through, you will receive an e-mail with an attachment of fake payment receipt, implying that requisite amount has been transferred to your account. However, no actual payment has been made in reality.
The simple solution to this is not to believe in any sort of online communication no matter howsoever authentic it seems to be. Remember it's only when your bank confirms that payment has been received, you should go ahead with the deal and hand over your car to the buyer.
Key takeaway: Don't believe in online communications. Contact your bank directly to confirm the receipt of payment – nobody else.
3) Buyer requesting the refund of the overpaid amount
Some scammers also try to befool you by presenting the proof that they have overpaid you "by mistake". They might also send you the forged copy of bank cheque or fake online payment proof and request you to repay the extra money back to them. Again, don't fall for these forged proofs or fake receipts attached with the mail. Only trust your bank and if your bank confirms the clearance of the cheque or receipt of the online payment, then only make a further decision in this regard.
Key takeaway: Genuine buyers don't usually overpay and you must only believe your bank to have a confirmation regarding receipt of the payment.
4) Buyer trying to devalue your car
You may also encounter online fraudsters who will deliberately try to devalue your car and trick you into thinking that you have overestimated its worth. To make their case stronger, these people might come up with a "self-proclaimed expert" who will inspect the car and try to underestimate its price. They will negotiate hard and drive home the point that you are overcharging. Their primary motive is to purchase the car at a low price and then sell it at a much higher price to gain handsomely from the deal. Now how to counter them? First, make sure you get your car inspected beforehand and be ready with a certified inspection report. This will puncture their claims of any possible defect in your car.
For overcharging things, you can estimate the fair value of your car by visiting Used car valuation, one of India's most trusted car-selling platforms which assure you the best value in a simple and convenient manner. Once you have got an idea of how much your car is worth, you will be able to stick to your own price without having any doubt in your mind.
Key takeaway: Use the quick and convenient feature of Cardekho.com to get a fair estimate of your car's vale to counter any false claims of overcharging.
Also Read:- 10 Steps to Selling Your Car