5 Reasons Buying a Used Car is a Good Decision To Make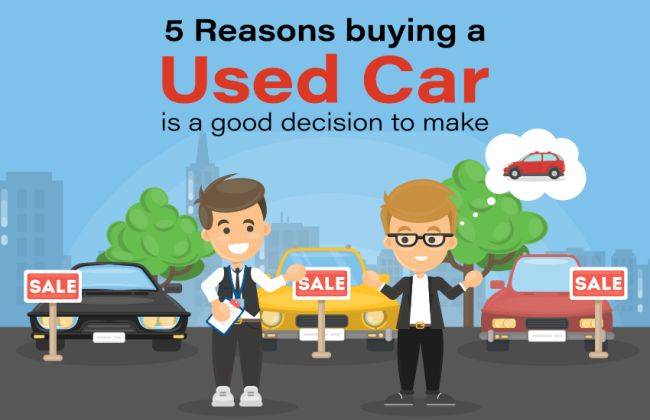 Despite all the negative sentiments that continue to have their grip firm on the auto industry, the used-car market has emerged as a bright spot. Take, for instance, the data released by industry experts shows the total new car sales in the year 2018-19 was at 3.6-million while the used-car market witnessed the sales of 4-million units. This indicates that customers are buying a used car more enthusiastically although they are reluctant to make an investment in a new car purchase. We explain in this article the top five reasons that will help you understand why buying a used car is a good idea.
1) Saving Scenario
Undoubtedly, you save a lot of money when you decide to purchase a used car in comparison to a new car. For example, if you are in the market to buy a new Maruti Suzuki Swift VXI, it is going to cost you around Rs 7.04 lakh (on-road price, New Delhi). The same Swift which is a year old and has 20,000 km on the odometer can be easily bought from the used-car dealers in Rs 5.5 lakh or so. If you choose to buy it privately, you might get it under Rs 5 lakh mark. This roughly translates into a saving of Rs 2 lakh (or more in case of private buy) and the amount saved is quite a big one. Going one step forward, you can buy a 3-year old Maruti Swift even less than 4 lakh which is indeed a big amount.
Given the evolution in automobile technology, the life cycle of the car has increased significantly which means 3-4 years old Swift is good for the next 8-10 years. What's more, you can even go for a segment-higher used-car than to purchase a segment lower new car. Continuing with our example of Maruti Swift, if you have a budget of Rs 7 lakh so instead of going for a new Swift VXI, you can easily purchase a used Ciaz from the market with the same amount of money. Isn't that terrific?
2) Psychological Benefits
From a psychological viewpoint, you are quite relaxed when you opt to buy a used car. While you drive a used car, you drive it absolutely tension-free. There is no worry of having the scratch or dent, something that happens to be a big worry in case of a new car. Another benefit of a used car is that you can go on a long drive or opt for highway journeys right after the purchase which might not be recommended in case of a new car. A new car needs to be gone under inspection or first service before you can take them out for long drives.
3) Certified Used cars
The Indian automobile industry has come of age with new and evolving business models making it convenient for the buyers to opt for used cars quite safely. Unlike the past, you need not rely on the unreliable promises of a seller or a salesperson about the condition of the car. In this day and age, you have got the certification power and with just a few clicks of the mouse, you can also check whether the certification is authentic or not. The certified used car dealers not only give you the assurance of quality but also offer warranty and free services with the car. Further, to ensure that the car is not involved in any kind of illegal activity, you can visit the https://parivahan.gov.in/parivahan/ and easily find out its current status. All these measures make sure that used car buying process becomes foolproof and you don't end up feeling shortchanged after buying the used car.
4) Less Depreciation
It is an empirically proven fact that the new car depreciates most of its value in the first three years of its life cycle. Reports suggest that many models lose as much as 50% of their value at the end of the first year of their operation – that's huge. This puts new cars in a disadvantageous position against used cars when evaluated on the factor of depreciation. This also means by opting to go for a used car you are saving quite a sum on the depreciation and unlike a new car, the value of your used car will depreciate at a much slower pace.
5) Extra Savings
Along with other charges, insurance also costs a significant amount when it comes to the on-road price of a new car. Again, take the example of new Maruti Swift VXI. The insurance for the car will cost you around Rs 17k-18k. However, if you go for a used Maruti Swift, i.e., say 2 years old model the same insurance will cost you around Rs 11-12k. And if you get lucky, you might find a Swift whose insurance is still valid for the next 6 or 8 months. It means for the next half-year, you need not spend any penny on the insurance and the only thing required is to get the insurance transferred to your name. This will be another added boost to your savings when you buy a used car.
Also Read:-How and Where to sell your used car?