3 Mistakes That Lower The Resale Value Of Your Car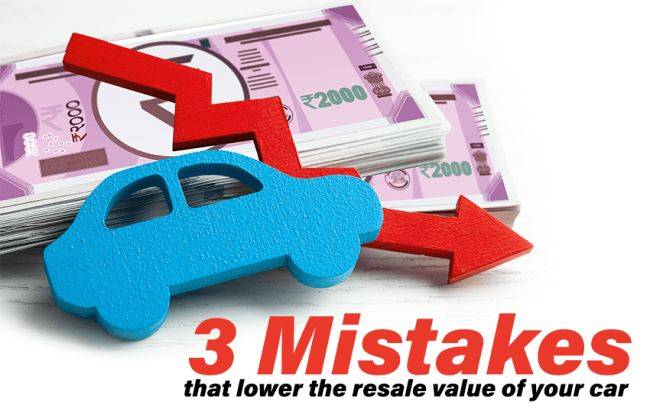 It's difficult to realize how fast time flies. It seems that just yesterday you purchased your first car and now before you know, it's already years old. Rough environment, dug-up roads, heavy traffic, and other host of factors have taken a toll on your car and you know in your heart of hearts that it's time to say goodbye. Once you start preparing to sell your car, the most important question that comes to mind is related to the price of the car. It is quite natural to be skeptical about whether you will get a good deal or not. Although the resale value of your car depends upon a large number of factors including its model year, kilometers covered, fuel efficiency, etc., many of us commit some mistakes unknowingly that adversely impact the value of our car. We list below the most common three mistakes that you should avoid in order to maximize the resale value of your old car.
1) Poorly maintained exteriors and interiors
The way your car looks and feels has profound impact on prospective buyers. Your car might be running very smoothly without any mechanical issue but if its exteriors have dents and scratches, it is bound to leave a negative impression on buyers. Similarly, the soiled interiors with dirty foot mats, faded dashboard, and stained upholstery speak poorly about your maintenance record. One can argue that these things are not as important as the engine and transmission but then the psychological impact of these small, insignificant things are very deep. Remember, exteriors and interiors serve as a first impression and go a long way in molding the deal in your favor. Therefore, before you put out the car for a sale make sure to get it refurbished thoroughly both externally and internally. Opt for a comprehensive car clean package which is quite easily available in the market today in an affordable price between Rs 600 and Rs 800. For dents and scratches, you need to visit the body shop of the authorized dealership and get all these irregularities iron out once and for all.
2) No service history or maintenance record
You take care of your car very diligently and as recommended by the manufacturer, you follow the service and maintenance schedule by heart. However, if you don't keep the record of this maintenance and service schedule with you, probably it would become difficult to convince the prospective buyer that you have really taken good care of your car. Many of us find the documentation part quite boring although, in reality, it is one of the credible methods to convince the other party. Maintaining the service record and history report is also beneficial for a number of other reasons. It might help you to get a good deal in exchange offer if you choose to trade in the car or help you to claim for damages from insurance or manufacturer in case of some untoward incident happens. Therefore, it is recommended that you keep a proper record of service and maintenance history of the car so as to increase the resale value of your car.
3) Adding unwanted accessories
Accessories play an important role in enhancing the car's overall look. In fact, some accessories such as door protectors, window visors, side rubber biddings, bumper guards, etc., are very useful and protect the car from the small damages every now and then. Having some of these accessories in your car is a good thing but then you shouldn't go overboard with the use of accessories. Many people have the habit of ornamenting the car just to show off or add some extra bling. These folks will keep on adding the accessories which will ultimately push the price of the car upwards. When it comes to selling, these people will definitely take into account the money they have invested in the accessories and want the buyer to pay the high price for the car. This will create a problem because people who are in the market to buy a second-hand car are not looking for a vehicle to show off. Rather second-hand car buyers want a car with high value and maximum utility. Too many accessories on your car can potentially put them off and further the high price quoted by you will make the deal a complete no-no for them. Hence, it is advisable that you keep your car as close to the stock car as possible although there is no harm in adding some basic and safety enhancement accessories to your vehicle.
Also Read:- Challenges You Face While Selling Your Car