7 Parameters That Define A True Value-For-Money Car
Modified On Aug 17, 2016 01:43 PM By Aman
295071 Views

Write a comment
For some people buying a car is a matter of the heart. They are so smitten by a particular model that they will end up buying it without bothering about practical considerations such as price, mileage or resale value. Then there are others (possibly the majority) who want their cars to be perfect on all fronts without burning a hole in the pockets – a true value-for-money car. While value for money may mean different things to different people, one word that does sum it up is 'multitasker'! Here are some 'value' pointers to keep in mind when shopping for a car to ensure you get the maximum back for your buck: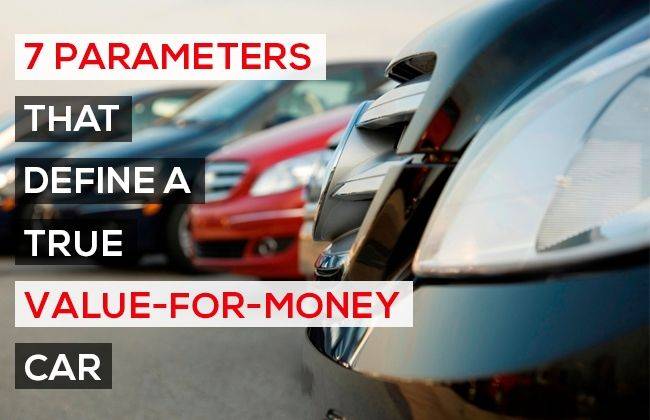 1. Looks:

It's often assumed that affordable cars cannot be good looking. But that is so last century! With a myriad of options available in the market today, finding a good looking car that fits within your budget is not so difficult anymore. If there is none that catches your fancy, then maybe you should consider flexing your budget a bit. Remember, a car that looks good can also fetch a good resale value in future.
2. Resale value:

You won't keep your car forever unless you are, perhaps, a collector. There will come a day when you will bid adieu to your prized possession. While a well-kept car will obviously fetch you a better sum than a poorly maintained one, what also helps is opting for a brand/model that is popular and highly in demand. Cars from Maruti, Hyundai and others with a good network across the country are also highly sought after in the used car market.
3. Features and Utility Space:

Features/equipment help make your journey comfortable and convenient and should be a pivotal consideration in case you are driving on a daily basis. Features such as an OEM-fitted audio system, power windows, Bluetooth connectivity are some that should be considered during purchase. However, you should not get sold on every feature on offer if it's of no use to you. Also, do remember you can get features installed separately through aftermarket dealers. That coupled with good amount of utility space on offer such as cubby holes and boot space capacity can up the value quotient. Unless, you drive solo, and all you require is a contraption with four wheels and a steering wheel!
4. Cost of ownership:
This is one aspect, which, if not given much thought to, can really spiral up the cost of owning your dream car. Ideally, you would want this cost to be as low as possible and for that you will need to calculate costs involved in a car's service, maintenance as well as spare parts. Now, how does one do that? Let's take up an example by examining the service and maintenance costs of a Maruti Suzuki Swift petrol and diesel.
| | | |
| --- | --- | --- |
| Service interval | Maruti Suzuki Swift VXi* | Maruti Suzuki Swift VDi* |
| 10,000Km | Rs 2100 | Rs 3500 |
| 20,000Km | Rs 4200 | Rs 7500 |
| 30,000Km | Rs 3300 | Rs 7800 |
| 40,000Km | Rs 6000 | Rs 7500 |
*Approximate cost which includes labour charges
Taking into account the service charges, the petrol variant of Swift has a running cost of approx. 40 paise per km over a period of 40,000km or four years (if average running is 10,000km per year) whereas its diesel counterpart will consume 65 paise to run a km over the same period. For now, we have not taken any wear and tear charges into consideration. You can calculate the service cost of your potential buy similarly.
Now, let's take on the maintenance part:
| | | |
| --- | --- | --- |
| Parts | Swift VXi | Swift VDi |
| Oil filter | Rs 100 | Rs 380 |
| Fuel filter | Rs 300 | Rs 1300 |
| Gear oil | Rs 700 | Rs 850 |
| Clutch and pressure plate | Rs 2200 | Rs 3500 |
| Battery | Rs 3600 | Rs 5800 |
Overall, diesel parts cost on the higher side. Always remember, a right car is the one that suits your driving routine and requirements. So don't pre-decide a fuel type before taking into account the cost of ownership.
5. Safety:

If you think airbags, ABS, traction control, etc, are just jargons meant for racers or enthusiasts, think again. Safety is a must and should not be compromised upon. Even if you are on a tight budget, opt for a car which at least has airbags and ABS. Nowadays, even small cars such as Volkswagen Polo, Ford Figo, Maruti Baleno offer airbags as standard across all variants. Some carmakers even provide airbag as an option or at least in the top-end variant. These features not only protect occupants from injury or even death in case of an accident, they also add to your car's resale value.
6. Mileage:
This is probably one of the most important aspects for our junta. For many car buyers, this parameter often ends up being a deal maker or breaker. While diesel cars offer higher efficiency than petrol-powered ones, do take into account your daily running before making a decision. If your daily commute is relatively low (less than 15,000km per year), then there is no point shelling out the extra money that diesel vehicles command. Here's how you can decide which fuel type suits you the best.
7. Performance and the Ride:
By performance, we are neither emphasising on opting for a track-ready car, nor do you have to drive like Dominic Toretto from The Fast and Furious series. But do make sure that the car in question has enough power for your needs. If you plan to do a lot of driving on the highway or in the hills, then ensure the car has enough power to undertake quick overtaking manoeuvres and with a full house. In the quest for achieving higher fuel efficiency, car manufacturers tend to detune the engines. Always, take a test drive and feel free to check the car's acceleration. Also, don't shy away from inspecting the handling and ride quality of the car. A true value-for-money car should have a responsive engine and a stable ride.
Was this article helpful ?
4 out of 4 found this helpful