Innova offers comfort of 25 Lakhs in 15 Lakhs
I wanted to purchase a SUV or MUV in a budget bucket of 20 Lakhs. As our family is huge, I wanted to go in for a 7 seater, thus, CRV, Outlander, Grand Vitara, were absolutely out of question as they are 5 seaters. The options then left were Endeavour and Pajero, but I was not at all attracted towards these cars. I was not very convinced on buying an Innova, but went for a test drive. it gave me every possible reason to buy this MUV panther. Although I was in complete denial initially, the test drive converted all of it into positives and I had decided there and then that I wanted to go in for this amazing car. Since my purchase in 2009, I have taken my Innova to Ooty, Pondicherry, Kerela, Munar all with varied terrains. You would be glad to know that Innova performs absolutely brilliantly on mountains, plains, crowded cities and other sorts of difficult terrains. We normally travel with the entire family together, that comprises of 8 members and the car just performs brilliantly. An amazing feature is the driver seat comfort that offers great lower back stability and reduces starin while driving. The car is fuel efficient, extraordinary spacious and the power is just great. Its a real MUV and we are very happy and satisfied. The interiors are of a top-notch quality with finesse of fittings and trims. I mean in the price range of 15 Lakhs you get the quality of 25 Lakhs.
Write your Comment on Toyota Innova 2012-2013
1
c
carmo rodrigues
Sep 30, 2011 12:07:32 PM
I want buy Innova
Reply
1
s
sunny
Apr 29, 2011 8:35:26 PM
hi have Toyota innova i want to fit sunroof. anyone is there who can help me for this please mail me back. how much it will cost me and what breand i should fit in my car. do reply mail me shailesh5147@yahoo.co.in.
Reply
1
r
rajeev ranjan
Apr 26, 2011 5:59:55 PM
i am also going to purchase innova gx model.user comment about efficiency.
Reply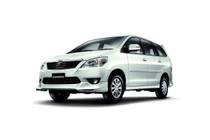 This car model has expired