Quality or parts is upto mark for Honda WRV
In just 6 months of usage (For 15000 Km), the brakes have started giving sound. When got it checked at Hyderabad dealership, they suggested change of brake pads and brake disc stating the usage is very rough and gave an estimate of Rs. 8000. This is first time in my usage of cars for last 12 years in which I drove some cars even upto 45000 Km that brake disc/brake pad issue has appeared in my car.
Further service centre advises to get the replacement done with them only so pads provided are original.
Only a fool will pay for the originals which run only for 15000 Km, whereas others can run atleast 30000 Km and on higher side upto 70000 Km.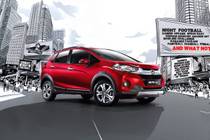 Rs. 8.08 - 10.48 Lakh*
in