Dreams Shattered
I purchased Honda City VMT Exclusive after putting all the money I had since I was very passionate about cars and there were many sites which placed Honda City as the Best with it winning no. of awards. However, I have been using the car just for last two years on personal use and never exceeded 11o km/ hr even for a minute and the car is registered just 12500 kms. It is maintained in Linkway Honda, Chandivali exclusively. But, my experience has been seriously horrible and I would urge you to think seriously before putting your money. 1. The car is defective as it hits even smallest of bumpers - I feel cheated as it is supposed to won awards for it. This defect is agreed by the Company reps also... I feel cheated because the new city is elevated - then The company must alter cars already sold also. 2. The features offered are lesser than even small segment cars. 3. The leather seat covers have already started to develop holes. The rubber beading developed holes. Look and Style Very good but not strong, the monogram was not stuck properly. The nickel rims came off. Comfort Good, but hits every bumper. SX4 is far better. Pickup Worse than any same segment car. All reviews seem to be misguiding. With AC on, it is worst. Mileage 8.6 km/ltr in city and 12.1 km/ltr on highway without ac Best Features Brand Needs to improve Lots of things - Pick Up, Nickel quality, Ground clearance (which has been corrected for new version), features, fuel average. Overall Experience Very Bad
Write your Comment on Honda City 2011-2013
1
P
pcbhalla
Oct 23, 2013 7:14:01 PM
Does anyone know if Honda City is ringing a new version in petrol. The dealers are offering only what they have in stock( Mostly white non metallic). Not accepting any orders in other colours.Hope they are not thinking of discontinuing this brand.
Reply
1
B
bhaskar
Jul 20, 2013 1:07:27 PM
Boss, you really need some driving skills to get the best out of any car. I challenge you for the Mileage. I'm got 23.5 KMPL with an rpm of 2000 at speed 70KM / Hr. If you touch 100 KM/hr make sure that your engine revs @ 3000+..you should be getting 20 KMPH on highway. I'm living in Bangalore and you shud be knowing abt the traffic here. Am getting 13+ in city some trip is even getting me 16. With the GC of 165MM and fully loaded I didn't scrape any humps. I assure you that you won't regret in buying this car. Drivablity in city conditions is excellent.
Reply
2
B
bipul
Jul 21, 2013 12:30:26 AM
Thanks for the feedback. Your car must be new one. Old model (2011) is 160 mm. I was thinking same thing- H.City really needs different driving skills which I don't have after having been driving for last 24 years of vehicles types- ford, opel corsa, esteem, swift, corolla and H. City for more than 75000 kms. However, surprisingly, I never faced such problem with others though.... Anyway, you are lucky enjoy it :) When I come to Bangalore next, I will request for some driving lessons from you :) My experience remains same with 8.3 km/ltr and driving like a crazy bird to escape each bump.
Reply
3
n
nishad
Aug 18, 2013 5:43:34 PM
tell me wiche one best car in petrol because i have plane to buy honda city or honda brio tell me plice i am confused
Reply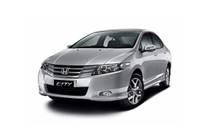 This car model has expired