My Diamond White Darling!
My Diamond White Darling!
It was while test driving Chevrolet Spark and Beat on NH5 Vizag, I saw the banner of Figo at Tristar Ford. Went into the showroom casually and asked for a test drive of the Petrol Figo. A few minutes later, a white Figo was waiting before the show room for me. The A/c was chilling inside and sat in the driver's seat with my brother and other two show room personnel. Pumped up the accelerator and felt a strong surge that I felt like very familiar. I asked immediately, is it a diesel or a petrol?? Diesel sir, they said. It was just like the fiesta diesel that I drove earlier and in fact with the same engine. After 5 km drive on the highway, I took a sharp U-turn and then did a quick 100kmph. I just fell in love with it. The main attractions for me are the 1.4 Fiesta engine, big space and mini Innova type looks. That night I left to Haldia (West bengal) back to my office and registered on the Ford website for a test drive of Figo petrol. A week later Ganges Ford from Kolkata contacted me and came Haldia (135 kms away from Kolkata) to offer me a test drive. Again it was a diesel. This time I tested it to limits. Touched 160kmph on the VIP road and almost decided upon it. Still thought of the petrol Figo as it too has 70 bhp and costs 1 lakh less. finally, after two more weeks, they came back to my office with a petrol one. The petrol one is silk smooth and with 4 members on board and A/c at 2 it can reach 110 kmph like any other car. The engine has good punch up to 120 kmph. But gets lazy afterward. The maximum speed I could make on the VIP road is a lazy 130 kmph. It can go still further but the road ended. That's final I booked Figo Diesel ZXi instantaneously. Torque and Fuel Efficiency that's what struck me at that moment. Look and Style Though swift has good looks, Figo has nothing to complain. Particularly the white one looks like a mini Innova. The black strip between doors makes you feel that Figo has only a single large door. Comfort and Space Figo has a lower stance for high-speed stability. I am 5' 6 and obviously I don't have any problems in ingress and egress. Taller ones may have problems with ingress but you will get accustomed very easily. The suspension is far better than my Santro and Maruti Swift. Body roll is minor and could be felt only by rear passengers. Suspension makes thud noise when you cross over a bump or pothole at a faster speed but will not make the occupants very uncomfortable. Small bumps and rough roads doesn't disturb the ride. The rear seat is as comfortable as an Indica and a Getz. But, I consider Getz has the best rear seat (my opinion) among all. Engine noise is loud during idle. but there will be no vibrations. Engine noise diminishes after a couple of kilometers and also when you cross 2000 rpm. Coming to space, it's everywhere you must drive other Maruti and Hyundai hatchbacks to appreciate Figo's space. Boot space!!! I brought washing machine in my boot with my rear seats folded. The music system is awesome with its punchy sound and Bluetooth feature. I am enjoying my Nokia 5235 comes with music like anything in my Figo. If you are using Nokia phones to stream music via Bluetooth, I suggest to switch off the stereo widening and equalizer settings. These settings mess up the sound. Engine Performance and Handling Turbo lag can be felt if you are a late shifter, particularly with A/c and full load. If you have the habit of shifting gears fastly, you will not notice any turbo lag, the acceleration is addictive in the First three gears, and linear in the 4th and 5th gears. If you need a sudden surge of acceleration for a fast overtaking, shift to third or fourth and floor the accelerator. Figo diesel takes off. You can reach 80kmph in 5th gear at 2000 rpm and the maximum speed I did was 160kmph on the Kolaghat to Kolkata highway. Up to 3500rpm the acceleration makes you crazy. Impressive thing is that, if you close the doors and drive, noise is not that audible even at 120kmph, noise increases from 140kmph but still there will be no vibration at all. You will feel earthquakes in Swift at those speeds though it is a powerful diesel than Figo. The engine will become smooth once you cross the 3000km and gearbox gets smooth after 1000km. coming to handling and stability, you will definitely feel this car is rock stable. It creates an impression that the car is getting more and more heavier as you gain speed. Steering gets heavier at high speeds only to give outstanding feedback. Take your figo to a few fast corners to know its cornering ability. The best i managed was a 70 kmph turn at a right angled bend. The speed reduces drastically after you corner because of the grip Figo has, but it will not skid. It was like playing NFS when you drive Figo on twisties. Mileage I completed 3500km. the worst FE i got was 16.5 kmpl before 1st service and now I am getting 19kmpl consistently on my regular driving in Haldia. The DTE which used to show 560km on tank full before 1st service is showing 774km after 1st service. I had not done any long drive yet to know its highway mileage. I suggest strictly to follow the tank full to tank full method to calculate Fuel Efficiency and consider DTE as a mere warning lamp to go to a nearby fuel pump. Best Features Awesome ride and comfort, Good music system with Bluetooth facility, Great driveability and in gear acceleration, rock stable at high speeds & sharp at cornering, Very good steering feedback, Big space in both the passenger compartment and boot, Remote boot lock and finally at an awesome price. I got mine @ 5.4 lakhs on the road Kolkata. You know you can lock any ford car with any Ford key. But you cannot unlock. Remember, someday this might be useful for us. Needs to improve-Few rattlings from doors and rear hatch (fixed by showroom). plastic parts of seat belts and rear parcel tray if not fitted correctly make irritating noise. Bottom insulation is poor - road noise, sand and stones hitting the bottom can be clearly heard, even the suspension noise can be heard on bad roads sometimes. I had the ground clearance issue once, with 5 members on board, my rear mud flaps scraped a speed breaker. Chassis touched a large bump once with 4 members on board. Later on, I observed that it is recommended in the manual to keep the tire pressures at 36-41 if you drive with a full load. Now I keep 33psi at the front and 36 psi at the rear. No GC issues yet with these tire pressures. Earlier I used to keep 28 at the front and 30 at the rear. I check tire pressure every week. Service has been a pain for me as I have to drive 300km to and fro to Kolkata just for the sake of service. Wrote a letter to Ford customer care to provide fortnightly or monthly service camps in remote areas like Haldia. Overall Experience-I am still in love with my Diamond White Darling. For its price, Figo 1.4 TDCi ZXi is a substantial package and a great value for money. Like every other car, it has its own pros and cons but you will never regret buying it. Except for some minor issues, there are no major flaws as such in Figo. I would have gone for the Titanium model, but I don't have enough dough for it. My suggestion: Have a comprehensive test drive along with your family before you decide upon Figo. Drive in all types of roads with a full load and full A/c. check its performance and all of its features. This will ensure you that you love your car always and complain never. Regards, TVS Kumar
Ford Figo 2015-2019 User Reviews
All (207)
Mileage (91)
Performance (42)
Looks (80)
Comfort (89)
Engine (80)
Interior (40)
Power (71)
More ...
LATEST
HELPFUL
VERIFIED
CRITICAL
The car is good. And the engine gives a great performance. In 6 years there is no issue in the engine. Totally 1 lakh km is covered till now. Issue only in ground clearan...Read More

Ford is having a lot of engine issues and there is no proper solution and response from Ford India as well. It's all just a show up by Ford Company. My Ecosport 2018...Read More

Ford Figo is the best car as it is one of the best comfortable and safest cars in India.

Excellent road grip, build quality, driving comfort, braking system, mileage and what not!!!!!!! A perfect car for the perfect price. Just go for it without a second thou...Read More

The car is very comfortable and smooth to drive. Very stable even at a high speed. Spacious and controlled.

I have been driving this car from last 3 months and this car has excellent mileage and power as well as.

Good car, better Experience, good Mileage, engine life is excellent, good pickup, a strong body of the car and best car.

View All Figo 2015-2019 Reviews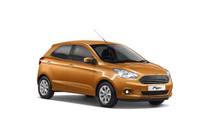 Rs.4.47 - 8.49 Lakh*
This car model has expired
Write your Comment on Ford Figo 2015-2019
44 comments
1
M
m kumar
May 15, 2013 3:37:57 PM
What is the maximum lugguage load that can be carried in ford figo disel, I am planing for a long trip of about 700km on way
Read More...
Reply
Write a Reply
1
n
naveen
May 20, 2011 12:34:16 AM
hello mr.kumar ..this really is a nice review and vry useful tips for better milleage.i just got diamond white baby (disel,titanium,spl Edition) a week ago and have done 300 kms and the fuel economy is only 13.6 km/ltr with a/c on..i havn't pushed the baby to its limits ..have driven within 2000rpm mostly, clocking around (average around 60 km/hr max80- 100 km/hr )..have driven in a mixture of city and high way.will the milleage improve ? FE econmy apart ..im in total love my baby ..love the handling and the ride quality.
Read More...
Reply
Write a Reply
2
T
tvs kumar
May 23, 2011 10:13:32 AM
Do not count the mileage based on DTE. DTE shows erroneous readings initially. It needs atleast 5000 kms to be run to reach an accuracy of 80% Count your mileage from Tank fill to Tank fill. If your mileage is still low, then visit the servicing center. It shouldn't be such low.
Read More...
Reply
Write a Reply
3
n
naveen
May 23, 2011 12:25:25 PM
hi kumar , I did calculate my milleage based on tank fill basis.took my baby for a long drive and it gave around 16.6 ..but this time 50 city and 50 highway...i pushed my baby to it limits touched 160 vividly ...the steering starts to shiver beyond 120-130 ...wat is the max speed ?is the vibration beyond 130 normal ?
Read More...
Reply
Write a Reply
1
A
abhi
Feb 22, 2011 1:55:15 PM
Hi Mr Kumar, I just bought FIGO ZXI petrol as i found it very stable and driving was fun. But, When i drove the veicle 3rd time, for a 10 kms distance in chennai city traffic with changing gears between 1st, 2nd heavily because of traffic jam. After reaching back home and parking, i swithced off the engine and removed the keys, still loud sound was coming from the bonut which went on for 2 minutes. Not sure, may be it was radiator fan which was trying to cool the heating. Checked with service centre, there is no issue in the ignition switch, so this is not a engine issue. But, my point is even if the heating happened for just 10kms of drive, fan should run only for few secons and not 2 minutes. It would dischsrge the battery and battery life will be impacted. Please advise if this is product feature or there is some problem.
Read More...
Reply
Write a Reply
2
T
tvs kumar
Mar 5, 2011 11:38:12 PM
That's quite normal for any car. idle for 30 seconds before you switch off the engine. It's a good habit. The fan will run till the engine reaches its normal temperature. Switch off the A/c before the last 1 km of your drive. Nothing to worry, your car is completely normal. you can consult the service station, if you are not convinced with my reply.
Read More...
Reply
Write a Reply
×
We need your city to customize your experience