Simply go fida on Ford Figo
Ford Figo is a great small car, this American car model is a complete compact car which personally i would recommend to everyone who is thinking of buying a hatchback. My smile starts when i just look at my car. You can very well imagine how I would feel when i drive this car. I think nothing can beat Figo in looks and space. Figo Titanium is a style icon for me with abundance of space especially in the rear and in boot. The car offers great handling and an excellent driving experience. The car sets it mark from the exteriors such as the front and at the rear end styling. The cabin space is amazing with superb looking interiors. I would say it is best for a professional as well as for someone who simply like to hit the road.Look and StyleI have always been conscious with the looks of my car. Figo is one which has attracted me in one go. If i rate it in terms of looks with the other contemporaries in this segment like Maruti Ritz or Swift likes. I would give this a ten on ten. Believe you me it is a eye catcher. The seats are comfortable, the steering wheel has three spokes which makes it easy to drive in.ComfortAs i told you Figo is a spacious car therefore it makes a comfortable arrangement for 5 adults to sit in. The well cushioned seats, easy reach of the driver at all the utility points are the best comfort anyone would ask for. The three spoke power steering wheel is great driving tool. The car is equipped with a great music system with four speakers.PickupFigo offers great pick up, I always put on the ac when i drive. Ours is a big family of 6 people then also it is comfortable to drive in. The pick up is all good even when i put on the ac.MileageMy figo is 6 months old at present it gives me 12.5 kmpl in the city and on highway it s 15.5 kmpl. However, I except that it should give me a little more.Best FeaturesI can see the bonnet while driving the car which is great in the city traffic. The space and comfort of the car adds on to the great value. For the driver as well as for the front passenger the utility reach is quite accessible. Also it comes with great features like dual air bags, anti drip wiping, central look, driver seats height adjustable, also phone interface with bluetooth connectivity and much more. The car also features great braking system, five speed transmission and power steering gives a great ridding quality. One of the best safety features is that it does not allow to start the car with a duplicate key. It is value for money.Needs to improveThough the car is well loaded with various features however, a little improvement in mileage would be better. Also leather touch is missing in the car. With such features around a leather touch would have been cherry on the cake.Overall ExperienceGreat car, fun to drive, easy to handle. The car has definitely got the looks to impress. The American car brand has really made a nice car keeping the Indian connection rightly on board.
Write your Comment on Ford Figo 2012-2015
1
A
akshay agarwal
Jul 5, 2011 4:49:44 PM
Hi I am planning to buy Ford Figo ZXi Diesel. But got really confused when heard about its low ground clearance. I like this car very much, but scared that it may leave me struggling with every speedbraker, when driving with two people on the back seat.Coz many people told me about its low ground clearance and that they have to slow down to zaro speed at every speed braker. Please suggest how do you find the ground clearance of Figo.And should I go for this car?
Reply
1
t
talung
May 8, 2011 3:37:34 PM
friends , pls suggest me honestly (figo user only), iam planning to buy figo after two months. How is its maintanance cost and its parts availability? As iam from remote part of the country. Hoping for best suggestion. Thanks
Reply
1
s
saravcnan
Apr 26, 2011 12:52:43 AM
i loved the car figo but after reading the comments i am littele bit worried about the mileage as salarided peopele we should worried about the milleage i planned to by one but due mileage need to rethink
Reply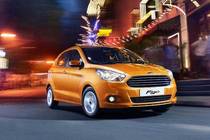 This car model has expired